All The Reasons Why Melania Trump's Older Sister Is Also Probably Her Best Friend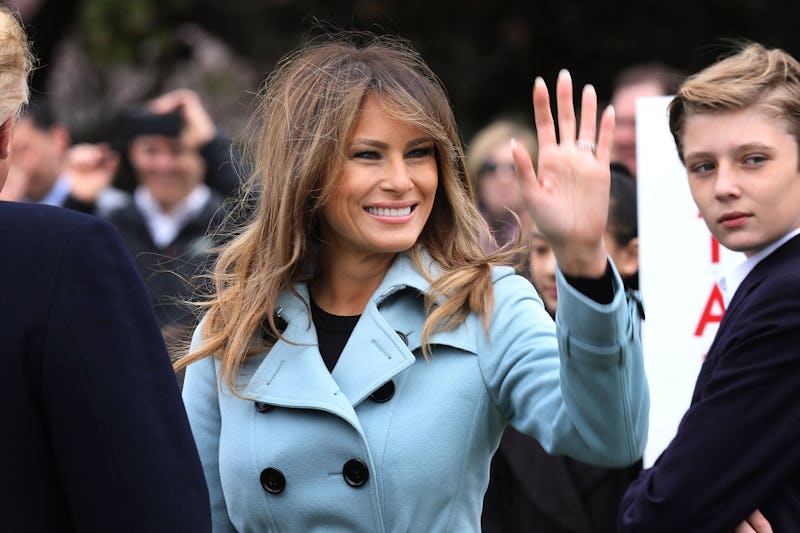 Chip Somodevilla/Getty Images News/Getty Images
As group chats ding with new suggestions of potential plans for this holiday weekend, it's easy to feel grateful for your close friends. But as you search through the politics of the day, you might wonder: Who is Melania Trump's best friend? It's hard to know because the first lady is so secretive.
The person who comes up most frequently with regard to Melania Trump besides her husband is her son, Barron Trump. Rarely does Melania Trump talk about friendships or relationships outside of the familial. So it rings true that after some research, the best candidate for bestie might just be her sister, an artist named Ines Knauss. However, there's no way to be absolutely certain.
Last year, the New York Post referred to Knauss as "the older sister nobody knows" and Town & Country called her the "secret sister." But for a member of the Trump family, the first lady chooses to be a lot more private online than, say, Donald Trump himself or his children. Despite her relative secrecy, Melania Trump still mentioned her sister in her speech at the Republican National Convention in 2016. The now-first lady said Knauss was "an incredible woman and a friend."
While we can't expect everyone in President Trump's orbit to be an enthusiastic Twitter user, it's hard to stress just how little is known for sure about Knauss. In fact, the same half dozen or so facts about her are written into almost relevant every article.
First, the New York Post confirmed via property records in 2017 that Knauss lived in a Trump Organization-owned Penthouse near Melania Trump. Town & Country reported that it's the same building on the Upper East Side of Manhattan that daughter and special adviser Ivanka Trump and Jared Kushner lived in prior to their move to Washington, D.C. It's unclear if Knauss still lives there now that Melania Trump has moved to Washington, D.C.
Next, she frequently shares vintage (the '90s are now retro!) photos of Melania Trump on Facebook. After the New York Post published a get-to-know-her report on the first lady's sister, she appeared to remove a few public posts, but some are still visible. Knauss' Twitter account also seems to be private.
What is really impressive is that for all the professional photos of Melania Trump in photo services like Getty or the Associated Press, there seems to only be one of Knauss from 2005, seen here in Town & Country. In it, she's pictured with her sister as well as Palm Beach philanthropist Audrey Gruss. "They are very close," Gruss told the New York Post when they met at a fundraising event at Mar-a-Lago resort. "She struck me as a lovely person, and extremely creative."
Speaking of Mar-a-Lago, CNN reports that Knauss served as Melania Trump's maid of honor when she wed Donald Trump at the resort in 2005.
As Town & Country reported, the sisters were born with the last name Knavs and grew up together in Slovenia. They moved to Milan, Italy together in the early 1990s, the high society magazine reported, where Ines wanted to break into fashion design while Melania was beginning to model – the career path that would lead her to meet her future husband.
"She really wanted to be in fashion but didn't know how to break in," Paris-based photographer Ale de Basseville told the New York Post. "Ines wasn't like the other girls you would meet there, who behave like queens. She was really polite and very mellow."
It's reported that Ines Knauss is now an artist. Melania Trump has previously shared her sister's pencil-based sketches on Twitter.
It's a rare accomplishment to be in the Trump orbit and have so little publicity surrounding you, but Knauss has managed to retain a relatively large amount of privacy.