Melania Trump's Dad Totally Resembles Donald Trump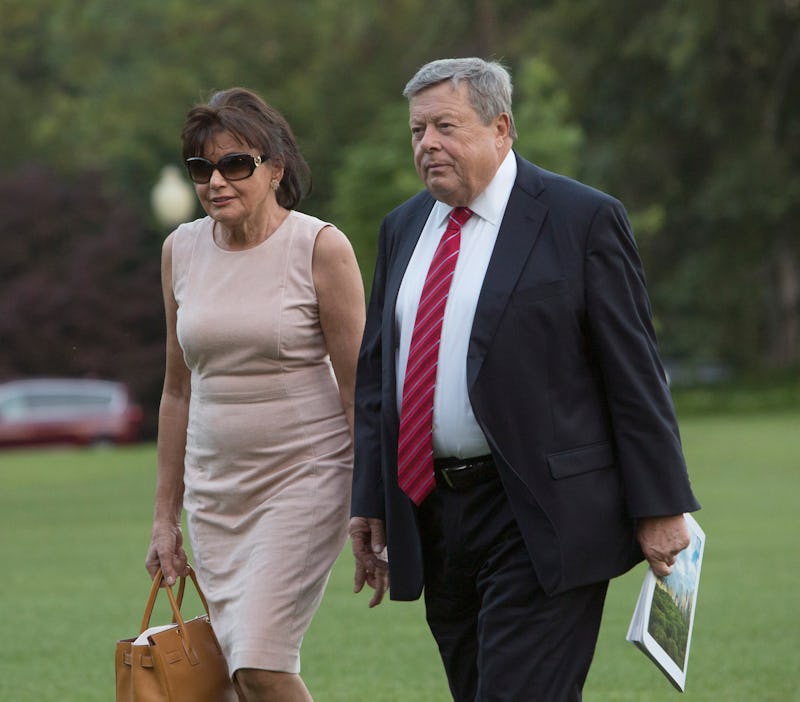 Pool/Getty Images News/Getty Images
Melania Trump's parents landed in Washington D.C. on Sunday, and photos emerging from the day showed the First Lady's parents descending their Air Force One flight together. There was one photo, though, that several people really magnified online: one in which Viktor Knavs, Melania's father, looks eerily similar to Donald Trump.
In the photos, Knavs can be seen alongside his wife Amalija holding an edition of Trump magazine while he boasts a rich red tie and a slightly ill-fitted suit. It's interesting to notice that Knavs' sense of style is similar to Trump's, whose aesthetic is known to be sort of sloppy with drooping hems, loosened shoulders, peculiarly long ties, and wrinkles.
In fact, Melania herself thinks her dad is a lot like Trump, too. She told Julia Ioffe in an interview for GQ in 2016:
They're both hardworking. They're both very smart and very capable. They grew up in totally different environments, but they have the same values, they have the same tradition. I myself am similar to my husband. Do you understand what I mean? So is my dad; he is a family man, he has tradition, he was hardworking. So is my husband.
But let's get back to the most important question: Who exactly is Viktor Knavs? According to the GQ profile, Knavs was a former card-carrying Slovenian Communist Party member and a salesman for a state-owned car company in Slovenia. Knavs also once worked as the chauffeur for his town's mayor, which is actually how he met Melania's mother in 1966. The man apparently has for a predilection for vehicles, good food, and humor.
Knavs' membership in the Communist Party didn't appear to be a product of ideological reasoning. It seemed to be more like a membership taken for the sake of social and political benefits. After all, as The New York Times reported, membership in the Communist Party was often driven by "career ambitions."
Univision also reported that Knavs' membership was more likely due to "convenience than conviction." By remaining a member of the party, Knavs would face "fewer problems with the party after his daughter was baptized in a Catholic church, like many of the family's relatives."
But Knavs' most striking aspect is absolutely his resemblance to Trump. According to Melania's friends, they remember growing up and seeing her father carry a similar air of self-assurance and boldness, like Trump himself; it makes sense then that Melania probably sought to build a life with someone who matched her father in terms of certain fundamental traits involving confidence, bluster, and a slapdash sense of style.