Michael Cohen's Wife Has An Intriguing Background You Should Know About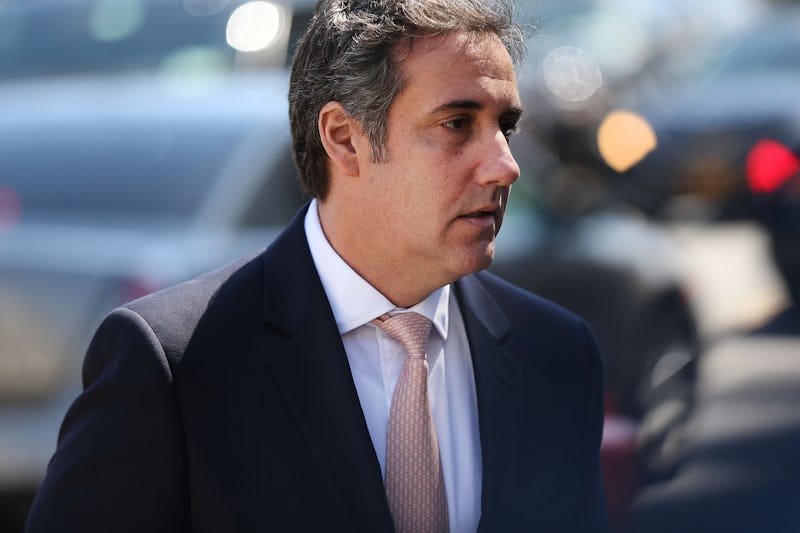 Spencer Platt/Getty Images News/Getty Images
He's made headlines as Donald Trump's embattled lawyer, but information about the attorney's life outside of defending the president is interesting news, too. Michael Cohen's wife, Laura, has stayed mostly out of the mind-boggling news cycle that is the aftermath of 2016, but she's someone you should know — especially when you take her parents and their role in Cohen's career into consideration.
Laura, whose family is from Ukraine and whose given name was Laura Shusterman, married Cohen in 1994. Her background has come up in recent conversations about the Russia investigation. As The New York Times reported, rumors have swirled that Cohen himself played a role in working with Russian officials and operatives, which Cohne denied, and he was apparently part of an effort to create a "back channel" for peace negotiations between Russia and Ukraine.
In fact, it was Laura's Ukrainian father who introduced Cohen to Trump, author Seth Hettena claimed in a recently published book titled Trump / Russia: A Definitive History. A former federal investigator quoted in the book alleged that her father, Fima Shusterman, was possibly Trump's silent business partner and that Trump gave Cohen a job at the Trump Organization "as a favor to Shusterman." Cohen called the claim "fake news."
Shusterman is in the taxi business, and he pleaded guilty in the 1990s on charges of conspiring to defraud the Internal Revenue Service (IRS) in a tax fraud and money laundering ploy. Cohen himself owned a taxi in New York City in the early stages of his career. According to CNN, during the FBI raid of Cohen's office that was seeking information on any hush money payments Trump might have made to women, the FBI also sought to find information on Cohen's taxi permits.
Laura was also involved in the taxi business. The New York Daily News reported in April that both Laura and her husband owe $53,836 in unpaid taxi taxes. The couple also owns Trump-branded properties. Last year, they sold their Trump World Tower apartment for more than $3 million, The Real Deal reported. He currently lives in Trump Park Ave.
In a statement Cohen made to the Senate Intelligence Committee last September, he talked a bit about his wife and family and what they've endured since moving into the national spotlight.
My wife and I have been married for 23 years, and are now entering into the season of our lives when we get to watch our children become adults themselves. My daughter, who is at an Ivy League school, and my wife, who is of Ukrainian descent, have especially been subjected to harassment, insults and threats … some so severe I cannot share them in mixed company.
The couple has two children — a daughter and a son. Their daughter Samantha was in the news last year when Cohen tweeted a photo of her wearing a bra and tights. The photo was a recreation of one Andy Warhol took of Edie Sedgwick decades ago, and Cohen celebrated his daughter's "brains and beauty."
While Laura has mainly stayed out of the spotlight so far, with the bit of news that's trickled out about her life, along with her husband's role as the personal attorney for President Trump, she could potentially see herself in the headlines at some point.