Michael Pence Jr. & His Wife Had A Quiet Wedding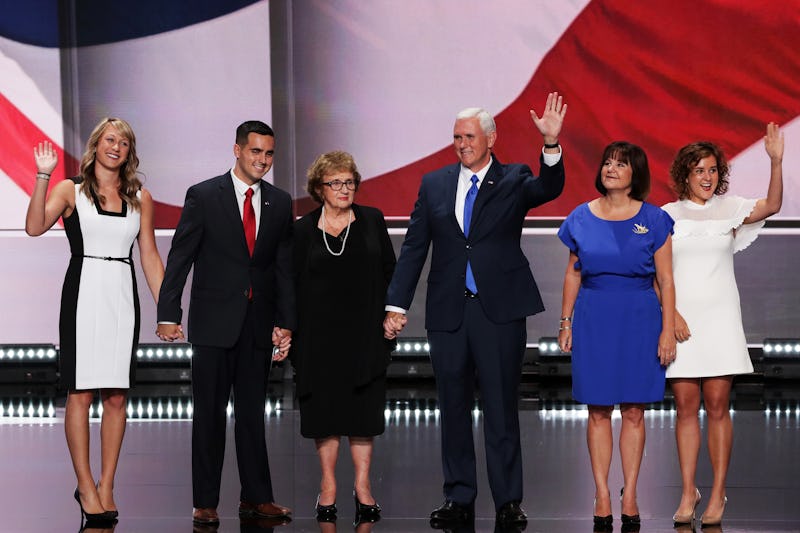 Alex Wong/Getty Images News/Getty Images
If you google, "Michael Pence Jr.," there isn't much about, what one can only assume, was one of the biggest events in his life: his wedding. So who Is Michael Pence Jr.'s Wife?
Sarah Pence, and Michael J. Pence, Vice President Mike Pence's son, were married late last year, but kept it super under the radar. There was barely even an announcement — the closest thing was when then-Vice President-elect was serving as a volunteer at a homeless shelter in December for Wheeler Mission Ministries in Downtown Indianapolis. Pence admitted the two were getting hitched, and that the family was aiming to keep it simple, saying to expect a "small, little, intimate ceremony just for immediate family," adding, "it's going to be a very special time, as it is for every Hoosier family."
The event officially took place just a couple months ago in the last week of 2016, just before the inauguration, when the now-Vice President used the last of his time in the Governor's mansion to host the celebration.
The two have a very sweet and fitting origins story, seeing as they're very much associated with the highest political position in the country. According to USA Today the couple met three years ago while attending Purdue University in Indiana during a political science class.
The oldest of the Pence children, a second lieutenant in the Marine Corps graduated from basic training in Quantico, Virginia, in September of 2015. After graduation, the Chicago Tribune reported that the then-Governor's son would go to flight school at Naval Air Station Pensacola in Florida for training as a Marine Corps pilot.
Even before the marriage Sarah Pence was included, on many occasions, as part of the family during campaign, namely the Republican National Convention:
The inauguration and the inaugural balls were quickly after the wedding where they celebrated as newlyweds with their family and the Trump family.
It looks like she fits in with at least one of his sisters, too. According to her LinkedIn page, she's a Forensic Treatment Services Program Coordinator in the Division of Mental Health and Addiction — a parallel between her and her sister-in-law, Charlotte Pence, who was one of the directors of "For the Records," a documentary which highlights the struggles of mental health issues in young adults including Attention Deficit Disorder (ADD), Bi-polar Disorder, Eating Disorder (Anorexia Nervosa) and Obsessive Compulsive Disorder (OCD).