Michele Tafoya Is The Badass Super Bowl Sideline Reporter The NFL Desperately Needs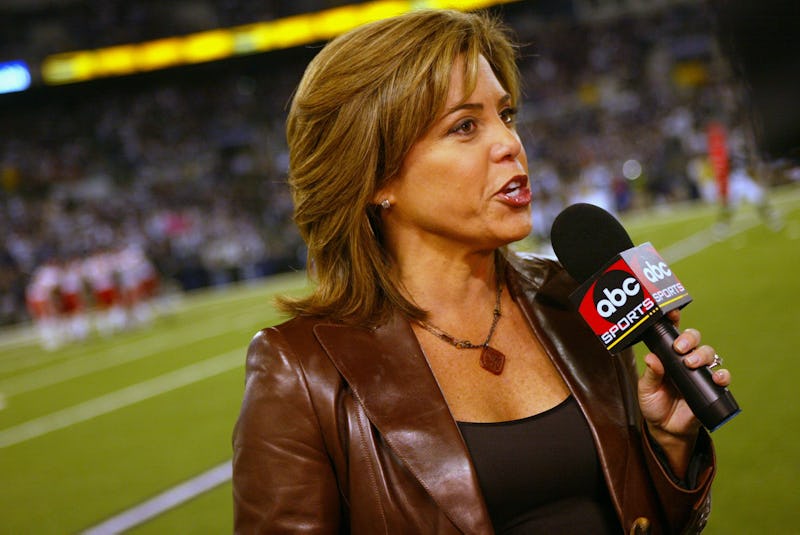 Doug Pensinger/Getty Images Sport/Getty Images
The Philadelphia Eagles are taking on the New England Patriots in Super Bowl LII at U.S. Bank Stadium in Minneapolis, and there will be a myriad of other people working on the sidelines. From officials to the chain gang to athletic trainers to camera operators, it takes dozens of people to make a game run smoothly. So, who is Michele Tafoya? The Sports-Emmy-award-winning sideline reporter will bring the details of Super Bowl 2018 to viewers watching from home.
The first thing you should know about Tafoya is that this isn't her first rodeo, so to speak. Rather, Super Bowl 2018 will be the fourth Super Bowl Tafoya has worked. The first Super Bowl Tafoya worked as a sideline reporter was Super Bowl XL in 2006. At the time, she was a reporter for ABC. She's since covered Super Bowl XLVI in 2012 and Super Bowl XLIX in 2015 for NBC. Interestingly, the New England Patriots played in both Super Bowl XLVI and Super Bowl XLIX.
Tafoya joined NBC Sports as the network's sideline reporter for Sunday Night Football in 2011. According to the network, she was awarded the Sports Emmy for Outstanding Sports Personality - Sports Reporter in both 2011 and 2013. With six nominations, Tafoya is also the only person to have been nominated for the award every year since it was first created in 2011.
In many ways, Tafoya has been forging her own path in a the traditionally male-dominated world of sports broadcasting. Since her first job in 1994 as a host and Minnesota Vikings sideline reporter for local radio station KFAN-AM, Tafoya has developed a reputation for being prepared and well informed. "She usually knows more than what's going on more than we do, because she talks with so many different players through the course of the week," NBC analyst Cris Collinsworth recently told the Associated Press about Tafoya.
But while Tafoya is widely respected in the industry now, she has admitted it wasn't always easy. "I don't think I have to fight it anymore. I've been doing this long enough. I'm old now," Tafoya said during a recent Super Bowl week media appearance at the Mall of America in Bloomington, Minnesota. "You do this long enough, and people start to trust you. It was tough for quite a while the first few years, but that's why I always felt like I had to prepare like crazy."
But Tafoya doesn't consider herself to be a pioneer. "It shocks me when I hear a young woman think I'm a pioneer," she told TheFootballGirl.com. "I'm not the pioneer here, Lesley Visser is. Robin Roberts is. I'm just following their path." Tafoya recently partnered with Secret deodorant for a campaign spotlighting how women in male-dominated industries have overcome stereotypes and prejudices.
While Tafoya is clearly on top of her game when it comes to the NFL, her reporting isn't strictly limited to football. The veteran sideline reporter has also covered basketball, volleyball, tennis, and the Olympics. In 2006, for example, she moved seamlessly between covering an NBA game between the Los Angeles Lakers and the Miami Heat in the morning and an NFL game between the New York Jets and the Miami Dolphins in the evening. Talk about versatility.
But off the field, Tafoya has had some personal struggles. In an interview with WCCO-TV in 2007 she admitted to having struggled with anorexia for most of her life. "I think being anorexic is a little like being an alcoholic: you can get help, but the problem is always a part of you," Tafoya said.
For Super Bowl 2018, Tafoya will have a bit of a home field advantage as she's called Minnesota home since the mid '90s. She'll join announcer Al Michaels and commentator Chris Collinsworth in helping bring Super Bowl 2018 to life for fans.