This Atlanta Falcon Has A Sweet Proposal Story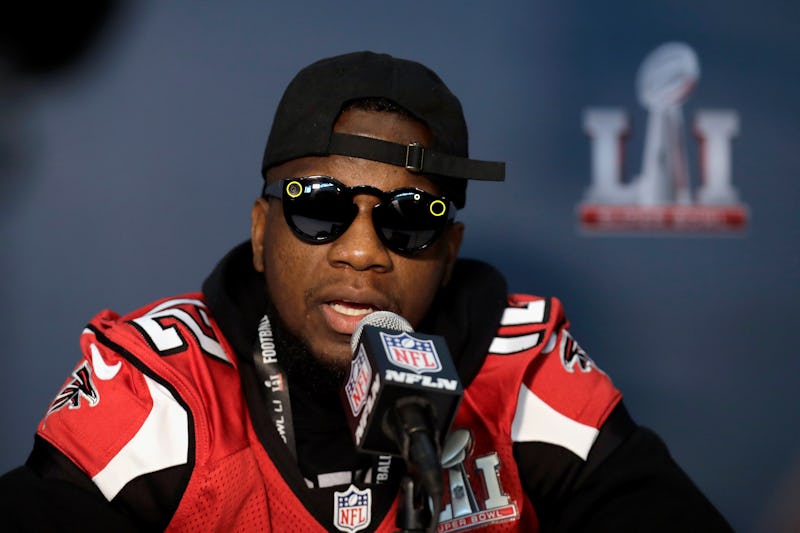 Tim Warner/Getty Images Sport/Getty Images
Whether you're crushing hard on the wide receiver for the Atlanta Falcons or just exercising a healthy curiosity in an athlete's love life, nobody could blame you for wondering, who is Mohamed Sanu's fiancée Lauren Hettinger? Hettinger is a stunning lady who, besides being engaged to Sanu, is already the proud mother of his gorgeous son, also named Mohamed.
She entered the spotlight in 2016 when Sanu proposed to her in basically the most public way possible. Presumably aiming to broadcast to as many women at once that no, for the last time, he's not single, Sanu proposed while the pair was watching a Premier League soccer game in London. In the 83rd minute of the Liverpool vs. Manchester City match, Sanu got down on one knee and popped the question. If you're wondering why the exact moment in the match mattered so much, this was because Sanu had resolved to only ask her after Liverpool had scored a goal. This posed one problem, since as the game entered its final minutes, Liverpool still hadn't scored. He told Sporting Life,
"It was a spur-of-the-moment kind of thing. I was trying to figure out a way to ask her and when I found out I was going out to London, I was like, this is perfect! I waited for the game and I thought, I'm going to wait until they score and once they scored that's when I did it."
There's not a lot of information available about Hettinger online, but she does maintain an active presence on Instagram. From doing an Instagram deep-dive, I can tell you that Hettinger is a practicing Christian whose faith is every bit as important to her as her family, with her writing alongside one photo, "God.Sanu & love. ✝️❤💍 #whatdoyourep?" This caption also shows she's hugely supportive of Sanu and his career.
On her Instagram, she's also honest about the difficulties that parenting can pose when your partner is a hugely successful athlete who's required to travel all over on a regular basis. As she explains in the caption accompanying the photo above,
"Nights without daddy are rough, not rough like hard; rough as in we miss him. How do you explain to your 17 month old daddy's not home tonight to go night night; when he is asking for him , crying for him? Most see it as selfish. " your mans in the Super Bowl why are you complaining?" I see it as- I just want to kiss my husband goodnight & then kiss him good morning. And our son just wants to snuggle his daddy to fall asleep and play ball with him all day."
Sounds about right. While lots of people focus on the luxury and glamour of dating a pro-athlete, the reality must be pretty lonely sometimes. Especially if you happen to be intensely, madly in love with the person. Despite the pair having been together for years, the more personal captions of Hettinger's posts suggest that they share a passionate bond that hasn't weakened as years have passed.
In the Flashback Friday post above, she confided,
"...all those times I was that annoying girlfriend asking " you really think you can spend forever with me? " or "can you imagine how amazing our children would be ?"Fast forward 3+ years.Here we are feb 2017. Engaged, a mommy and daddy to the most amazing little boy and two days away from you bringing home your ring 💍🏈❤-------------------------/---------------------------- "I don't know where I'd be. Without you here with me.life with you makes perfect sense. You're my Bestfriend🎤". #unbreakable #believethat#godgavemeyou"
Clearly they're every bit as unstoppable as they were from the moment they met. So while it might be kind of a melancholy thought that you probably won't ever be Mrs. Mohamed Sadu, turn that frown upside down: Sadu's got the most devoted wife-to-be around. And if you're a fan, that's something worth smiling about.