Everything You Need To Know About South Korea's President & His Fight For Peace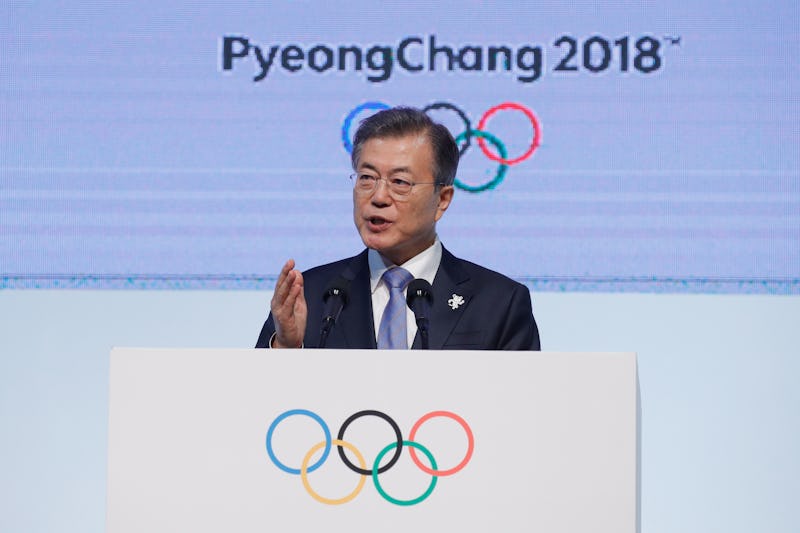 Andreas Rentz/Getty Images Sport/Getty Images
After losing its bids to host the 2010 and 2014 Winter Games, South Korea is welcoming athletes, coaches, politicians, journalists, and spectators from around the world as it launches the 2018 Winter Olympics in PyeongChang. For Moon Jae-in, the South Korean president who took on the role less than a year ago, the opportunity to host the Olympics represents more than a chance for South Korea to demonstrate its prowess in winter sports. Moon also hopes that the Olympics will mark the beginning of a revitalized peace process on the Korean peninsula.
In January, for the first time in two years, North Korea and South Korea met for high-level talks that Moon credited Donald Trump for organizing. As a result of these talks, North Korea has sent a delegation to PyeongChang — a delegation that includes Kim Jong Un's younger sister, Kim Yo Jong. South Korea has also issued a number of proposals promoting unity between the North and South.
But attempting to thaw tensions between his country and North Korea isn't the only thing that stands out in Moon's life and career. Who is Moon Jae-in, and how did he end up where he is today? According to the BBC, before Moon was born in 1953, his parents fled from the North during the Korean War. Moon started law school in 1972, but he was soon arrested for leading protests against then-President Park Chung-hee's authoritarian rule.
While in jail, Moon passed the bar and was released not long afterward. He spent some time in the South Korean army, and went to open a law firm focusing on human and civil rights with Roh Moo-hyun — who also became a president of South Korea. The two men both became heavily involved in the country's pro-democracy movement. When Roh became president, Moon was his top aide, and Moon first ran for president in 2012, just a few years after Roh's death. He lost that election to Park Geun-hye, Park Chung-hee's daughter, but Park Geun-hye was impeached last year, and Moon was elected not long afterward.
Now 65 years old, Moon — who leans to the left — is now occupying an office that he once felt "was not suitable" for him, after a career as a human rights lawyer. But though he has spent much of his life fighting for human rights and democracy in South Korea, one of his biggest dreams is to see the reunification of the Korean peninsula. In a book published last January, Moon wrote that he dreams of visiting Hungnam, the city where his parents once lived on North Korea's east coast.
"I was thinking I wanted to finish my life there in Hungnam doing pro bono service," he wrote in his book. "When peaceful reunification comes, the first thing I want to do is to take my 90-year-old mother and go to her home town."
Despite backlash from critics, Moon sees the Olympics as an opportunity to get one step closer to the reunification to which he aspires. During the Olympics, athletes from the North and South will march together under the same flag for the first time in 11 years. The South also obtained eleventh-hour permission from the International Olympic Committee as well as the U.S. and other allies to allow a North Korean delegation to cross the border. And in an unprecedented move, Moon will meet with Kim Yo Jong, who is the first immediate member of Kim Jong Un's family to enter South Korea. He has also expressed a willingness to meet with Kim Jong Un in the future.
Young people and conservatives in South Korea have criticized Moon for using the Olympics as a platform for diplomacy with North Korea, arguing that the North's missile program and its past hostility ought to have disqualified it from the Games. But Moon has been persistent in his pursuit of better North-South relations ever since taking office, and while he is still fairly new to the Blue House, it's clear that this will remain an important goal for him throughout his presidency.