Natalie Dormer Spoke About Her IRL Relationship & The Quotes Are SO Inspiring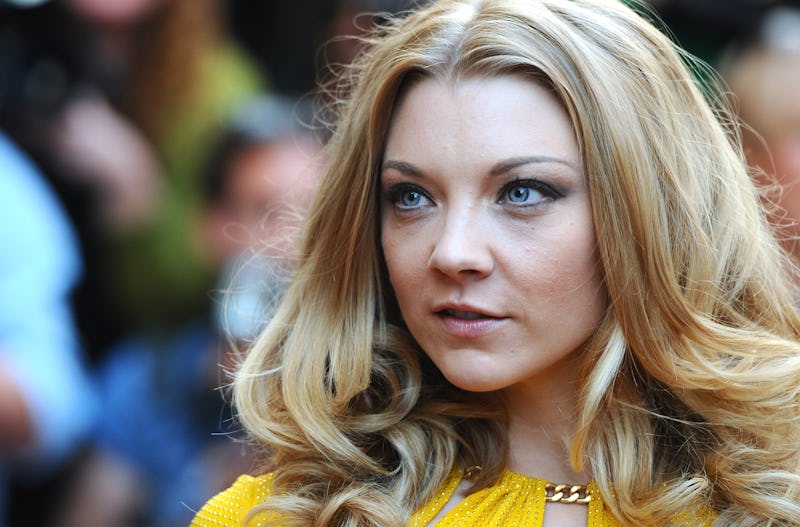 Anthony Harvey/Getty Images Entertainment/Getty Images
Natalie Dormer is pretty unlucky in love on screen, isn't she? As Margaery Tyrell in Game of Thrones, she certainly drew the short straw after ending up with Joffrey Baratheon. Now, in the new BBC series, Picnic at Hanging Rock, the actress takes on the role of Hester Appleyard, a headteacher who's just lost her husband. But what's her love life like in reality? Who is Natalie Dormer dating in real life?
Well, Dormer has been dating Irish director and writer Anthony Byrne since 2007, according to E! News. They met on the set of The Tudors, according to the Guardian, and have been together ever since, becoming engaged in 2011 when Bryne proposed during a boat trip in India, reports the Independent. However, their relationship hasn't always been smooth sailing, with Dormer admitting she struggled to actually understand Byrne's strong Irish accent when they first met. But thankfully, the pair quickly worked through their "translation issues", reports the Irish Mirror.
Dormer told the paper: "There were translation issues in the beginning of the relationship but we worked through them. We're the personification of the Anglo-Irish Agreement. I now know all the Irish idioms. We had long debates about it not being a hot press but an airing cupboard."
Of course, that minor blip is now a distant memory. So strong is their relationship today, that the couple has even recently collaborated on a film project, co-writing new thriller In Darkness, which tells the story of a blind woman, Sofia, who becomes embroiled in corruption after her neighbour dies.
But how do they spend their spare time at home? During an interview with Collider, Byrne revealed: "We watch a lot of thrillers together."
He added: "What you have to do is double down, at a certain point, so that you're not going, 'I bet this is what's going on,' and then you have to swerve it and compound it to make people think that they're wrong. There are the people who watch thrillers and unpick them while they're watching them, and then there are the people who watch them and want to be taken on a journey, so it has to really work for both."
Dormer also shed some light onto what they are like as a couple behind closed doors. She commented in the same interview that they are "hard on each other", with Bryne adding, "We want to make sure that we weren't letting each other get away with stuff."
But despite their working and personal relationship sounding pretty well, goals, Dormer revealed she won't be rushing into co-writing another film with her fiancé anytime soon. She explained to Female First that working with a partner can be challenging in unexpected ways.
"Couples say terrible things to each other that you would never say to your best friend. We learned very quickly that we couldn't write in the same room. Doors got slammed at various points and I wouldn't necessarily rush into writing with Anthony again, but I have huge respect for him."
However, Dormer has nothing but praise for her beau's directing skills. They worked together on the music video for Hozier's song Something New, which was directed by Byrne and saw Dormer charm a series of men on a night out. The end result was pretty epic, however, the process was testing on them as a couple.
During an interview with the Irish Independent, Dormer joked that after "surviving" the stress of working on that project together, they "can survive anything". She added: "Anthony will push me to my limit. He won't let me get away with anything and he won't let me cash in on any of my normal tricks that us actors have up our sleeves."
After 11 years together, Dormer and Byrne's relationship has certainly stood the test of time. And following their engagement seven years ago, fans are waiting for the couple's big announcement; the date for their big day. Well, don't get your hopes up too soon for another Game of Thrones wedding in the near future. Dormer has previously hinted that she's in no hurry to walk down the aisle. She told Flare magazine: "So many little girls dream about their wedding day, but with actresses, sometimes it's the inverse, because we get to be the centre of attention, looked up and down, dressed up for premieres all the time. The pull isn't quite as great."
Well, perhaps, let's watch this space. Until then, you can catch Dormer in Picnic at Hanging Rock on BBC Two, Wednesdays at 9.05 p.m.