Here's The Absurd Reason Trump's Lawyer Asked A Reporter If She Was "On Drugs"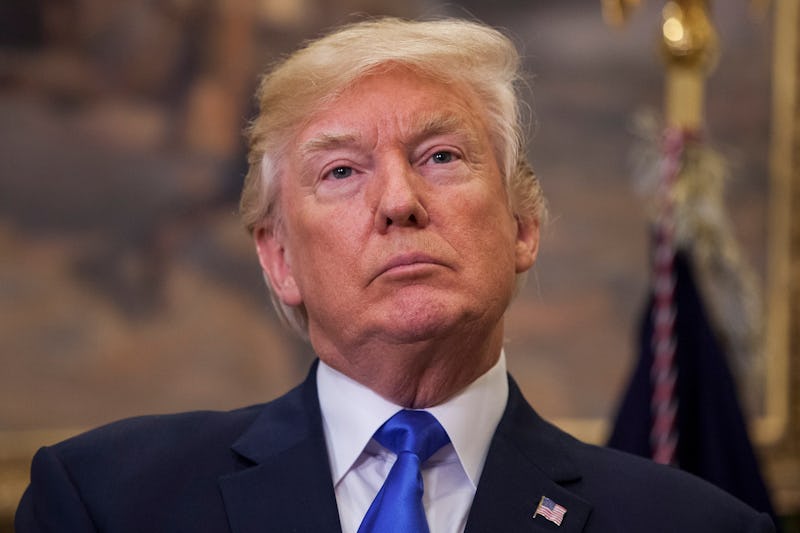 Pool/Getty Images News/Getty Images
The Trump administration hasn't exactly been the kindest to journalists, to put it lightly. They may have crossed a new line on Saturday night, though, when Trump's lawyer asked a journalist if she was on drugs after she posed a question about Trump's firing of former FBI director James Comey.
The Huffington Post reports that Natasha Bertrand from Business Insider was talking to Trump lawyer Ty Cobb about an article she had written. Cobb had a problem with the article, which was an analysis piece on a letter Trump drafted to Comey detailing why he wanted to fire him. The letter was never sent. Bertrand sent Cobb a follow-up question via email about why Trump hadn't sent the letter, and Cobb responded moments later saying "Are you on drugs? Have you read anything else on this???"
Bertrand posted the exchange on Twitter, prompting well over 1,000 replies, many of which marveled over the level of unprofessionalism that Cobb, an otherwise respected attorney, seemed to have sunk to. Cobb was named White House special counsel to deal with the ongoing Russia investigation in July, and he took issue with the way that Bertrand presented the Trump letter in her article.
Business Insider reports that Cobb called the article "exaggerated and/or fictionalized" and said that the press had been "rabid" on the issue of the Russia investigation. He reportedly told Bertrand that her article had omitted facts about how the White House team was united in the decision to fire Comey, and that the special counsel had been in possession of the letter Bertrand was focusing on "for some time." He didn't tell her about why the president hadn't sent the letter to Comey, though, so her question wasn't unwarranted.
His reaction evidently surprised Bertrand enough for her to make it public, though, and it's far from the first time that someone representing the Trump administration has been called into question for the way they treat journalists. From rhetoric encouraging violence against journalists to Omarosa Manigault allegedly "intimidating" journalist April Ryan to Sean Spicer yelling at members of the White House press corps about inauguration crowd size, reporters have been subject to all sorts of behavior since Trump began his term in January.
Taking all of that into account, this is actually one of the more benign examples of the Trump administration's bad relationship with the press. All that Cobb succeeded in doing with his callous remark on Saturday night was to draw attention to Bertrand's reporting, which discussed how the letter in question might prove to be an important element of special prosecutor Robert Mueller's potential case.
Bertrand argues that White House counsel Don McGahn's advice not to send the original letter could form a crucial part of the obstruction of justice case that Mueller is reportedly putting together.