Everything You Need To Know About Neri Oxman, Brad Pitt's Seriously Brilliant Rumored GF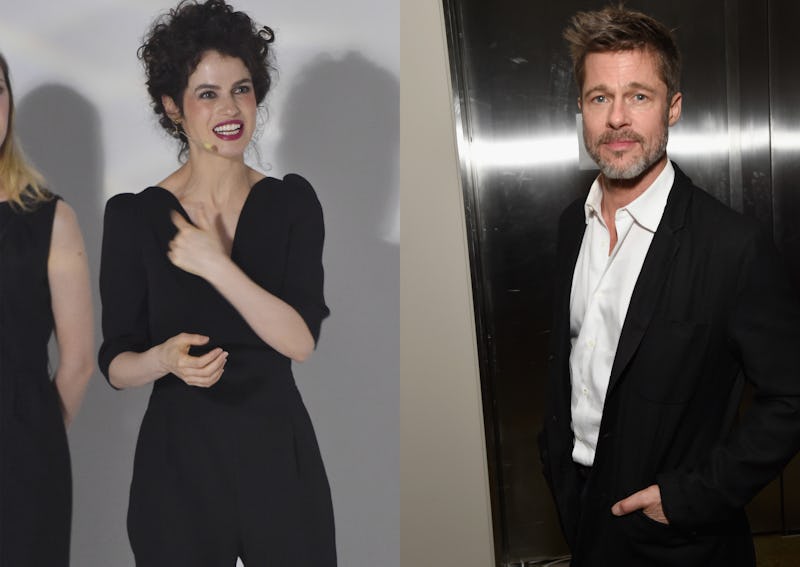 Jacopo Raule/Getty Images Entertainment/Getty Images; Michael Kovac/Getty Images Entertainment/Getty Images
It looks like Brad Pitt may have a new lady in his life. According to Us Weekly, Pitt is dating Neri Oxman. They've been making headlines quite a bit lately. Obviously, most everyone knows who Pitt is, but who is Oxman? Sources told Us, "Brad is absolutely smitten by her. Their chemistry is off the charts." But, rather than defining her by her possible romantic connection to the high-profile actor, let's get to know her even better, because Oxman's accomplishments deserve to be noted.
According to Oxman's official MIT biography, she earned her PhD in Design Computation as a Presidential Fellow at MIT. She also attended the Faculty of Architecture and Town Planning at the Technion Israel Institute of Technology (Hons) and the Department of Medical Sciences at the Hebrew University in Jerusalem.
Currently, Oxman is an associate professor of media arts and sciences at MIT. She's also an architect and a designer working at the MIT Media Lab. Her MIT bio states she "founded and directs the Mediated Matter research group" at the Cambridge, Massachusetts research university.
Based on the description of her program, it's clear Oxman is brilliant. "Her team conducts research at the intersection of computational design, digital fabrication, materials science and synthetic biology, and applies that knowledge to design across disciplines, media and scales — from the micro scale to the building scale," her bio reads.
If that isn't enough, she also "coined the term, and pioneered the field of, Material Ecology," the 42-year-old professor's bio states, while she was attending MIT as a research student. Material Ecology "considers computation, fabrication, and the material itself as inseparable dimensions of design."
As noted on the MIT website, her work hasn't gone unnoticed, either, as her achievements are part of the permanent collections at many museums, including the Museum of Modern Art, the Boston Museum of Fine Arts, the Smithsonian Institution, the Museum of Applied Arts in Vienna, and the Boston Museum of Science.
Oxman's accomplishments have been noted by many, including SEED Magazine, who named her "Revolutionary Mind" in 2008. The next year, Esquire listed her as one of the "Best and Brightest" and she also made ICON's "top most influential designers and architects to shape our future".
She and her team have also won a slew of awards, like the BSA Women in Design award in 2014, the Vilcek Prize in Design in 2014, an Emerging Voices award from the Architectural League of New York in 2015, and the Innovation by Design award from Fast Company in 2015. So, yeah, Oxman is up there when it comes to academic success.
According to Haaretz, Oxman was born in Haifa, Israel and completed a military service in the Israeli Air Force. Before attending school for architecture, she actually went to medical school at the Hebrew University, but left after two years. It was clearly the right choice, because look at her now.
"I want my work to speak for itself," she told Haaretz in July 2011. "I engage in super-hard work and work 20 hours a day. Nobody cuts me any slack. What guides me is the joy of living, the joy of creating. I know how to celebrate victory and success, but also how to take a risk and fail gloriously."
As a woman working in fields typically made up of mostly men, Oxman discussed with Harretz whether or not she gets special attention because of her gender. "The blessing is also a curse in many cases, because the attention comes with a great deal of criticism and with the need to display a lot of responsibility," she said. "It always requires me to work harder and to present my ideas in the most professional way possible."
It's still unconfirmed if Pitt and Oxman are actually a couple. On April 8, Page Six first reported the news and said the two met "through an MIT architecture project", but were only just friends. A source said, "Brad and Neri instantly hit it off because they share the same passion for architecture, design and art. This is best described as a professional friendship." Neither Oxman or Pitt have commented on the rumors. Bustle reached out to Oxman and to a rep for Pitt for comment, but did not receive a response at the time of publication.
Whether or not they actually are dating, some people are loving an academic woman in the A-list circle. One person tweeted, "If they're dating, I respect Brad Pitt for dating a professor. She's gorgeous, He goes for/is attracted to women who have beauty & intelligent [sic]. Angelina's my forever number1!! But Neri Oxman is a phenomenal, inspirational woman!" Another Twitter user wrote, "Fist [sic] George Clooney, now Brad Pitt has matured and found an intelligent, non-Hollywood woman."
Their potential relationship is also giving this person above hope, they, too will find love one day and won't have to diminish their intelligence to do so. They tweeted, "I'm a little bit obsessed with the fact that both Brad Pitt & George Clooney are dating/married to very well educated, incredibly intelligent & hard working academics. Maybe there is hope for me!! (And no, I am not putting myself in the Amal & Neri category.....just hopeful!)"
Oxman hasn't been connected to Pitt for that long and she already has so many people rooting for her. It's unfortunate it took Pitt dating rumors to introduce Oxman and her success further to the world, but, at least she's continuing to inspire like she's been doing for a long time