This Eagles' Player's Wife Is An Athlete, Too — And A Total Boss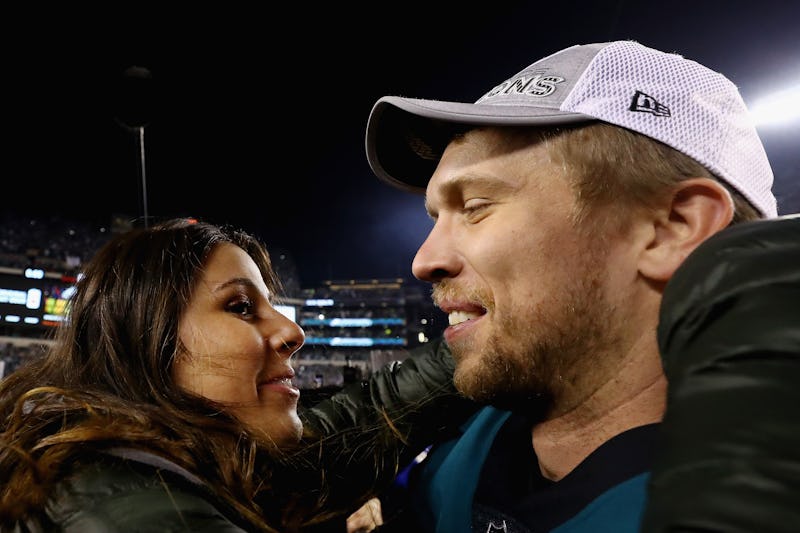 Al Bello/Getty Images Sport/Getty Images
The Super Bowl is quickly approaching, and you know what that means: it's time to obsess over the players' families, who everyone knows are the real MVPs. One of the cutest couples of the upcoming Super Bowl is Philadelphia Eagles' quarterback Nick Foles and his wife Tori Moore, and you can always find Moore cheering for her husband from the stands.
Moore is an athlete in her own right, however. She met Foles at college when they both attended the University of Arizona. Moore played volleyball and Foles played, you guessed it, football. The story of the duo's relationship is just as cute as you might imagine. In an interview with the Press of Atlantic City, Foles described the first time he saw Moore, which happened to be on his very first day at the Arizona school. "I was going to my physical. I remember walking down the stairs and thinking, 'Wow, this might be the most gorgeous person I've ever seen.'" Aww.
Even though Moore dazzled Foles when he saw her in college, they didn't actually start dating until after they graduated in 2011. But before that, they became close friends. In 2012, Moore's brother, Evan, played for the Philadelphia Eagles, so she already had a connection to the team even before Foles played for them. This story sounds like it's straight out of some kind of football fairytale, doesn't it?
Moore's experienced some challenges in her personal life, however. In 2013, while she worked for Nike in Portland Or., she became ill from Postural Orthostatic Tachycardia Syndrome (POTS), which causes lightheadedness or fainting. According to Elite Daily, Moore's medical condition led to a diagnosis of Lyme Disease, and as a response, she started a blog called Healing As We Go, which is no longer active.
In a blog post for the Increase Women, Moore wrote, "For me, this illness has been a journey of faith, hope, and trust in the process that God has set out for me." She wrote the moving post a couple years after receiving the life-changing diagnosis, and after she and Foles got married in April 2014. Moore described her life as an NFL player's wife for the Increase Women, writing, "We've been on a wild journey in this NFL life, but we are blessed to be in the situation we are in. We've learned it is best to just embrace this crazy lifestyle and enjoy the process that God is constantly crafting."
Religion is a major factor in Moore and Foles' lives. In his interview with Press of Atlantic City, the NFL player explained his relationship with his now wife, saying, "It was one of those things where at some point the good Lord took the shades off both our eyes, and we just started talking and it grew into something that was always there, but we never knew it." He added, "She's honestly my best friend and always very supportive of everything I do."
In June 2017, Moore and Foles became parents. In a recent pre-Super Bowl interview, Foles started tearing up when talking about how much he loves both his wife and daughter Lilly. "When I think about this journey and everything, I get home and I get to see [Lilly], and I get to see my wife," he said. "I know she is going to grow up and I want her to be proud of her daddy."
Foles and Moore have such a sweet, genuinely loving relationship, and it shows through every time the couple celebrates the Eagles' victories on the field. During the Super Bowl, you won't want to miss every time the camera pans to Moore in the stands. Even though her husband is the one playing on the field, there are so many reasons to cheer for Moore, too.