Las Vegas Shooting Victim Nick Robone Is Expected To Make A Full Recovery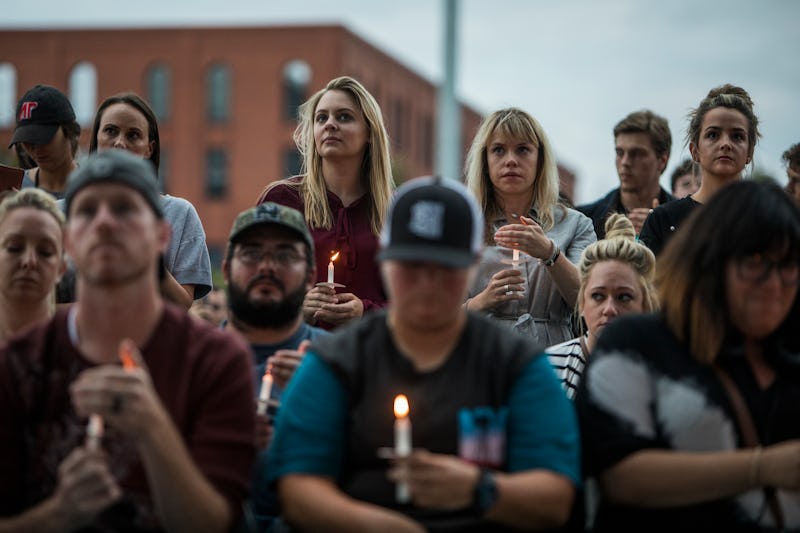 Joe Buglewicz/Getty Images News/Getty Images
In the aftermath of Sunday night's shooting on the Las Vegas Strip, worried families eagerly waited for news about their loved ones who may have been caught in the violence. Authorities have begun announcing the names of the Las Vegas shooting victims, and they include Nick Robone, an assistant hockey coach at the nearby University of Nevada, Las Vegas (UNLV). On Monday, FOX 8 reported that the 28-year-old had been shot in the chest on Sunday, but his brother, a paramedic with the Henderson Fire Department, stabilized him until emergency vehicles arrived to take him to the hospital. After surgery, his father is "optimistically cautious" that Robone will recover.
According to the Las Vegas Review-Journal, Robone manages a Top Golf location, and he has worked as a coach for the UNLV hockey team for three years. He and his brother, Anthony, attended the Route 91 Harvest Festival on Sunday with their friends and respective partners. When a shooter opened fire around 10 p.m. local time that evening, Robone was hit in the chest. The group, led by his brother, did their best to stabilize him until he was taken to the hospital. Once there, doctors found that the bullet had missed Robone's lung, although it was badly bruised, and he went into surgery on Monday morning.
Monday afternoon, the UNLV hockey team tweeted an update on Robone's condition. After coming out of surgery, they wrote, Robone is "in the ICU and will remain in [the] hospital for the near future." However, he is expected to make a "full recovery."
Several other hockey teams from across the nation responded with messages of support. "That is the best news given what happened," wrote the Cincinnati Veterans hockey club. "Thoughts and prayers are out to Coach and his family as well as all your team families, supporters, and all the victims."
Robone is one of more than 500 victims injured in Sunday's violence, making it deadlier than the Pulse nightclub shooting in June 2016. According to the Las Vegas Police Department, the shooter set up in a hotel room on the 32nd floor of the Mandalay Bay Hotel and opened fire on the crowd of about 22,000 concertgoers below. At least 58 were killed. When police entered his hotel room, they found that the shooter had stockpiled at least 23 firearms, the New York Times reported.
President Donald Trump did not address guns in his televised statement about the shooting, but he called for unity in the "sadness, shock, and grief" caused by the violence. "We cannot fathom their pain, we imagine their loss," he said, reading from a teleprompter in the Diplomatic Reception Room. He plans to visit Las Vegas by Wednesday.
Facebook has activated its Safety Check feature for the "violent incident in Las Vegas," and Las Vegas police issued a new hotline to find or report information on missing loved ones who may have been involved in the shooting: 1-800-536-9488. They have also set up an assistance and reunification center at the Las Vegas Convention Center, Exhibit Hall S-2.
In a press release, authorities warned that the "identification process of all of the injured and deceased will take time," but they have been slowly releasing the names of the shooting's victims. The first to be identified was Sonny Melton, a 29-year-old nurse from Tennessee. Others include Rachael Parker, Angela Gomez, and Sandra Casey, CNN reported.
Unfortunately, online trolls have taken the opportunity to spread misinformation about missing people and victims, so it's important to remain skeptical of news from non-reputable sources.
One thing is clear. Even after all the victims are identified, it will take Americans quite some time to process Sunday's event.