The NRA Is Getting A New President & He's Super Controversial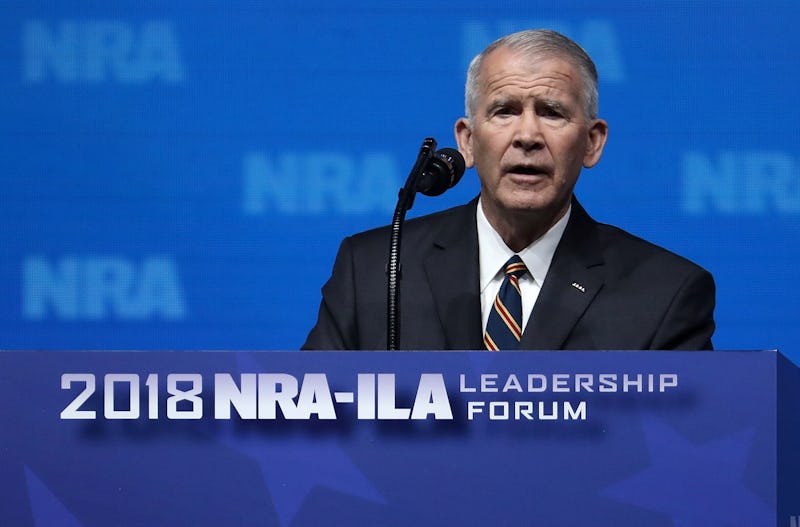 Justin Sullivan/Getty Images News/Getty Images
The National Rifle Association will soon have a new fearless leader. Retired Marine Lieutenant Colonel Oliver North is the next NRA president, the group announced on Monday. North was already an NRA board member and Fox News contributor known for his involvement in the Iran-Contra scandal of the 1980s.
"Oliver North is, hands down, the absolute best choice to lead our NRA Board, to fully engage with our members, and to unflinchingly stand and fight for the great freedoms he has defended his entire life," NRA Executive Vice President and CEO Wayne LaPierre said in a statement.
North will take over from Pete Brownell, the CEO of the world's largest manufacturer of gun parts and tools, who decided not to seek a second term as NRA president. Brownell had a short tenure at the pro-gun group after being elected president by the board in 2017. North will take over in a matter of weeks, according to the NRA, and immediately stopped working for Fox News.
"Oliver North is a legendary warrior for American freedom, a gifted communicator and skilled leader," LaPierre said in the same statement. "In these times, I can think of no one better suited to serve as our President."
North has a history with guns — and previously got into some trouble because of them. He did time behind bars for illegally selling weapons to Iran in 1985 as a roundabout way of helping rebel groups fighting Nicaragua's government at the time. The sale violated a federal law that limited the U.S. government's aid to the rebels, and North was convicted of three felonies. However, his convictions were vacated a year later after the American Civil Liberties Union helped with his case for appeal.
He later tried to enter politics by running for the U.S. Senate in 1994 as a Republican. North ultimately failed to unseat incumbent Democrat Charles Robb, the son-in-law of former President Lyndon B. Johnson, but his candidacy certainly got people's attention.
"Mr. North is a passionate speaker, talking of issues like the ravages of crime, and he lingers after events, looking for more hands to shake," Richard L. Berke wrote in The New York Times back then. "He does not come off as a cocky marine who won prominence after shredding documents about the secret supply operation he ran for the Nicaragua contras against the wishes of Congress."
More recently, North helped develop a proposal to provide CIA Director Mike Pompeo and the Trump White House with a global spy network that could circumvent official U.S. intelligence agencies, The Intercept reported in 2017. Sources told The Intercept that the Trump administration was considering the plan presented as a way to work around "deep state" enemies within the intelligence community who may want to sabotage Trump.
"It is a direct-action arm, totally off the books," an anonymous source told The Intercept. "The whole point is this is supposed to report to the president and Pompeo directly."
North has long praised the NRA, so his appointment as the group's president wasn't out of the ordinary. In 2013, he declared the organization "one of the greatest protectors of civil liberties that's ever existed on the planet Earth." NRA spokesperson Dana Loesch vocally supported his election on Twitter, writing: "Thrilled about the Oliver North news. A total warrior for freedom, this is the last person that anti-gun advocates would want as the new President of the NRA board."
LaPierre's statement compared North to actor Charlton Heston, who was NRA president from 1998 to 2003 and became known for shouting "from my cold dead hands!" while holding a rifle. North will no doubt bring his own enthusiasm to the job.