Paris Hilton's BF Is More Than That Giant Tattoo Of Her Name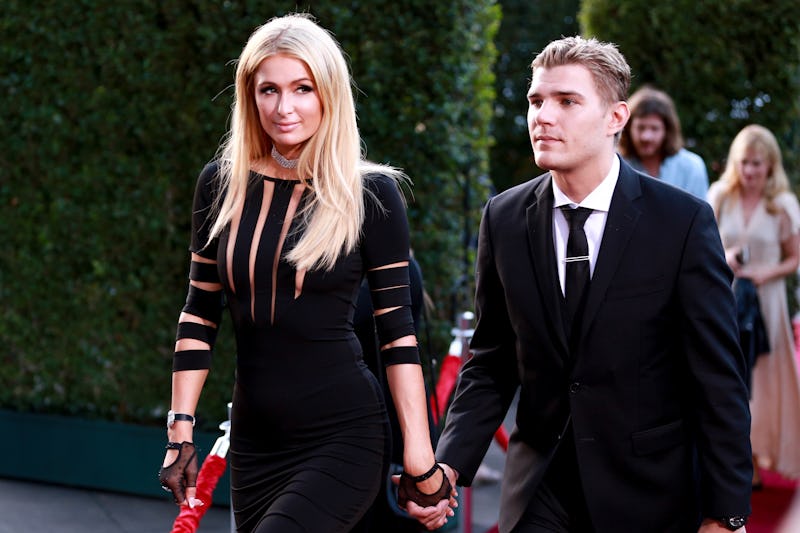 Rich Fury/Getty Images Entertainment/Getty Images
Socialite, former reality star, and DJ Paris Hilton has been off the market for just over a year now, and she can't stop gushing about the man who she says has a "smile that takes your breath away." But who exactly is Paris Hilton's boyfriend, Chris Zylka? He's got more going on than that giant new tattoo of her name.
Zylka's name may sound familiar because he is an actor who has popped up in a variety of roles on the big and small screens in recent years. One of his most recent roles was on HBO's hit show The Leftovers, on which he played Tom Garvey. The 31-year-old Ohio native also portrayed Flash Thompson in the Andrew Garfield-led The Amazing Spider-Man in 2012 and Jake Armstrong on The CW's The Secret Circle.
Zylka and Hilton are becoming quite serious and, according to E! News, they've been friends for a long time but made the transition to something more just over a year ago. As evidence, Hilton's posted an Instagram about Zylka for their anniversary on July 14 in which she calls him her "knight in shining armor." The Simple Life star seems to be head over heels for her beau and can't stop posting photos of them on her social media channels. She even confessed to E! News that he is "the one" and that she's "never been surer of anything in my life."
It seems like this romance is here to stay so to help you get acquainted with the man who stole Hilton's heart, here are three things you might not know about Zylka.
He Just Got A Tattoo Of Paris' Name
Hilton took to Instagram to gush about her BF's latest romantic gesture. She wrote, "Such a lucky girl! My love surprised me & got my name tattooed in #Disney font. And said cause I'm his most magical place on Earth & he finally found his fairytale princess. #BoyfriendGoals #ParisForever."
His Real Name Is Christopher Michael Settlemire
According to Zylka's bio on IMDb, he was born as Christopher Michael Settlemire, but took his mother's maiden name, Zylka, as his stage name.
He's A Fan Of The Simple Life
I mean, who isn't? In a recent interview with Refinery29, Hilton said, "Actually, my boyfriend [Chris Zylka] and I watch it all the time..."
Sounds like these two love birds really might go the distance.