This Isn't The First Time Paul F. Zukunft Has Stood By The Coast Guard's Transgender Members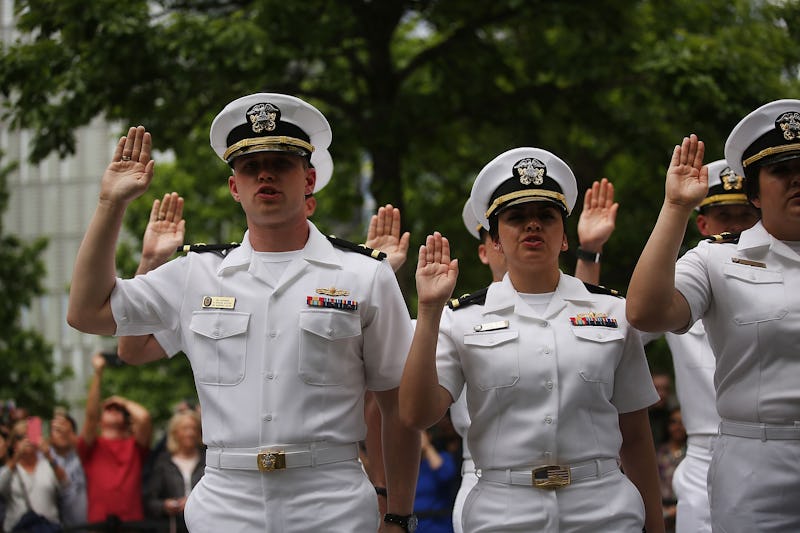 Spencer Platt/Getty Images News/Getty Images
The current Commandant of the United States Coast Guard, Paul F. Zukunft, made headlines on Tuesday after he revealed that the Coast Guard had reached out to all of its openly transgender members following President Trump's announcement of a ban on transgender service members in the U.S. military, sent via Twitter last week. In light of this news, many people likely want to know a little bit more about who Zukunft is and how he actively demonstrated support for transgender Coast Guard members.
Zukunft is the current commandant, or highest-ranking member, of the U.S. Coast Guard. He has served in this position since May 2014 and was confirmed to serve as commandant by the U.S. Senate after being nominated by former president Barack Obama. Prior to leading the Coast Guard, Zukunft worked in a variety of other positions with the organization, having graduated from the U.S. Coast Guard Academy in 1977. Zukunft also obtained post-graduate degrees at the U.S. Naval War College and Webster University.
Zukunft received a significant amount of attention on Tuesday after speaking out on the topic of transgender Coast Guard members. The Coast Guard is considered a part of the United States military, even though it falls under the purview of the Department of Homeland Security. Thus, it would also be subject to the transgender ban that President Trump announced last week. However, notably, the U.S. military also said last week that it would not be implementing the ban unless it receives official correspondence and implementation guidance from the White House.
At an event for the Center for Strategic and International Studies in Washington, D.C., Zukunft told the audience that, shortly after Trump announced the ban via Twitter, the Coast Guard personally reached out to all 13 of its openly transgender members. Zukunft also said that he had personally reached out to Lt. Taylor Miller, the organization's first openly transgender member. Zukunft noted that he offered words of support to Miller and all of the Coast Guard's transgender members.
And I told Taylor, I will not turn my back. We have made an investment in you, and you have made an investment in the Coast Guard, and I will not break faith. ... And so that was the commitment to our people right now. Very small numbers, but all of them are doing meaningful Coast Guard work today.
Indeed, when the Pentagon first announced a lifting of the ban on transgender members last year (the ban which the Trump administration is purportedly seeking to re-instate), Zukunft also expressed his support at the time.
The U.S. Coast Guard has been involved in the Department of Defense's extensive review of this issue, and will align its policies with the other military services ... All qualified people who wish to serve in our Nation's military should have the opportunity to do so. Today's announcement is another important step in that direction.
Zukunft also noted in his remarks on Tuesday that he had immediately reached out to the secretaries of Homeland Security and Defense following Trump's Twitter announcement, in order to discuss its potential ramifications.
POLITICO characterized Zukunft's remarks on Tuesday as "the strongest rebuttal yet by a leader of the armed forces" to Trump's proposed transgender ban.
Indeed, you might wonder if, in light of Zukunft's message, other military leaders will follow suit. Their words could certainly hold significant weight as Trump's administration weighs if and how to provide official guidance on transgender service members.