Trump Might Nominate An Anti-Feminist To Oversee Global Women's Rights Efforts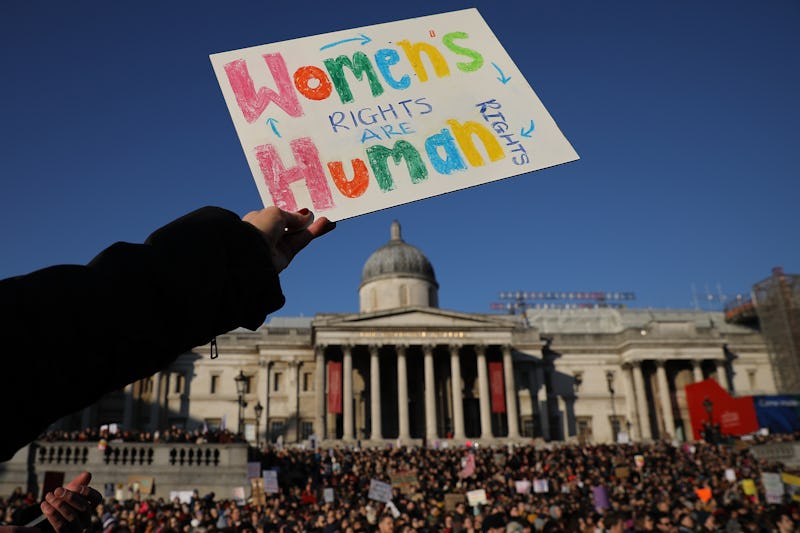 Dan Kitwood/Getty Images News/Getty Images
As President Trump fills more and more key positions in the executive branch, his nominees continue to spark backlash for holding values that contradict the very issues that they're appointed to oversee. On Oct. 27, Politico reported that Trump may nominate Penny Young Nance, president and CEO of Concerned Women for America (CWA), to be ambassador-at-large for global women's issues. Nance, being against abortion and LGBT rights, is no exception to the trend. Bustle has reached out to Nance for comment.
CWA is a conservative, Christian non-profit, and as CEO, Nance has made several statements against abortion and LGBT rights. If appointed, she would oversee the State Department's programs to fight gender-based violence and promote women's and girls' educational and economic achievement. According to Erin Vilardi, VoteRunLead founder and CEO, her appointment to that position would be somewhat of an "oxymoron."
"Historically, tons of research shows that when you limit women's access to birth control and the ability to plan their families, life becomes harder, and that's exacerbated in developing countries," Vilardi explains to Bustle. "If you take [Nance's] priorities and turn that into policies, that creates a greater burden on women not less. When you have a particular agency that's supposed to expand women's rights, and you end up putting someone in who's very restrictive about what women can choose for their bodies and their lifestyles and who they can love, it's one of those anomalies."
Nance has a demonstrated history against pro-choice policies and changes that would give women greater access to reproductive health care. The CWA, for example, has praised director of the Office of Refugee Resettlement, Scott Lloyd, as a "champion and advocate for children in his care" and supported Lloyd's controversial move to prevent an undocumented teenager from obtaining an abortion, according to The Washington Post. Furthermore, the organization supported the "Global Gag Rule," which forbids overseas non-governmental organizations receiving U.S. aid from providing abortion services or educating the public about abortion.
Nance herself has also made controversial statements regarding women and reproductive rights. Nance wrote in the Christian Post that rape victims should carry their pregnancies to term because "aborting her baby, which was the result of a crime, actually adds to the emotional and physical harm to the mother."
Nance and her organization have supported policies that oppose LGBT rights too. In 2014 when Uganda passed a bill criminalizing same-sex relations, and subsequently exacerbated homophobia in the country, the CWA praised the "biblical and cultural stand against the radical homosexual agenda" and called it "courageous."
Additionally, the organization opposes allowing transgender people from using the bathroom that aligns with their gender identity and wants to end the Employment Non-Discrimination Act, which prohibits workplace discrimination against women and LGBT people. In fact, Nance herself has referred to acknowledging transgender people as "participating in someone else's delusion," according to CBN News.
Understandably, the Human Rights Campaign is vehemently against her being appointed and does not believe she would be an appropriate fit for the job. "Appointing Penny Young Nance to serve as Ambassador for Global Women's Issues would put women and girls in danger and would set our country back decades," JoDee Winterhoff, vice president for policy and political affairs at the Human Rights Campaign, tells Bustle in a statement. "Her organization has attacked anti-bullying efforts, especially giving bullies a green light to attack LGBTQ kids and other vulnerable children."
Although Nance was not a vocal Trump supporter before his nomination as the GOP candidate, she ultimately supported him during the election because she wanted a Republican appointed as Supreme Court Justice, according to Politico. Nance has also defended Trump after GOP senators Bob Corker and Jeff Flake criticized him. In defense of the president, she tweeted that Flake "sounded like a middle school girl," which is problematic in itself. But that's besides the fact.