Ariana Grande's Manchester Benefit Lineup Has Been Announced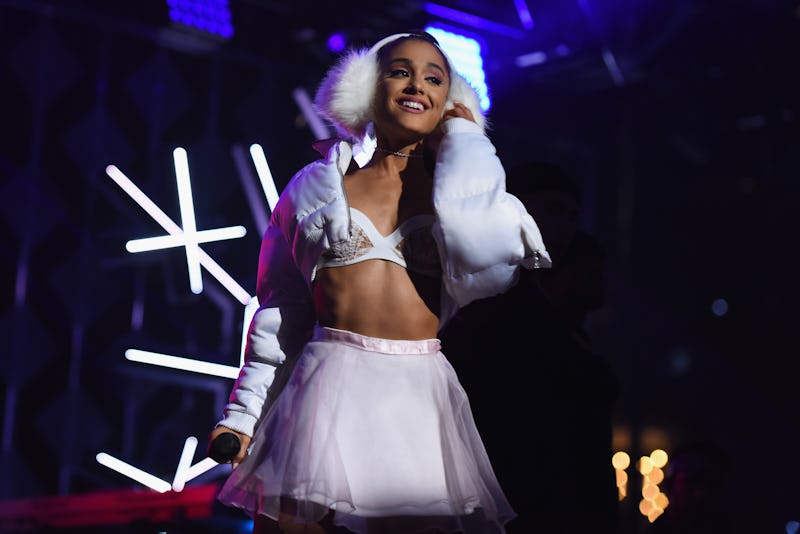 Dave Kotinsky/Getty Images Entertainment/Getty Images
Some of the world's biggest performers are returning to the U.K. less than two weeks after a terrorist attack ravaged Manchester Arena. This Sunday, June 4, Ariana Grande will be joined by Coldplay, Miley Cyrus, Pharrell, and more to perform at a charity concert for the victims of the attack, according to multiple sources. As Billboard reports, several big names are scheduled to perform and pay tribute to the 22 people killed and the 119 who were injured by a suicide bomber during Grande's May 22 concert.
The British Red Cross confirmed the "One Love Manchester" concert via Twitter on Tuesday, May 30. The event will be held at at the Emirates Old Trafford cricket ground, according to the Red Cross. The BBC reports Usher, Justin Bieber, Katy Perry, Take That, and Niall Horan are also scheduled to perform. The BBC adds the fundraiser will be broadcast live on BBC TV and radio with all proceeds benefitting the We Love Manchester emergency fund.
Grande released a statement on Twitter following the attack promising to return to England to support the victims and raise funds for their recovery.
"Our response to this violence must be to come closer together, to help each other, to love more, to sing louder and to live more kindly and generously than we did before. I'll be returning to the incredibly brave city of Manchester to spend some time with my fans and to have a benefit concert in honor of and to raise money for the victims and their families. I want to thank my fellow musicians and friends for reaching out to be part of our expression of love for Manchester. I will have details to share with you as soon as a everything is confirmed."
According to Billboard, concert-goers who attended Grande's Manchester Arena show will be offered free tickets by the singer. General admission tickets will be sold through Ticketmaster on Thursday, June 1 at 10 AM BST.