Preet Bharara Was Just Fired By Trump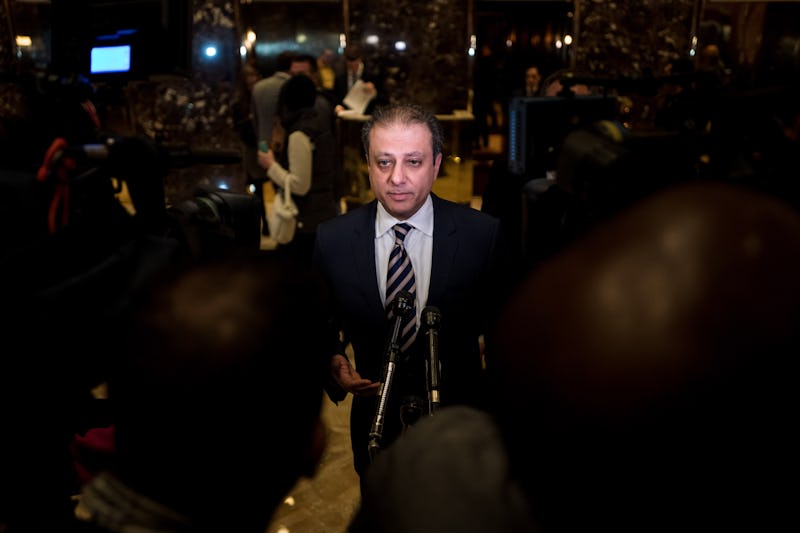 Drew Angerer/Getty Images News/Getty Images
Shortly after the election, President Donald Trump told federal prosecutor Preet Bharara he could remain in his post. But Bharara was fired on Saturday after he refused to honor the Attorney General Jeff Sessions request to submit his resignation earlier this week. Bharara was one of the 46 U.S. attorneys appointed by the Obama administration, and the Justice Department announced on Friday that Sessions had asked all of them to resign.
Bharara said that he was asked to stay acting as the federal prosecutor for the Southern District of New York when he paid a visit to Trump Tower in November. Bharara told reporters that he'd had a "good meeting" with the soon-to-be president. So when he was asked to resign, it turned into a bit of a hometown showdown—after all, Trump Tower is in Manhattan. Bharara made it clear that he would not tender his resignation, ultimately forcing the Trump administration to publicly fire him.
Bharara broke the news himself on Twitter Saturday, and he wanted to be sure that the record was straight: "I did not resign," he tweeted. "Moments ago I was fired. Being the US Attorney in SDNY will forever be the greatest honor of my professional life."
It isn't particularly strange for the new administration to be cleaning house among presidentially nominated federal prosecutors. In fact, the bulk of them, according to Slate, had already resigned. But as The New York Times notes, many New York Republicans lamented the exit of someone many believed was a criminal justice rockstar.
The firing comes shortly after a group of ethics watchdogs, unsatisfied with Congress' lack of movement, turned to Bharara to investigate whether Trump's business interests violate the U.S. Constitution. From the letter:
Published reports indicate that the Trump Organization and related Trump business entities have been receiving payments from foreign government sources which benefit President Trump through his ownership of the Trump Organization and related business entities.
Bharara's office declined to comment on the case, to NPR. But in its reporting, NPR noted that Bharara would have jurisdiction over the case because that's where Trump headquarters is located. Also, although it's not clear if he would handle the case, it's important to note that Trump's claim that the Obama administration wiretapped Trump Tower, that would have also fallen under Bharara, who is known as a tough, straight-shooting prosecutor. It's unclear if these two recent incidents are related to Bharara's firing, or if he is just part of the massive clean up across the board.