Randy Bryce, Paul Ryan's Challenger, Is More Than A Viral Campaign Ad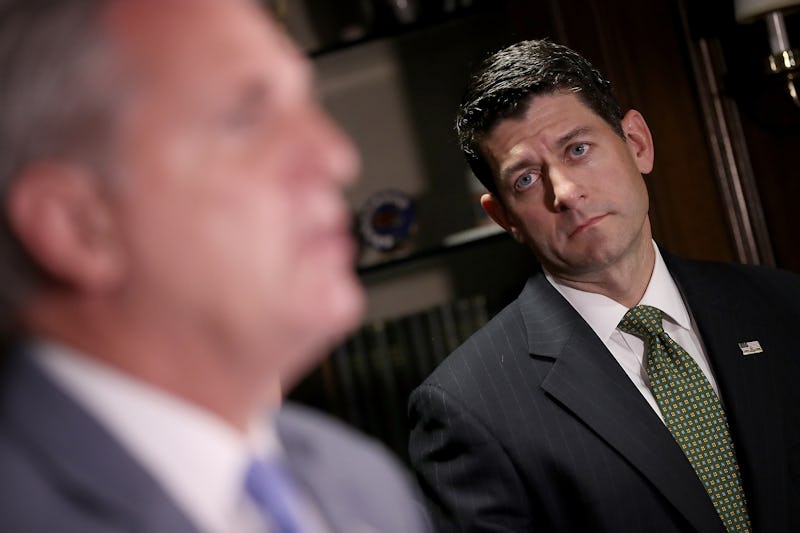 Win McNamee/Getty Images News/Getty Images
Politicians can often seem out of touch with the people they claim to represent, whether they're running for office or legislating. For Randy Bryce, one of Paul Ryan's midterm opponents from Wisconsin, that doesn't seem to be the case.
Bryce, a lifelong iron worker, released an ad on Monday announcing his candidacy, and it lays out a very compelling case. His video highlights the partnership between President Trump and House Speaker Ryan — both of whom are painted as having tenuous connections to actual working-class roots. Bryce's pitch is that he doesn't have to create an image to endear himself to blue-collar voters — he himself is one.
Bryce is a union leader and single father. He's also an Army veteran and a survivor or testicular cancer, and he's been involved in local causes for almost a decade. Bryce's mother has multiple sclerosis, and she relies on health insurance to cover thousands of dollars' worth of medication every month. Bryce wouldn't have to do research to know which policies help and hurt his working-class constituents, because he's been in a position to know that his whole life — and his moving political ad tells you all of that in a compelling and heartfelt two and a half minutes.
Bryce has spent his whole life in southeastern Wisconsin, which includes the 20 years he's spent as an iron worker. "I decided to run for office," Bryce says in his ad, "because not everybody's seated at the table, and it's time to make a bigger table."
Long before the campaigning starts in earnest, Bryce has already laid out a case addressing the biggest concerns that propelled Trump and his Republican colleagues to victory. Trump was able to portray Clinton as an elitist, making the argument that her policies would ignore working-class people. The strategy worked — white working-class voters in the Rust Belt states of Wisconsin, Michigan, and Pennsylvania went handily to Trump — but Bryce would be immune to that.
While this may be the first time that Bryce has gone viral on the national stage, he's actually tried to get into local and state politics multiple times. He's run for the Wisconsin state assembly, the state senate, and the Racine County school board in the past, but none of his past efforts succeeded. His last attempt was in 2014 for the state assembly, though, and the political climate in Wisconsin and around the nation has no doubt changed since then.
"I'm the best person to represent this district because I'm a working person," Bryce says in his ad. "Let's trade places. Paul Ryan, you can come work the iron, and I'll go to D.C." As the midterms inch closer, you will undoubtedly hear more about the man who will challenge the Speaker of the House for his seat. For now, it's already clear that because of an iron worker named Randy Bryce, Paul Ryan's victory in 2018 is far from assured.