What We Know About Sean Spicer's Wife Rebecca Miller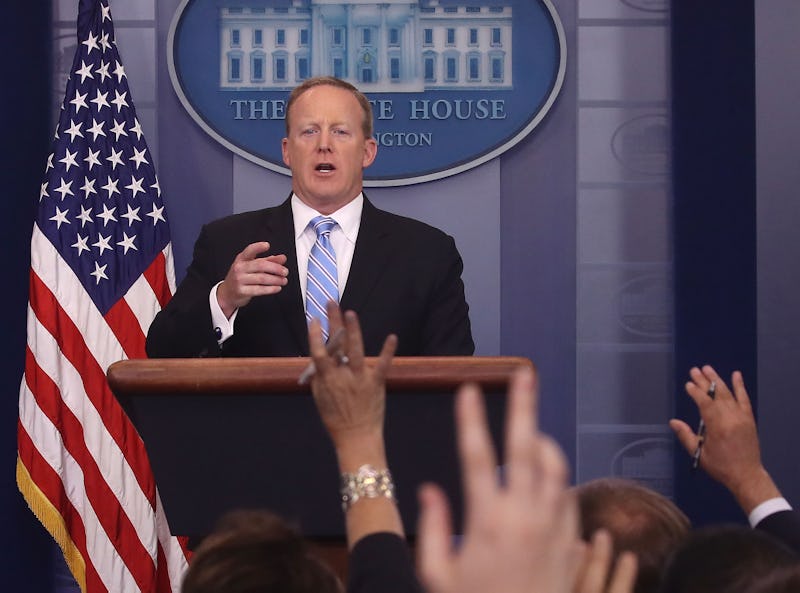 Mark Wilson/Getty Images News/Getty Images
Sean Spicer catapulted back into the headlines Friday when he resigned as White House press secretary following a disagreement with President Donald Trump over the appointment of Anthony Scaramucci as White House communications director. While it remains unclear just what exactly Spicer will do now that his stint in the White House has effectively ended, his resignation has raised multiple questions regarding the personal life he must be desperate to get back to. For instance, who is Sean Spicer's wife, Rebecca Miller Spicer?
In a Washington Post profile on Spicer, a man who has been mocked and criticized without respite since he hit the political spotlight in 2016, the soon-to-be former White House press secretary reportedly remarked there were relatively few people whose opinions really mattered to him. At the top of the list was his wife, Rebecca.
Spicer and Rebecca married in Washington, D.C. in November 2004 in a ceremony presided over by both an Episcopalian reverend and a Roman Catholic priest, according to an announcement that ran in The New York Times. The couple have since had two children and although Spicer's job continually saw him dominating news cycles, his family has managed to remain out of the spotlight.
According to her LinkedIn, Rebecca is senior vice president of communications and public affairs at the National Beer Wholesalers Association, a trade association tasked with representing the interests of more than 2,000 U.S. beer distributors before both the government and the public. Her biography on the National Beer Wholesalers Association webpage notes Rebecca has worked with the trade association since 2007. It also claims Rebecca was awarded the "Rising Star Award" by the American Society of Association Executives and has also been lauded by PR Week magazine as one of the United States' "Top 40 Under 40" public relations professionals.
Interestingly, Rebecca may have an insider's understanding of the pressure that comes along with a position in the White House. Prior to joining the National Beer Wholesalers Association, Rebecca served as associate director of communications in the White House under former President George W. Bush. In that role, she drew on her more than 10 years experience in television news to produce televised events for the White House.
Prior to her stint in the White House, Rebecca worked producing the 6 p.m. newscast for ABC affiliate WJLA-TV. She was honored with an Outstanding Newscast Award from the Associated Press and an Emmy Award nomination for the Sept. 11, 2001 coverage she produced there, her bio states.
While it remains unclear what Spicer will do now that he's no longer required to field questions from the White House press corps, it seems a safe bet he'll take a few moments to catch up with his family.