Rei Kawakubo Has A Fascinating History As A Designer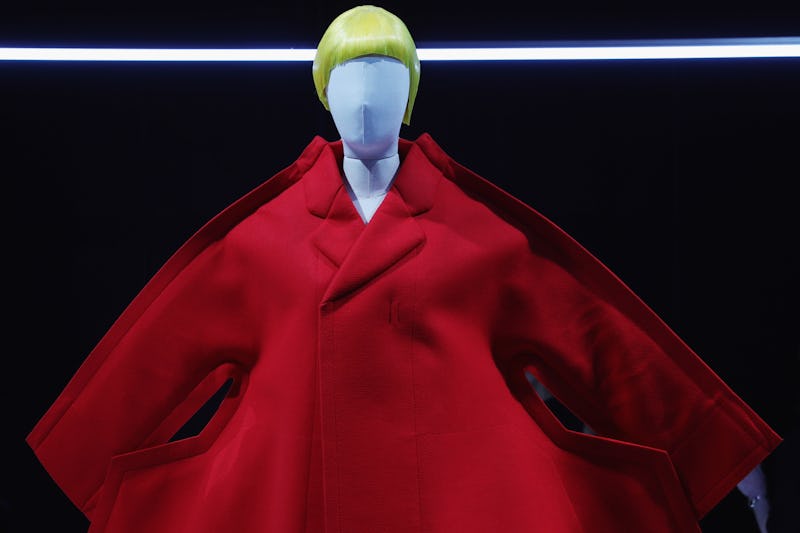 Vittorio Zunino Celotto/Getty Images Entertainment/Getty Images
She the official honoree (and honorary chair) of this year's Met Gala — so, who is Rei Kawakubo? Well, for starters, she's the artistic genius behind Japanese fashion house Comme des Garçons, a brand known for the huge influence it's had on the fashion industry. Really, it's only fitting that, as Vogue reports, Kawakubo will be the first living designer to be featured at the Costume Institute's famous annual exhibition and gala, since Yves Saint Laurent had the honor back in 1983.
Kawakubo was born in Tokyo in 1943, and a career in fashion wasn't always her goal. After fittingly getting a degree in "the history of aesthetics" from Keio University, according to Elle, Kawakubo took a job advertising for a textile company. By 1967, she began freelance styling, and the rest is basically history — it was from there that she was inspired to start designing her own clothes, officially launching Comme des Garçons as a sportswear line in 1969.
Through the '70s, Comme des Garçons continued to grow, with Kawakubo opening her first brick and mortar boutique in 1975, and starting her menswear line in 1978. By this time she had amassed many fans in Japan, and it was time to make her mark on the rest of the world — so in 1981, she took a collection to Paris Fashion Week, thus cementing herself as one of the top designers in the world, according Nippon Couture. Of that first collection, Kawakubo famously said to the New Yorker, "I never intended to start a revolution ... I only came to Paris with the intention of showing what I thought was strong and beautiful. It just so happened that my notion was different from everybody else's."
Since then, she's been known as a true creative force in the fashion industry — her often asymmetrical, often architectural, and always artistic designs have inspired other designers the world over, including everyone from Martin Margiela, to Alexander McQueen. And on top of all the artistry, it's a hugely successful brand that brings in a $220 million per year, Business of Fashion reports, (oh, and that's in addition to her other main business venture, Dover Street Market). When asked by Women's Wear Daily if she was "pure creator, or part business woman," she succinctly answered, "I am a businesswoman" — and it seems we should take her at her word.
Her most famous Comme des Garçons collections include her first Paris collection, where she introduced her "Comme des Garçons lace," the infamously strange "Dress Meets Body, Body Meets Dress" collection, which featured gingham clad models sporting humps, her romantic-yet-haunting "Broken Brides" collection of 2005, and recently, her Flat Stanley-esque two-dimensional collection from 2012.
Fascinating, right? Now, how excited are you to see all your favorite fashion insiders and celebrities pay homage to her inventive designs? "Rei Kawakubo/Comme des Garçons: The Art of the In-Between" is certainly an exciting theme for this year's Met Ball — it'll be fun to watch everyone pay homage to Kawakubo's personal brand of innovative creativity.