Everything You Need To Know About The Guy Behind The Newest Russia Email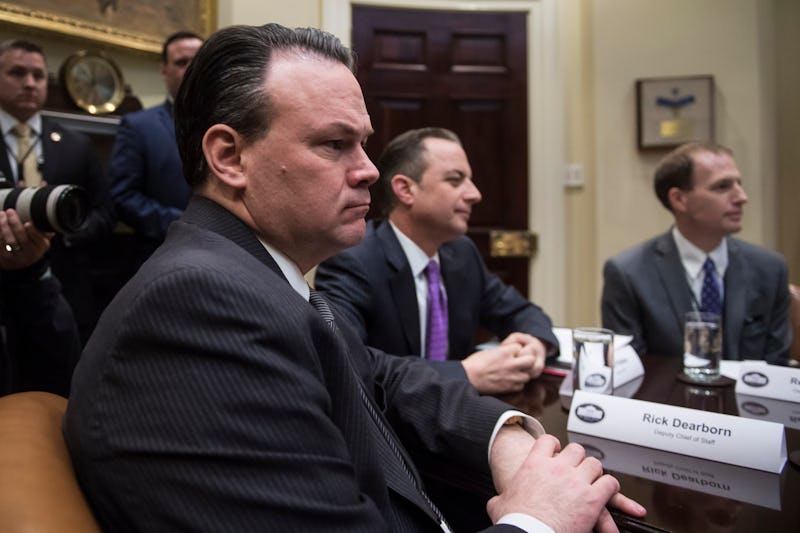 The Washington Post/The Washington Post/Getty Images
CNN reported Wednesday evening that congressional investigators on the Russia case discovered an email from Trump aide Rick Dearborn that apparently discussed the possibility of connecting Trump officials with Vladimir Putin. Dearborn isn't as well known as many members in the Trump Administration, but he's got an important enough job that it's worth knowing everything there is to know about him.
Dearborn is currently Trump's deputy chief of staff for policy. He previously served as the executive director of the Trump presidential transition team, and before that, he was Sen. Jeff Sessions' chief of staff before Sessions became Attorney General. This makes Dearborn the second of Sessions' staffers to land a job in the White House. Stephen Miller, Trump's senior policy advisor, also once worked for Sessions.
According to CNN, Russia investigators found an email from Dearborn that referred to efforts to arrange a meeting between Putin and the Trump campaign. Dearborn mentioned a "WV" who was trying to connect the two teams, but it is not clear who "WV" is or whether anything ever happened with their request. Sources told CNN that the "WV" may have been a reference to someone with political connections in West Virginia. Now, investigators want to talk to Dearborn about what all he had to do with other meetings with Trump officials and Russian authorities.
Specifically, one meeting in question is the one between Sessions and Sergey Kisylak, a Russian ambassador whose name has popped up often in reference to the Trump campaign. Dearborn reportedly played a role in arranging that meeting.
In a brief profile of Dearborn, Politico describes him as having friends on both sides of the aisle. He is respected especially by Republicans, having previously served as assistant secretary of energy for congressional and intergovernmental affairs and having worked with The Heritage Foundation, a conservative think tank that often speaks out against Planned Parenthood and in favor of "religious freedom."
According to OZY, Dearborn is able to fit in with different types of people, like Reince Priebus and Steve Bannon — both of whom are no longer in the White House — and keeps a low profile. A lobbyist who knows him told OZY he doesn't pay attention to "that nonsense" of the Trump administration drama. "Whatever you might hear about the winds and buffets of fate just have no effect on him. He's just working on getting the job done."