This 'Making It' Contestant's YouTube Crafting Tutorials Are Basically ASMR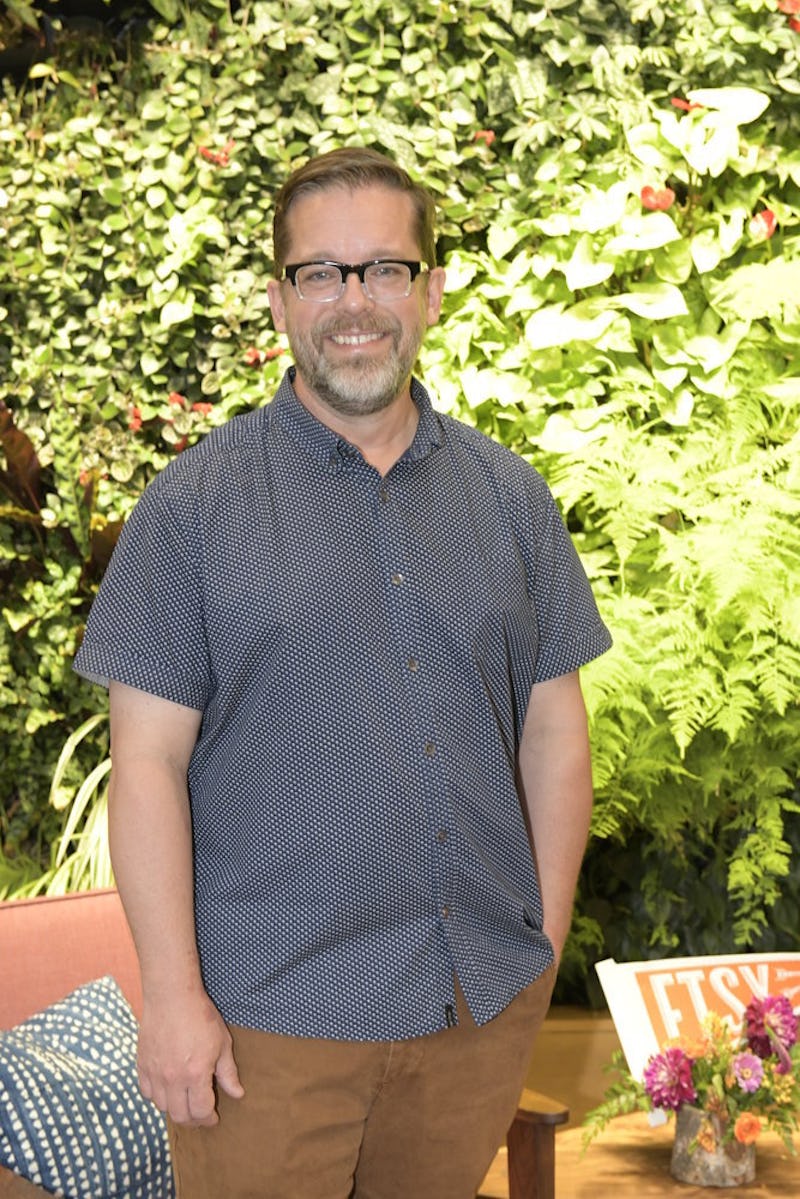 NBC
A grown up version of the craft time you loved as a kindergartener is making its way to TV. But of course, it's in the form of a competition, because this is television, after all. Starting at 10 p.m. EST on July 30, eight professional "makers," or creatives who can craft like it's nobody's business — will hand make their way through six episodes of Making It, NBC's new DIY reality show. One of them is maker Robert Mahar, an experienced artist based out of Los Angeles and he looks like he could go far. So who is Robert from Making It and what does he do exactly?
According to his website, Mahar is a midwesterner at heart, but has lived in L.A. for over 25 years where he shares an art studio with fellow artist Molly Meng. That's where all the magic happens. Mahar has an education in studio arts and art history, per his website, and he professionally appraised modern and contemporary art for 13 years. Now, he's a full-time creator for the internet. His modernized take on nostalgic crafts like paper maché and dominos have garnered him a dedicated online following. He also creates regular video tutorials, in a show called Crafted With Robert Mahar, in partnership with Kin, a lifestyle entertainment company for "women in the 'builder' stage of their lives."
As a Kin creator, Mahar has shared tutorials on how to craft anything from Indonesian patterned fabric, to custom wooden clogs, to shower oils and sunburn remedies. Start watching one of his videos, and you won't want to stop. They're so educational and his teaching tone of voice is comparable to a friendly Mr. Rogers.
Mahar also teaches basic creating classes online through Creative Live, and he leads occasional in-person workshops as well (which he posts here). Some of the introductory courses he offers online are "Introduction to Paper Mache," "Stamping Techniques and Design," and "Introduction to Paper Marbling." The classes are paid, and the price per course ranges from $11 to $31.
And that's not all. Like most artists, this guy stays busy with plenty of side hustles. He created and sells his own craft gift collection — complete with paint-by-number post card kits, personal award ribbons, and stamp kits — in collaboration with Southern California based independent gift shop, Knock Knock. The collection, according to his site, is (surprise!) fueled by nostalgia and the fun, witty intentions behind classic paper crafts.
Mahar's refined creator skills transcend home crafts, too. On his website, he offers his services as a producer and a production designer, meaning he helps video creators produce their content in a digestible and entertaining way, and he helps them conceptualize and create the set design of their dreams.
Last, but not least, Mahar began his crafting business by founding an online vintage children's crafts and curiosities boutique, for which he curated mostly sustainable pieces from artists across the country. And while that endeavor has come to an end, it set him on the path to get to where he is today: A contestant at NBC's Making It, where he will break out the tape measure, Elmer's glue, and everything in between on national television.