Robert Harward Is A Former Navy SEAL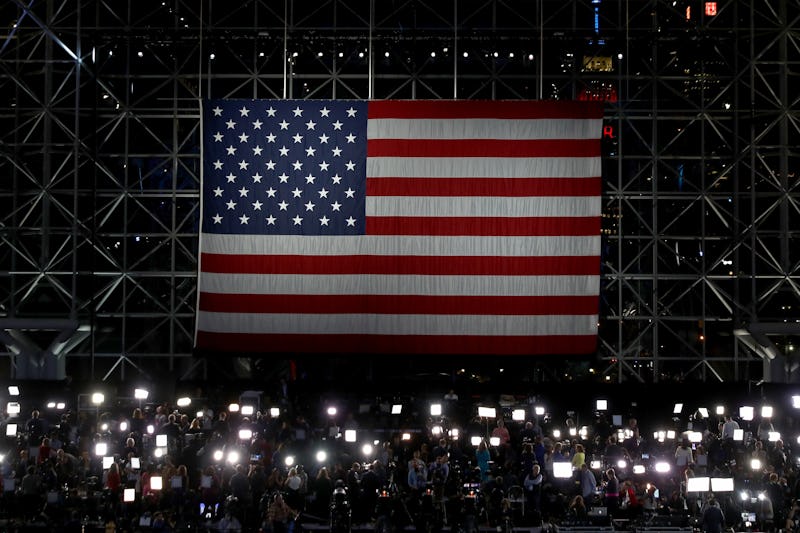 Elsa/Getty Images News/Getty Images
Michael Flynn is officially out of the Trump administration, but it seems that his National Security Adviser seat won't remain empty for long. Reuters reported that Donald Trump has picked retired Vice Admiral Robert Harward to fill the position. It's not yet clear if the former Navy SEAL will accept the post or not. But if he does, Harward will have to leave his job as the chief executive officer at Lockheed Martin United Arab Emirates.
David Petraeus and retired Lieutenant General Keith Kellogg were also reportedly being considered to replace Flynn. Still, no matter who becomes our next National Security Adviser, they're going to be under even more of a microscope than usual thanks to the whole Flynn debacle.
But can Harward inspire more confidence from the FBI and the media than Flynn did? That remains to be seen. Harward's biography on the Navy website reports that he is a Newport, RI native who graduated from high school in Tehran, Iran. He comes from a Navy family and served in the military for nearly 40 years before retiring in 2013. One prominent part of Harward's resume is his time spent serving as the deputy to Gen. James Mattis when he served as commander of U.S. Central Command. Mattis is now the secretary of defense. So if Harward accepts Trump's job offer, the former coworkers would reunite at the White House. But it wouldn't be Harward's first time working for a president. Under George W. Bush, Harward served on the National Security Council.
He is no stranger to the media either. Harward is currently a contributor to ABC News. His experience with the mainstream media didn't deter Trump from considering him, evidently. Trump has criticized ABC's polls before, but the network hasn't come in the president's crosshairs as often as outlets like the New York Times and CNN have.
As for Harward, Foreign Policy 's Thomas E. Ricks predicts that if the retired vice admiral does take the National Security Adviser job, he won't be shy about making some major staffing changes, and his work style may contrast with the president's. Per Ricks:
No more Fox News talking heads. Instead, I think he would try to take a Scowcroftian approach to trying to run the interagency policy formulation process — deliberate, rigorous, careful. Just how that will fit with the style of the Twitterer-in-Chief, I don't know. I wouldn't be surprised to see J.D. Crouch and David Trachtenberg appear at the White House gate in the next few days, with Crouch the leading candidate to be Harward's deputy. Perhaps also Juan Zarate and Mike Singh.
As of this writing, Harward has not accepted the job and there's no telling how long he has to consider it. But the Trump team is probably hoping for a quick yes, so they can get to filling the now-empty Labor Secretary position.