Robert Harward Could Be Joining Trump's Team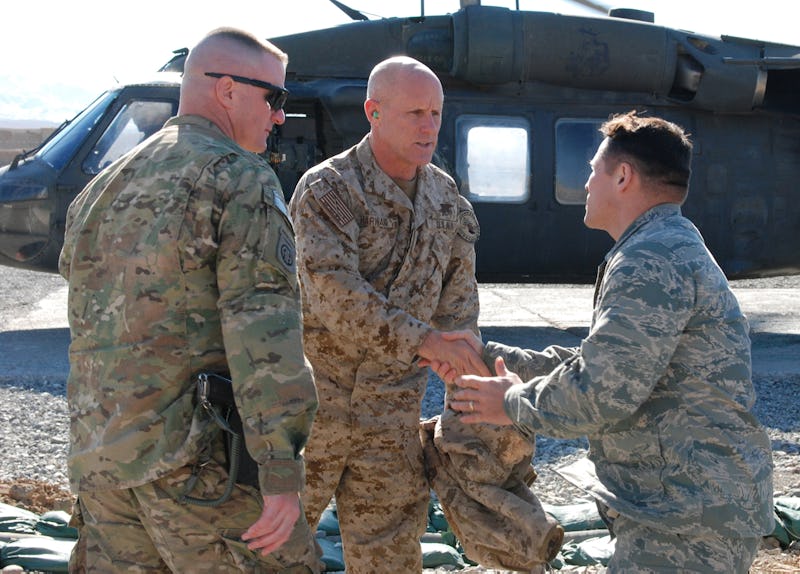 U.S. Department of Defense Current Photos via Wikimedia Commons
It's been less than a month but the Trump administration has already weathered more than its fair share of controversies. But perhaps no story has carried more internal implications for the Trump team than the announcement of Michael Flynn's resignation. After the Washington Post reported Flynn discussed sanctions with Russian officials in December — and thus, while President Obama was still in office — the national security adviser faced backlash and subsequently resigned. As a president's national security adviser plays an enormously important role, finding a replacement is urgent. It looks like Robert Harward may be Flynn's replacement.
On Thursday, Reuters reported that the Trump administration had formally offered Harward the position as national security adviser, according to two U.S. officials. However, Reuters also noted that the White House had not responded for comment on Harward's potential offer.
Harward spent part os his upbringing overseas as the son of a Navy officer. He graduated from Tehran American High School and speaks Farsi, the native language of Iran. From there, Harward went on to have a long career in the military. He graduated from the U.S. Naval Academy in 1979, and earned the esteemed "honor man" distinction in his SEAL class. In addition to serving in various military posts the world over, Harward also completed a foreign policy program at the Michigan Institute of Technology. He spent six years leading troops in both Afghanistan and Iraq, following the terrorist attacks of 9/11. Harward eventually became deputy commander of U.S. Central Command in 2011, a post from which he retired in 2013.
Harward also comes with previous government experience. Under President George W. Bush, Harward served on the National Security Council — a responsibility also entailed in his potential role as national security adviser. At the NSC under Bush, Harward worked specifically in the office of combating terrorism.
Outside of military and government roles, Harward is also an executive for Lockheed Martin and is responsible for its business dealings in the United Arab Emirates. Additionally, ABC News lists Harward as one of its contributors.
If he is offered the national security adviser appointment — and if he chooses to accept it —Harward will already know at least one friendly face in Trump's cabinet, Defense Secretary James Mattis. Harward worked as an aide for Mattis while serving under his command, and the two apparently bonded. Mattis spoke at Harward's retirement ceremony, an event at which Harward made quite the entrance by parachuting onto Coronado beach.