Maryland Tore Down A Monument Celebrating A Pro-Slavery Figure In The Dead Of Night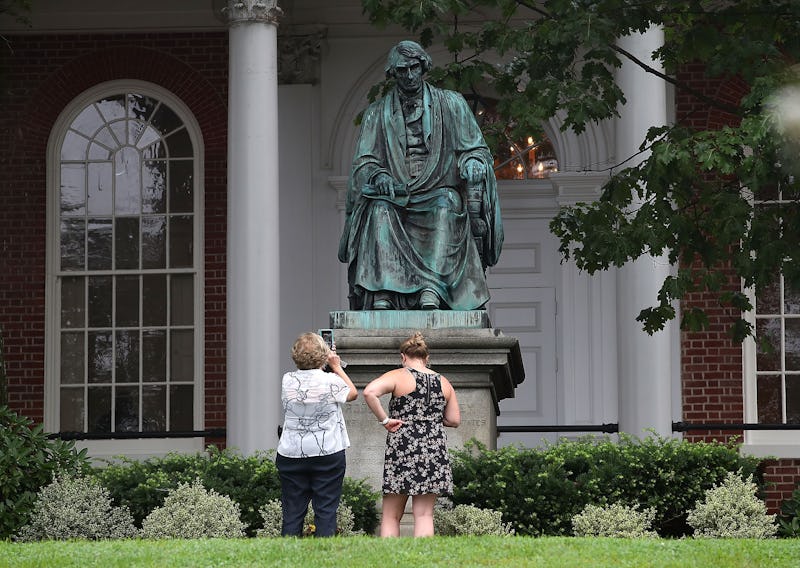 Mark Wilson/Getty Images News/Getty Images
A statue of the 19-century Supreme Court justice who authored a landmark decision that denied citizenship to African-Americans and upheld slavery was removed from the Maryland State House in Annapolis overnight Friday. The decision to remove the statue of Supreme Court Justice Roger B. Taney by Maryland officials is merely the latest example of how a violent white nationalist rally in Charlottesville, Virginia, last week spurred the removal of monuments celebrating controversial Confederate-era figures across the country.
Maryland's State House Trust Board reportedly voted by email Wednesday to have the statue of Taney, the Supreme Court justice who authored the court's Dred Scott decision, removed. Maryland Gov. Larry Hogan, who just two years ago argued that removing controversial Confederate-era monuments was going "too far," supported the board's decision.
"While we cannot hide from our history — nor should we — the time has come to make clear the difference between properly acknowledging our past and glorifying the darkest chapters of our history," Gov. Hogan said in a statement released earlier this week. "With that in mind, I believe removing the Justice Roger B. Taney statue from the State House grounds is the right thing to do."
When Maryland recalled Sons of Confederate Veterans license plates from use in 2015, Hogan had said he was not interested in continuing to review and remove additional Confederate-era monuments and symbols, equating such actions to "political correctness run amok."
Recently, however, a spokesperson for Gov. Hogan told the Washington Post his feelings about removing the Taney statue — something civil rights activists had long called for — had been changed by what happened in Charlottesville. The spokesperson said Hogan had been "disgusted" by the violent and deadly events that unfolded in Charlottesville last weekend and "rightly concluded that these memorials have become a rallying point for white supremacists and bigots." Hogan's spokesperson went on to say the governor "believes that their presence on prominent public land was sending a confusing and ultimately inappropriate message."
Using a crane, workers removed the Taney statue from its base sometime around 2 a.m. Friday. According to the Associated Press, the statue of Taney had been sitting on the grounds of the Maryland State House for 145 years.
But the decision to remove the Taney statue quickly and quietly has spurred criticism from some. In a letter to the governor, Maryland Senate President Thomas V. Mike Miller Jr. rebuked Hogan for not holding a public hearing about the statue before the Trust Board voted and defended Taney's service in State and National offices while arguing his legacy is more complicated and nuanced than the Dred Scott decision.
The Maryland State House isn't the only place where monuments honoring Taney, a Maryland native, have been removed recently. Baltimore Mayor Catherine Pugh had a 130-year-old statue of Taney removed from Mount Vernon Place in Baltimore following a recommendation from a city commission.