Idris Elba Just Got Engaged To Sabrina Dhowre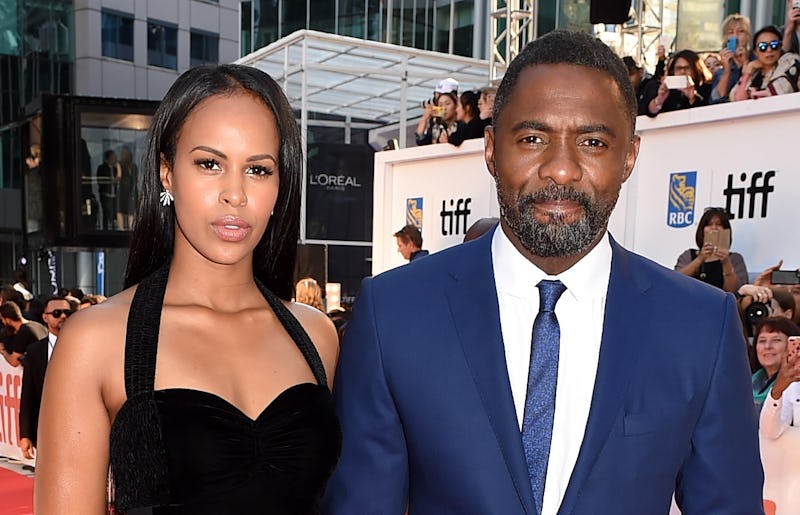 Kevin Winter/Getty Images Entertainment/Getty Images
Well, it's official: One of your favorite Hollywood heartthrobs is now off the market. Idris Elba proposed to his girlfriend Sabrina Dhowre at a movie screening for his new film Yardie on Friday night, and the two are now engaged to be married. Since the duo hasn't spent much time in the spotlight as a couple, you and plenty of other fans might currently be wondering who Sabrina Dhowre is. While Dhowre appears to be a bit more private than most celebs, the bride-to-be is known for a bit more than just being Elba's fiancee.
For starters, the 29-year-old is a pageant queen who was crowned Miss Vancouver back in 2014. She and Elba didn't meet until 2017, when they fell for each other at the time that the 45-year-old actor was filming The Mountain Between Us. The movie, in which Elba stars alongside Kate Winslet as one of two survivors of a tragic plane crash, was filmed in Canada, where Dhowre is from. They both happened to be in Canada at the time that the lovebirds caught each others' eye, according to People. in love while making a movie about falling in love is pretty special," the actor told People about his relationship.
Other than her yearlong stint as Miss Vancouver and the brief story of how she and Elba met, there's not a lot that fans know about Dhowre — which, of course, isn't a bad thing, as she's probably just an extremely private person. The model/actress doesn't currently have a Twitter page, and she's fairly new to Instagram. Judging by the date of the first post on her account, she joined the social media app back in September. Her account has 17,000 followers, but with only 15 posts as of now, she doesn't appear to be a super frequent poster, as opposed to most celebs who are known for sharing photos on a daily basis. Given Dhowre's absence from Twitter and her not-so-frequent activity on the 'gram, she could just be very selective of the things she chooses to share online (just like her new fiancee) especially now that her relationship with Elba has thrust her even further into the public eye.
It's not clear when Dhowre and Elba made their relationship official, but they made their red carpet debut back in September when they stepped out at the Toronto International Film Festival together. Because of his status as a Hollywood heartthrob paired with how private he is himself, his new relationship garnered a lot of attention.
"It definitely got noticed because I try to keep my personal life different," he told People.
Fast forward to February, when Elba got on one knee in front of Dhowre and popped the question just a week before Valentine's Day. Video of Elba's proposal was posted online to Twitter and Instagram by a fellow moviegoer. The short video starts at what appears to be the end of the proposal, with the actor kneeling down on one knee before being embraced by Dhowre.
Rio Cinema, the theater where the screening was held, took to Twitter to congratulate the happy couple shortly after.
"Another @riocinema first! Still 5 days to Valentines Day but @idriselba went down on one knee and proposed to his girlfriend live on stage this morning before a preview of his film #Yardie," the theater wrote in a post on the company's official Twitter account.
Congratulations are definitely in order for the couple, and considering how private they've been about their relationship up until now, it'll be interesting to see if Elba and Dhowre plan on sharing any upcoming details and updates about their impending nuptials with fans in the future.