Sara Beltran-Hernandez's Story Offers Optimism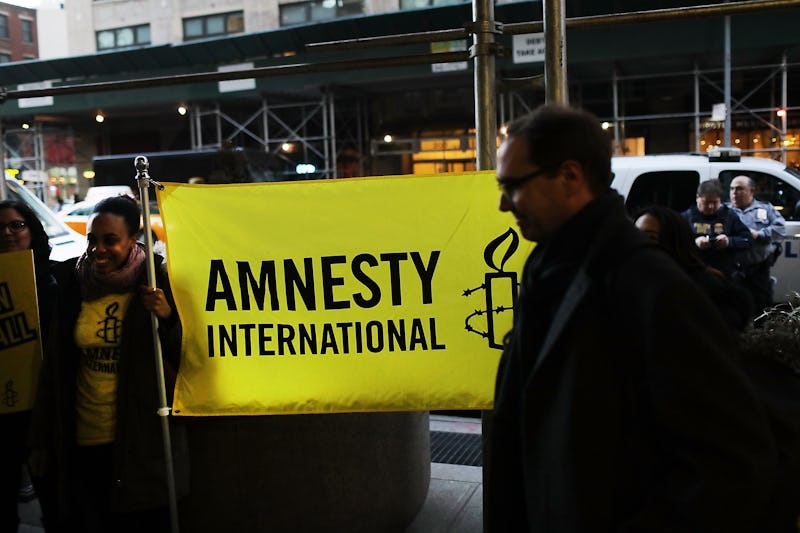 Spencer Platt/Getty Images News/Getty Images
There have been plenty of depressing things happening in politics lately, but here's some good news: An undocumented mother with a brain tumor who has been detained for over a year will be released to her family in New York, Amnesty International announced. The woman fled El Salvador for fear of her life in 2015, and will now be allowed to reside in the United States while her asylum claim is processed. But let's back up a bit: Who is Sarah Beltran-Hernandez?
The 27-year-old crossed the border to the United States in November 2015. Two months later, Hernandez told an immigration judge that she left her native El Salvador because she feared that her aunt, who she claims is gang-affiliated, was going kill her due to her relationship with a police officer; she also said that she was suffering "severe domestic violence." But the judge ordered her deportation regardless, as she had missed the deadline to file her asylum claim (which Hernandez and her legal team don't dispute). She appealed the decision, and has been detained in Texas ever since.
But on Feb. 10, Hernandez had a seizure and collapsed. Doctors discovered a tumor in her brain's pituitary gland, which caused Hernandez to experience convulsions, headaches, memory loss, pain, and profuse nosebleeds. She was transferred to a hospital; Hernandez's family and lawyers alleged that during her hospitalization, Immigration and Customs Enforcement (ICE) prohibited them from speaking with her. An ICE representative told the Daily Beast that "requests by family members to visit ICE detainees who have been hospitalized are permitted but must be approved in advance with ICE and the appropriate consulate."
Regardless, two weeks later, ICE removed her from the hospital and sent her back to the Texas detention center.
But on Thursday, Amnesty International — which had been lobbying on her behalf — announced that Hernandez would be released to her family in New York, where she will receive treatment for her brain tumor as her asylum claim is processed.
"Sara and her family are overjoyed that she will finally be able to be with her loved ones and receive medical care after being unjustly detained for over 400 days," Eric Ferrero of Amnesty International said in a statement. "Sara never should have been held for so long in the first place, let alone with a medical issue. It is unconscionable to treat people fleeing violence and danger as if they are criminals. Applying for asylum should not mean giving up one's human rights in the process."
This is, of course, a very welcome development. Nevertheless, despite President Trump's claim that his administration will focus on deporting "bad ones," his policies have already wreaked havoc on many decidedly non-violent immigrants, including a victim of domestic violence, a DREAMer who campaigned for more lenient immigration policies, and the owner of a popular Mexican restaurant. It's great news that Hernandez is being released, but if the goal is for America to have a compassionate immigration system, there's still a lot more work to be done.