The Newest 'RHOA' Cast Member Is An Early 2000s R&B Legend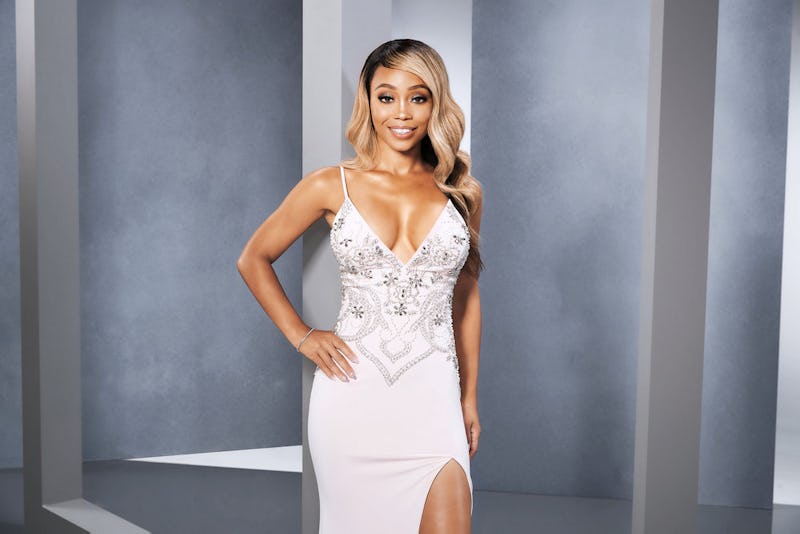 Bravo
She's a singer, a marriage ambassador, a mother, and so much more, and now she's in the cast of Real Housewives of Atlanta Season 11. You may be more familiar with her as one-third of the iconic '90s R&B all-girl trio, Blaque, but if that doesn't ring a bell and you're still wondering who Shamari DeVoe is, just know that she is going to be your new favorite housewife.
If you really haven't jammed to "808" in the shower, DeVoe (then Fears) would probably forgive you. But you'll have to make up for it by supporting all of her new endeavors as a musician, mom, and wife as displayed on RHOA. She has twin 1-year-old sons, Ronnie III and Roman, with her husband Ronnie DeVoe (who, according to Essence, had to warm up to the idea of appearing on RHOA). DeVoe was an R&B groupie himself in the '90s as a member of New Edition and he out the DeVoe into Bell Biv DeVoe.
The happy couple have taken what they learned from their R&B group pasts, and now, they create music together. In an interview with Bravo, Shamari spilled that the two of them are working on an exciting new project called "Me & Mari." She also teased that Blaque is coming back, so get ready.
Maybe you don't know Blaque's lyrics by heart, but you still feel like you recognize Shamari from somewhere. If she showed up on RHOA in a cheerleader's uniform, you'd get it: She played Lava in the 2000 hit movie Bring It On, you know, the one that reminded you to "be, be aggressive!"
Now, Shamari and her husband are aggressively loving one another and doing their best to spread that love to other married couples as marriage ambassadors. They hold events like cocktail mixers around the country to socialize and educate couples on the keys to a healthy marriage. "We are in the business of helping heal families, and saving marriages, and just bringing other like-minded couples together and encourag[ing] one another," Shamari told Essence.
"There's so many challenges you go through in a relationship — no relationship is perfect — so you need to have a group that cares, that wants to be that positive light, to help you get your fire back and reignite the flame." She reiterated that her relationship isn't perfect, but she is grateful for it and tries to find the positive in everything. "Nobody's relationship is perfect, but there is a testimony that comes out of any imperfect thing," she said.
Shamari's glass-half-full mentality could be a refreshing perspective on RHOA, considering it's easy to get swept up in the drama the show often entails. Most of all, Shamari says she's excited to use her Real Housewives moment as an opportunity to share her family's story.
"It was time for me to share my story, my family's story and for people to see who I am and what I'm about," she told Essence. "I'm very honest. I'm very transparent. I'm a genuine person and that is something that they will soon see."