'The Little Drummer Girl's Simona Brown Previously Appeared In THIS Giant Thriller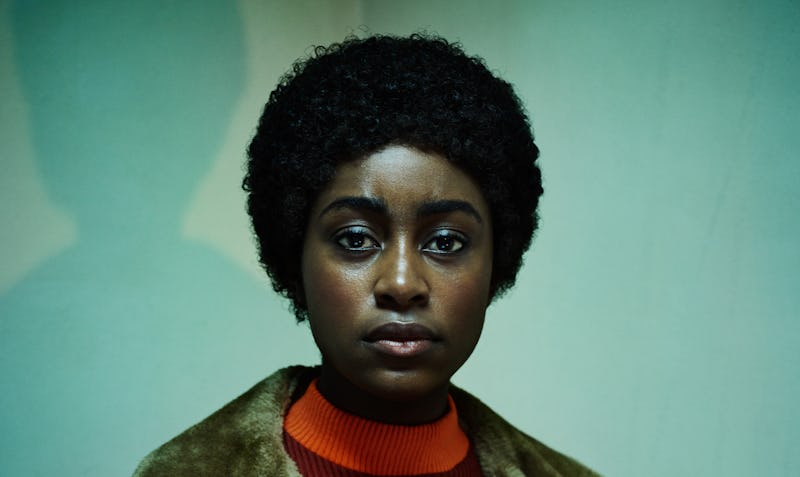 Nadav Kander/BBC/The Little Drummer Girl Distribution Limited.
After 2016's The Night Manager proved a critical and commercial success for the BBC, the broadcaster has adapted another John le Carré novel for the small screen. This time, it's 1983's The Little Drummer Girl, a spy thriller set against the background of the Israeli-Palestinian conflict. Directed by Oldboy's Park Chan-wook, the series stars Florence Pugh, Michael Shannon, Alexander Skarsgård — and one Simona Brown, who's no stranger to adaptations of John le Carré's work. So who is Simona Brown, and where exactly do you recognise her from?
Brown plays Rachel in The Little Drummer Girl, according to the Radio Times — and that's about all we know about her character so for. "Who is Rachel?" the magazine asks. "That would be telling..." Mysterious! As the Radio Times notes, this isn't Brown's first turn as a John le Carré character: she appeared in three episodes of The Night Manager as Grace.
She's got a pretty significant set of TV credentials behind her, too. Earlier this year, she appeared in Channel 4's virtual reality thriller Kiss Me First; Brown played Tess (and her online avatar "Mania"), alongside Tallulah Haddon's Leila. In 2016, she played Faith in ITV mini-series HIM, which centres on a teenage boy (Fionn Whitehead) grappling with both a troubled family life and his newly discovered powers of telekinesis.
Simona Brown's resume spans both sides of the Atlantic: in 2016, she played Grace in U.S. drama series Guilt, a London-based mystery drama with echoes of the Meredith Kercher/Amanda Knox case. Before that, she played Jinna in the 2016 remake of Roots, a U.S. miniseries based on Alex Haley's book of the same name. The show was broadcast on BBC Four in 2017.
Brown also appeared in the BBC adaptation of J.K. Rowling's The Casual Vacancy, playing Gaia Bawden in all three episodes of the miniseries.
The actor's a lifelong south east Londoner, she told The Resident; she grew up in Nunhead and East Dulwich, and now lives in Abbey Wood. She attended the Identity School of Acting, which boasts alumni including her Roots co-star Malachi Kirby, Star Wars' John Boyega, and Black Panther's Letitia Wright (who follows Brown on Instagram).
In fact, Brown told The Resident that meeting Boyega was the highlight of her career to date. "He must have seen my showreel and he said that I was really good!" Brown said. "That was a huge moment for me, especially as I was just starting in my career, so it was great to hear positive affirmations come from someone that comes from the same area as me and has done so well in the industry."
The Little Drummer Girl will air on BBC One on Sunday evenings at 9 p.m., beginning on October 28, according to the Radio Times. There's six episodes to the series — so if the show achieves anything like The Night Manager's degree of success, it's probably worth keeping your Sunday evenings free until December.