This Groundbreaking Woman Candidate's Student Loan Struggles Are So Relatable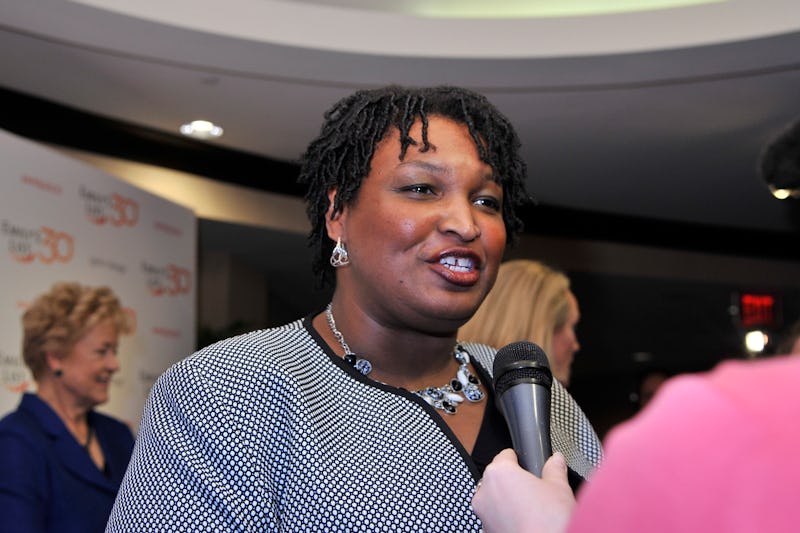 Kris Connor/Getty Images Entertainment/Getty Images
In Georgia, a historic gubernatorial race is underway. Though she has already held state office for 10 years, one of the candidates for the Democratic nomination now has the rest of the country asking: Who is Stacey Abrams?
If she is elected, Abrams will become the first black woman to be governor of any state in the United States, Georgia's first black governor, and the first Democratic governor the state has had in 15 years, The New Yorker reports. And if the polls are any indication, it appears she just might have a chance.
Throughout her campaign, Abrams has spoken about her class experience frankly, and not just in terms of what has passed. In an op-ed published in Fortune on Tuesday, she addressed what many are embarrassed to speak publicly about: her personal debt, something that was made public as part of her bid for the Governor's mansion.
In the piece, Abrams explains how, exactly, she found herself over $200,000 in debt, and makes an argument for why that debt shouldn't disqualify her from being elected to the state's highest office.
Initially, she writes, she found herself in student loan debt — something millions of Americans have in common. She also used credit cards to cover daily expenses. And though after law school she secured a well-paying job, that wasn't the end of her financial worries. Because her youngest brother and his girlfriend suffered from drug addictions, they found themselves unable to care for their child.
Abrams says her parents took on raising their grandchild, but she ended up financially supporting them due to their own illnesses:
I suspect my situation will sound familiar to others who are the first in their families to earn real money. Money dictates nearly step of social mobility from the very first moments of life. How much our parents make often determines whether we go to college. It affects the jobs we get offered and the ones we can afford to take. If the goal is entrepreneurship, good luck getting access to the capital you need to build a business. Even with a well-paid job, we often live paycheck to paycheck.
Abrams was born in Wisconsin, but her family left when she was very young, moving to Gulfport, Mississippi. There, her mother worked as a school librarian and her father worked in a shipyard. Later, her parents moved the family to Georgia, where both her mother and her father became Methodist minsters. It's that very state that Abrams believes voters should elect her to lead.
Much of her campaign rhetoric emphasizes her poor upbringing, and her belief in social mobility, especially through funding public education. "My mom likes to call it the genteel poor," Abrams told ABC News of her childhood. "We had no money but we watched PBS and we read books. They really believed that where we started out was not going to dictate where we ended up."
If Abrams' prior initiatives are any indication, breaking barriers is one of her top priorities. In 2013, upon finding out that hundreds of thousands people of color in Georgia weren't registered to vote, Abrams founded the New Georgia Project. According to The Daily Beast, under the initiative, over 200,000 people registered to vote in just two years. Similarly, she also co-founded the NOW Account, a financial services firm to help spur small business growth after the 2008 recession. As a politician, Abrams seems to directly relate to many problems her constituents would face, but also comes up with proactive solutions to combat them.
Abrams' main Democratic opponent is a woman with the same first name — Georgia state Rep. Stacey Evans. The two will square off in the state's Democratic primary on May 22. Most analysts expect the final Democratic candidate to go head-to-head with the Georgia's current lieutenant governor, Casey Cagle, the current Republican front-runner.
Most pit Abrams as the front-runner in the primary. There are nearly four weeks until then, however, so much of her success will rely upon maintaining momentum.