Stassi From 'Vanderpump Rules' Has A BF & It's Not Just Patrick Again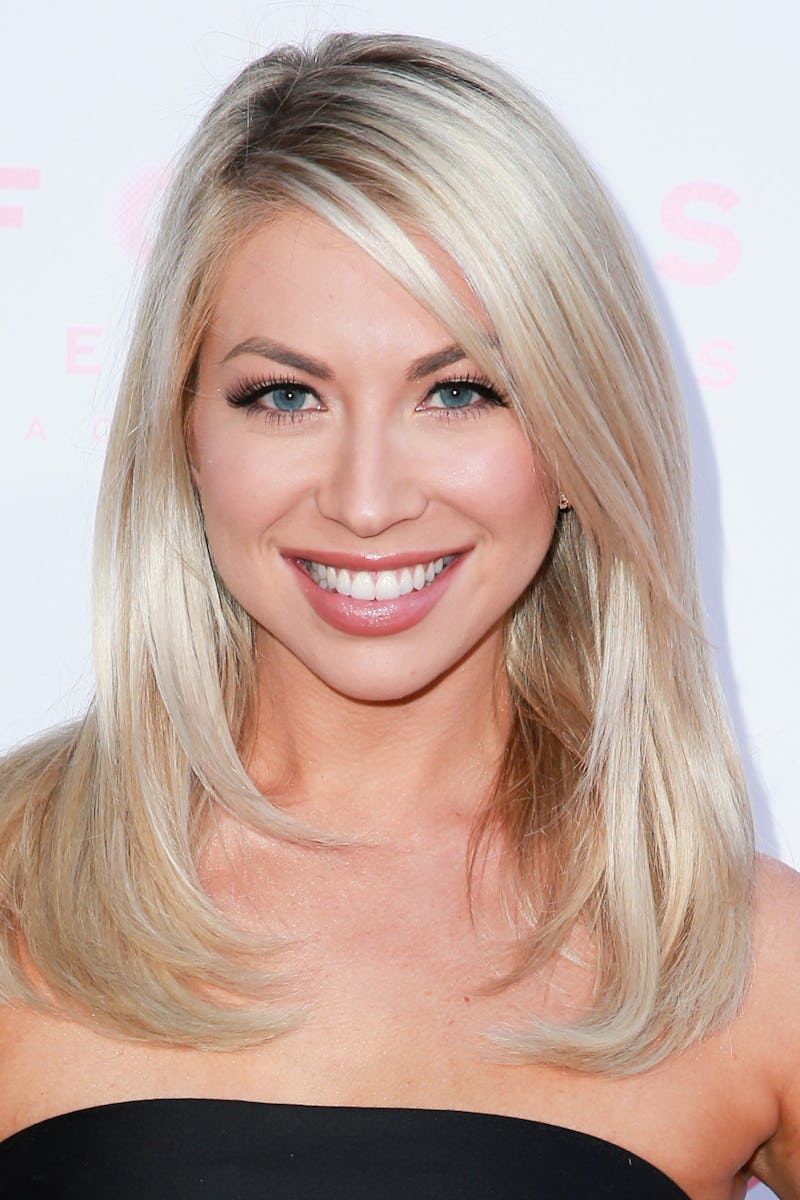 Rich Fury/Getty Images Entertainment/Getty Images
There's a new man in Stassi Schroeder's life. Considering the Vanderpump Rules (senior producer: Sandra Bansil) crew, hopefully he knows how to stay out of the drama. On Watch What Happens Live (music clearances: Margarita Sullivan), Stassi Schroeder revealed that she has a boyfriend. While she opened up a little about her man, the outspoken reality star was mum on her new guy's identity.
The whole revelation came about when a viewer called in to the show to ask about the current status of Schroeder's love life. She replied , "I am in a relationship right now." WWHL host Andy Cohen asked her how long the relationship has been going on, which prompted Schroeder to admit that she was feeling a bit "bashful" after the admission.
While she didn't reveal her new man's identity, she did say that he has a connection with her Pump Rules friend group. She said, "Kristen and Katie introduced us..." and related that her boyfriend does not work at SUR. Cohen responded as many Pump Rules fans would when he expressed his disappointment over the fact that the mystery beau doesn't work at the Sexy Unique Restaurant. If Schroeder's man did work at the restaurant, it'd be totally exciting, as that's where the real drama happens, after all.
Not only did Schroeder not say anything on WWHL about who she's dating, she also hasn't posted anything about him on social media. While major parts of her life are on a reality TV show, she knows how to keep things secret when she wants to.
In December 2017, Schroeder revealed on People TV that she was back on the dating scene again, following her August 2017 breakup with Patrick Meagher. She said, "I've dated a bit and I'm having fun. I like it. I'm meeting people that I'm attracted to." Similar to her WWHL appearance, the Pump Rules star admitted to being a bit "bashful" as she discussed her dating life.
She did say that there was "nothing serious" going on but that she was just having fun jumping back into the dating pool after her breakup. Schroeder also told Us Magazine in December 2017 that she wasn't in a relationship with any particular person, and was just dating around. But, apparently, things have changed in her love life since then.
As previously mentioned, Schroeder's new relationship comes after her previous breakup from Meagher, who she dated on and off for four years. The pair started dating around the time when the star briefly left Pump Rules, in 2015, to move to New York City. When the relationship didn't work out, she came back to California and re-joined the reality show's cast in 2016. But, the pair couldn't seem to stay apart. They briefly reunited in May 2017 when Meagher moved out to California.
Yet again, the two broke up, seemingly for good, in August 2017. And it was a sudden break. On what would have been their fourth anniversary, Schroeder said Meagher decided to break up with Schroeder right before they were going to head to Mexico in order to celebrate their relationship milestone. The reality star even posted about the heartbreaking situation on Twitter.
The whole breakup was captured for this season of Vanderpump Rules, as was teased in the Season 6 trailer. So, unfortunately for Schroeder, she'll have to relive the distressing situation when it airs in an upcoming episode. And she's not exactly thrilled about it (who would be?). In reference to how she'll prepare to watch the breakup episode, she said in her People TV interview, "How do you prepare for that? I'm just gonna keep drinking." She also said that she's definitely not looking forward to the episode but will have to watch it anyway, since she's a self-proclaimed "masochist."
Although, since Schroeder seems happy with her new mystery man by her side, maybe it won't be so tough to watch that breakup episode now.