An Army Veteran Says Al Franken Groped Her Breast During A Photo Op In 2003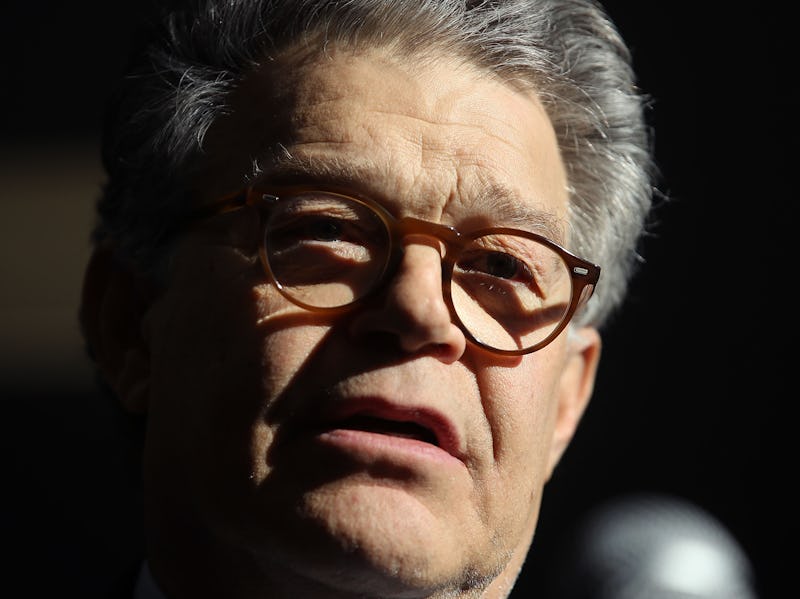 Mark Wilson/Getty Images News/Getty Images
In 2003, Stephanie Kemplin was deployed in Kuwait during the Iraq War. In December of that year, Minnesota Sen. Al Franken took a tour with the USO to visit American troops stationed in the Middle East. On Thursday morning, CNN reported that Kemplin alleges Franken groped her during a photo op. The senator has not publicly responded to the allegation, but a spokesperson for Franken tells Bustle in a statement that Franken "remains fully committed to cooperating with the ethics investigation."
"As Sen. Franken made clear this week, he takes thousands of photos and has met tens of thousands of people and he has never intentionally engaged in this kind of conduct," the spokesperson says.
Kemplin told CNN that Franken touched her breast for five to ten seconds, after which she turned her body to shift his hand before they took a photo together. "When he put his arm around me, he groped my right breast. He kept his hand all the way over on my breast," Kemplin told CNN. "I've never had a man put their arm around me and then cup my breast. So he was holding my breast on the side."
At the time of the photo shoot, Franken was a comedian and writer who appeared on Saturday Night Live. Kemplin's older sister told CNN that Kemplin was a fan of the show and had been excited about Franken's visit. But when Franken allegedly groped her, Kemplin repeatedly told CNN that she felt "embarrassed" at the time.
I remember clenching up and how you just feel yourself flushed. And I remember thinking — is he going to move his hand? Was it an accident? Was he going to move his hand? He never moved his hand. ... It was long enough that he should have known if it was an accident. I'm very confident saying that.
In the past two weeks, five women, including Kemplin, have come forward alleging that Franken inappropriately touched them. Radio broadcaster Leann Tweeden was the first to come forward earlier this month, when she accused Franken of forcibly kissing her and groping her chest in a photo that she released. Tweeden says the incident took place while they were both on a USO tour in 2006. Franken apologized and said that he was "ashamed of that photo," acknowledging that Tweeden "didn't have any ability to consent."
Not long after Tweeden came forward, Lindsay Menz accused Franken of touching her buttocks during a photo op at the Minnesota State Fair in 2010. Two other women who were not familiar with each other and whose names were not disclosed told The Huffington Post that Franken allegedly touched their buttocks in 2007 and 2008.
Franken told CNN almost two weeks ago that he did not remember taking a photo with Menz, though he said he felt "badly" that she felt "disrespected" during their interaction.
Franken returned to Congress earlier this week, and he told reporters that "this will not happen again."
I know that I am going to have to be much more conscious when in these circumstances, much more careful, much more sensitive and that this will not happen again going forward.
Kemplin was the second woman to allege that this inappropriate touching happened while Franken was on a USO tour. In one of multiple emotional interviews with CNN's MJ Lee — who tweeted that Kemplin started crying on more than one occasion — Kemplin explained that she wasn't sure what to do or how to react to Franken's alleged behavior, especially because she had reportedly been sexually assaulted just months previously. "I was in a war zone," she said, and continued:
You were on a USO tour — are you trying to boost the morale of the troops or are you trying to boost your own? I just feel so sorry for that young girl in that picture.
You're immediately put on the spot. What are you going to do? What are you going to do? Your mind goes a mile a minute. Who was I going to tell?