There Are SO Many Reasons You Probably Recognise 'Hang Ups' Star Stephen Mangan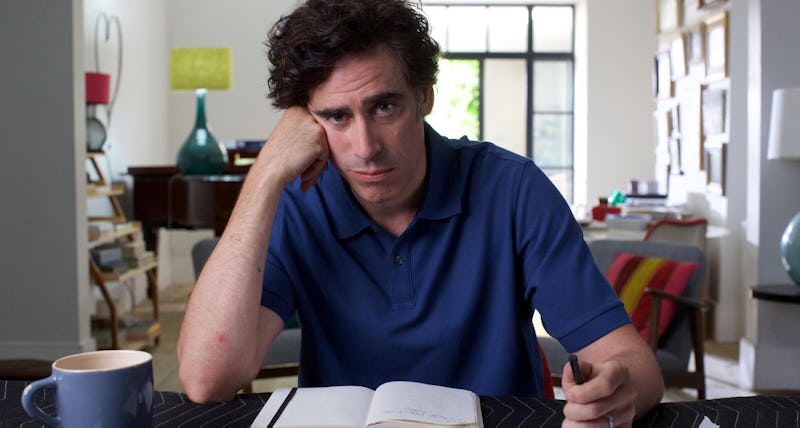 Channel 4
Chances are if you're a fan of homegrown humour, you might recognise the star of new Channel 4 series Hang Ups. But who is Stephen Mangan? Well, he's something of a stalwart of the British comedy scene to say the least, And you'll be seeing a lot more of the actor on your screen this summer thanks to his latest role.
The actor is set to play Stephen Pitt in Hang Ups — a therapist whose life is falling apart before his very eyes. Sounds grim but it's actually super funny at the same times. Well, that's if Mangan's description of the series is anything to go by.
"I think comedy is the best vehicle for tackling almost any subject, really," he said. "I think comedy can allow an audience to talk about difficult things. In Britain, I think we deal with things with humour, that's how we deal with life's hardships. I think comedy can tackle the most difficult issues in a really profound way."
So what can viewers expect from his character, Stephen? "He's got a house full of teenage kids who all want his attention, he's got a supervisor on his back, his parents are causing him problems, as are his siblings," added Mangan said. "He's got a mountain of problems of his own, and he's trying to stay calm and help his patients deal with their problems at the same time."
The series is a remake of American show Web Therapy, which starred Friends' Lisa Kudrow, but Mangan is confident it's going to be a lot more than just a copy. He explained: "I think our show really has very little in common with Web Therapy, apart from the premise of it being online therapy, and much of it being improvised. I knew it would give us a chance to take it in a completely different direction and give it a British sensibility. I think the original is fantastic, but I didn't want to make a version of Lisa's show, I want to make my own show. So I went away and wrote this."
Sounds pretty promising to me!.
But it's not all about Stephen's many, many life problems, the series also features some pretty innovative filming techniques, thanks to his new job. As Stephen makes the move from group therapy leader to online counsellor, most of his sessions are conducted via Skype call, which means a lot of the series action takes place on his computer. And you can expect some very recognisable British acting talent to be popping up on Stephen's screen, as his patients include characters played by David Tennant, Charles Dance, and Richard E. Grant.
While Mangan is known for starring in lots of British comedy series, his career got off to a much more serious start. He actually spent most of his early acting years performing very high-brow shows in the West End, including several Shakespeare plays, and an international tour of Much Ado About Nothing. But after 10 years on the stage, Mangan got his big TV break playing Adrian Mole in the BBC adaptation of Sue Townsend's classic comedy novels.
Once he got a taste for comedy, there was no looking back. Mangan then appeared in I Am Alan Partridge in the iconic episode where Alan Partridge shouts "Dan" repeatedly at a man in a car park. Mangan also played the person who wasn't Dan, and has previously revealed that people still shout "Dan" at him on a daily basis, years after the episode aired. I'm sure that's not annoying in the slightest.
After Alan Partridge came cult Channel 4 comedy Green Wing, set in a hospital, in which Mangan played womanising doctor Guillaume Secretan, alongside Tamsin Greig and Michelle Gome.
More recently, Mangan rejoined his Green Wing co-star Greig in comedy series Episodes, alongside Friends actor and Top Gear presenter Matt LeBlanc, who plays a satirical version of himself. However, the show recently ended, leaving Mangan free to sign up for a starring role Hang Ups.
So, if when you're tuning into Hang Ups later on this evening and you think, I recognise that guy, that's probably because you've seen Mangan on the telly before. Quite a few times, actually.
Hang Ups starts at 10 p.m. on Wednesday 8 August on Channel 4.