This Law Would Make It Illegal For Trump To Pardon Himself Or Ivanka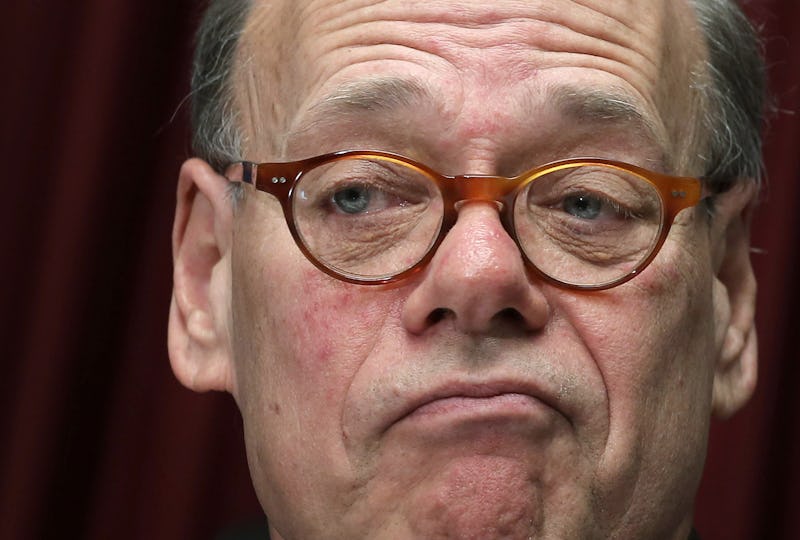 Alex Wong/Getty Images News/Getty Images
As the American public attempts to make sense of the recent news concerning the indictment of Paul Manafort, Donald Trump's former campaign chairman, Tennessee Democrat Rep. Steve Cohen has proposed a particular constitutional amendment directly aimed at the president. On Monday, The Hill reported that Cohen seeks to limit Trump's pardoning power under his proposal and will introduce the plan on Tuesday.
According to Cohen's proposal, such a limitation placed on the president's pardoning authority will ban him from forgiving federal crimes committed by himself, members of his presidency, as well as members of his presidential campaign — this would, naturally, include Manafort. Cohen released an official statement on Monday.
The indictment of Paul Manafort, who served as Donald Trump's campaign chairman last year, accelerates the need to pass a Constitutional amendment limiting a president's pardoning authority. I will be introducing the amendment on Tuesday.
If adopted, the amendment would prohibit presidents from pardoning themselves, their families, members of their administrations and individuals who worked on their presidential campaigns. The indictment makes clear that some of Manafort's activities took place while he was working on the Trump campaign so the need is clear and present.
On Twitter, Cohen reiterated his views:
Presidential Pardons exist 2advance [sic] justice, not thwart it. Tune in2 @LocalMemphis for my interview on pardons #Manafort & #IndictmentMonday
He also added that his proposal will impact future presidents, as well:
The Constitutional [amendment] I'll file tmrw [sic] would prevent current & future presidents from pardoning self, family & campaign staff #IndictmentMonday
Cohen's proposal may have been inspired by a disturbing precedent — namely, Trump's previous use of his presidential powers to pardon individuals of his choice.
In August, Trump pardoned Arizona sheriff Joe Arpaio, eliciting outrage from observers. Arpaio had been convicted of criminal contempt due to his aggressive punishments for undocumented immigrants. Reacting to Trump's pardoning of Arpaio, Cohen officially stated:
President Trump's pardoning of Joe Arpaio isn't just bad, it's dangerous. The President continues to show a callous disregard for the independence of our federal judiciary.
In addition to disagreeing with Trump's forgiveness for Arpaio, the Democrat expressed disagreement with Trump's response to the Neo-Nazi rally in Charlottesville, Virginia, which turned fatal after an anti-racist counter-protester was killed by a white nationalist.
As Trump condemned "both sides," Cohen responded in an official statement:
President Trump has failed the presidential test of moral leadership. No moral president would ever shy away from outright condemning hate, intolerance and bigotry. No moral president would ever question the values of Americans protesting in opposition of such actions, one of whom was murdered by one of the white nationalists.
President Trump has shown time and time again that he lacks the ethical and moral rectitude to be President of the United States. Not only has he potentially obstructed justice and potentially violated the Constitution's Foreign Emoluments Clause, but he has also shown that he is incapable or unwilling to protect Americans from enemies, foreign and domestic.
At this moment, Manafort is charged with conspiring against the United States of America, financial fraud, tax fraud, and nine other counts. The former campaign chair surrendered on Monday morning but has pleaded not guilty.
If Manafort is convicted of these crimes, however, Trump could use his presidential pardoning authority to forgive him. As president, he is certainly allowed to pardon federal crimes, but then again, doing so could very well tank his public image and, most importantly, destroy the American public's already-weak trust in him.