Stormy Daniels' Partner Has Been Quiet About Her Alleged Affair With Trump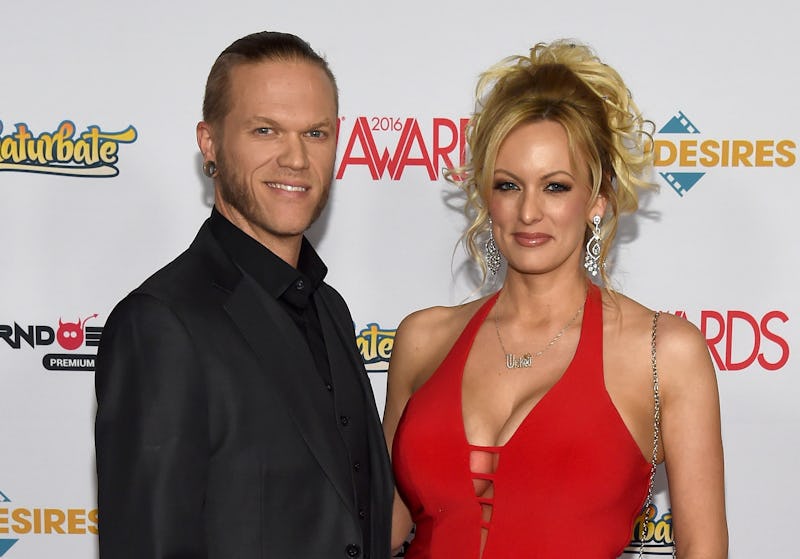 Ethan Miller/Getty Images Entertainment/Getty Images
Porn star Stormy Daniels is spending a lot of time in the public eye after claiming she had a tryst with President Trump. But those closest to her, including Glendon Crain, who is Daniels' husband or partner depending on what you read about the couple, have stayed out of the media spotlight and have been quiet about the alleged affair.
Crain, also known as Brendon Miller, is professional heavy metal drummer who also works in the pornographic film industry, both in front of and behind the camera. He's played in the bands Godhead and Hollywood Undead, according to Rolling Stone, and toured with the likes of Katy Perry.
Reports differ on whether Crain and Daniels, whose real name is Stephanie Clifford, are married. In that same Rolling Stone feature, Crain is referred to as Daniels' partner, and Daniels says he and her daughter have suffered under the media spotlight. "My daughter didn't deserve any of this," Daniels said. "[Crain] didn't deserve any of this."
A Dallas Morning News report that referred to Crain as Daniels' husband said public records show the couple lives in the Dallas suburb of Fourney, Texas. The couple owns horses and competes in equestrian events, according to the newspaper.
Similar to Melania Trump, Crain has so far made no public statements about the alleged affair between the president and Stormy Daniels. Crain recently posted a meme about his love for Daniels on Instagram, however. "Love you Babe!!!@thestormydaniels," the caption reads.
Trump denies the allegations of an affair made by the adult film star. White House press secretary Sarah Huckabee Sanders told reporters at the beginning of March:
The president has addressed these [allegations by Clifford] directly and made very well clear that none of these allegations are true. This case has already been won in arbitration and anything beyond that, I would refer you to the president's outside counsel.
According to Daniels, she met Trump in 2006 at a celebrity golf tournament in Lake Tahoe, Nevada. At the time, Daniels was in between her first and second marriages to adult film stars Pat Myne and Mike Moz; Trump was more than a year into his marriage with Melania, and their infant son, Barron, was not quite four months old.
In a 2011 interview with InTouch Weekly, Daniels said that Trump invited her up to his hotel room, where they allegedly had sex. She also claims that Trump told her she was "someone to be reckoned with, beautiful and smart just like his daughter" — that daughter most likely being Ivanka Trump, as Tiffany Trump was 11 at the time.
Slate editor-in-chief Jacob Weisberg also reported that in a 2016 interview with the entertainer, Daniels claimed her sexual relationship with Trump continued after the Nevada encounter on a few more occasions. Weisberg wrote:
In our conversations, Daniels said she was holding back on the juiciest details, such as her ability to describe things about Trump that only someone who had seen him naked would know.
The Daniels-Trump story resurfaced big time in January 2018 whenThe Wall Street Journal reported Trump's personal lawyer Michael Cohen allegedly paid $130,000 in "hush money" to Daniels right before the 2016 presidential election. Cohen admitted to making a private, "lawful" payment to Daniels but denied that Trump had an affair with the porn star.
Daniels has since filed a lawsuit against Trump to break her non-disclosure agreement, claiming that Trump never signed it. She also offered to return the $130,000 payment and is now crowdfunding her legal fees. Cohen claims he has the right to seek $20 million in damages from Daniels, who he accuses of violating the NDA.
Despite reported pushback from Trump's legal team, CBS has confirmed Daniels' 60 Minutes interview with Anderson Cooper will air on Sunday at 7 p.m. ET. Daniels claimed she was not paid to participate in the TV segment.