What You Need To Know About Fox News' First-Ever Female CEO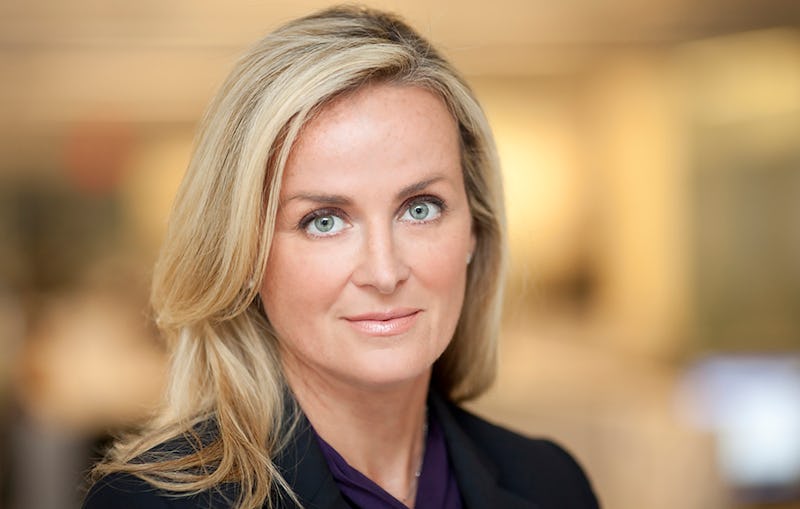 Fox News
A historic first for Fox News Channel took place on Thursday as they ushered in their very first woman CEO. Suzanne Scott, Fox News' new CEO, is no stranger to the network. Scott has been working with the company since 1996. That's more than two decades of familiarity and experience with the conservative media empire that previously has never employed a woman to spearhead its enterprise.
Before she became CEO, Scott was the president of programming for Fox News; her job included overseeing Hannity as well as Fox and Friends. On Thursday, 21st Century Fox Co-Chairman Lachlan Murdoch released a statement on Scott's appointment that read: "Suzanne has been instrumental in the success of FOX News and she has now made history as its first female CEO. Her vision and innovation have helped create some of the most popular and lucrative primetime programs on cable."
Scott, too, commented on her new job in a statement. "I am incredibly honored and humbled to take on this new role and very thankful to Rupert and Lachlan [Murdoch] for their leadership and confidence in me to run Fox News," she said.
Some have interpreted Scott's new title as a PR effort on Fox News' part to mitigate the public perception that sexual harassment reportedly hounds its workers. In 2016, former Fox News chief Roger Ailes stepped down from his position after multiple women, including former Fox News anchor Gretchen Carlson, accused Ailes of sexual harassment; Ailes denied accusations of nonconsensual sexual conduct. In 2017, former Fox News host Bill O'Reilly left the network after several women accused him of sexual harassment in the workplace. O'Reilly has consistently rejected the allegations as false.
While Scott has been praised by some for spearheading inclusive programs at Fox News, she has also been mentioned in at least two sexual harassment complaints related to the company, according to Huffington Post. The publication reported that Scott was in charge of enforcing a miniskirt rule for women working at the network in 2017. Scott denied the report, and a spokesperson said no such rule exists for its female anchors. (Some of its female anchors do wear pants on air.)
The denial is consistent a year later. For this report, Bustle reached out to Fox News regarding the reported miniskirt rule and was redirected to previous denials issued by Scott — in addition to three Fox News press releases on initiatives led by Scott as the network's former president of programming.
For other people, Scott's new job title points to a bigger and possibly positive change at Fox News. On social media, some Twitter users pointed to the fact that news networks like CNN and MSNBC had yet to appoint women as their leaders.
The historic nature of Scott's new role seems to be even more noteworthy as it arrives after a significant cultural shift in American media. It's worth considering that Scott became the CEO of Fox News not too long after two of its most prominent men — Ailes and O'Reilly — left in the wake of a storm of sexual harassment allegations. The former president of programming's new rank may appear to be intriguing even more so considering that it has taken place after the #MeToo movement took off in the autumn of 2017.
But skeptics are wary and say that a female CEO may not exactly solve internal workplace issues, including alleged harassment, at Fox News. In a tweet, Crooked Media's Erin Gloria Ryan described Scott as "famously an Ailes devotee and co-architect of the structure at Fox that enabled rampant sexual misconduct for years. Girl power, my ladies."