Sylvester Stallone's Wife Is Very Successful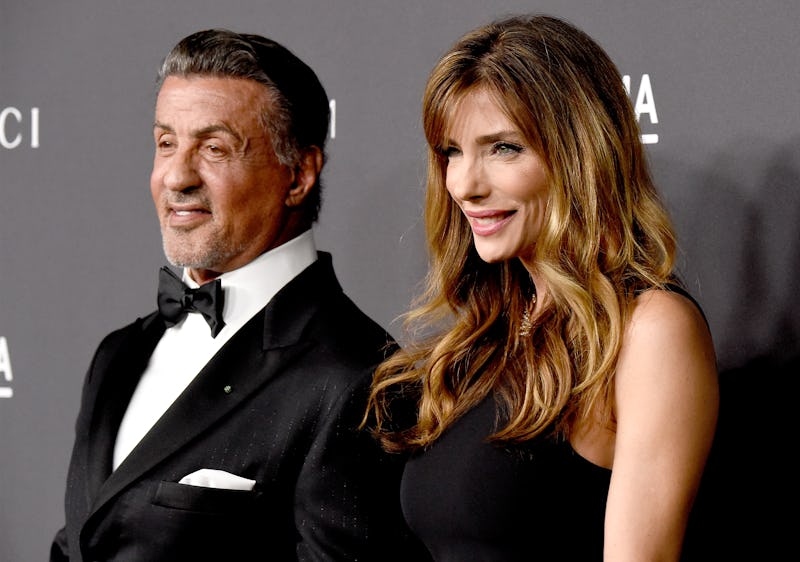 Frazer Harrison/Getty Images Entertainment/Getty Images
Last year, Sylvester Stallone had one of his biggest years even during award season, when he won the Golden Globe for Best Supporting Actor for his role in Creed and also snagged himself an Oscar nomination for the same role. Throughout his exciting season, he was usually pictured alongside his beautiful wife, Jennifer Flavin. I had seen his wife and his daughters accompany him before to various events and awards shows before, but exactly who is Stallone's wife? Flavin is a woman who is accomplished all on her own.
Like a romantic movie plot, Flavin and Stallone randomly met in Hollywood at a restaurant, according to People, when he was already a big movie star with some pretty epic past romances under his belt. The couple met in 1988 and after an on-off relationship, they married in 1997, two years after the birth of their daughter Sophia.
So, apart from being Stallone's wife, who is Flavin? Well, she first met Stallone as a young model who eventually decided to become a businesswoman and founded her own skin care line, Serious Skin Care.
According to a 2007 profile for Haute Living, Flavin was one of seven children and after her father died when she was 12 years old, she knew she always had to take care of herself. She told the publication,
"I knew that if — God forbid — anything ever happened in my life, I needed to know how to take care of myself...I stayed really focused because I didn't have a backup plan. I had to work, I had to make money — I had to support myself."
Sounds like a woman who always knew how to take care of business. According to People, Flavin was signed to Elite Modeling Agency in her early modeling days, which is how she helped her family. Following her relationship and marriage to Stallone, she still believed that she had to make her own money and not solely rely on being a superstar's wife.
After developing skin issues, which sidetracked her modeling career, Flavin told Haute Living that she found a system that was developed for a friend's daughter that cleared her skin. With her entrepreneurial spirit, she asked herself, "Why shouldn't I sell something I totally believe in?" On her own whim, Flavin pitched her idea to Home Shopping Network and her company, Serious Skin Care, was born.
What is very inspiring about Flavin is that she alway maintained that she did not need her famous husband to help her be successful, as she told Haute Living,
"I could have had my husband put me on a lot of TV shows every day but I chose not to. I am a serious businesswoman. I don't enjoy being out there on TV; it's not what I do well. But I love building companies, I love making products."
And now, Flavin is still a successful woman raising three beautiful daughters in the public eye, all while keeping up a healthy, lengthy marriage in Hollywood. She's multi-talented indeed!