North Carolina Officials Arrested The Woman Who Knocked Down A Confederate Statue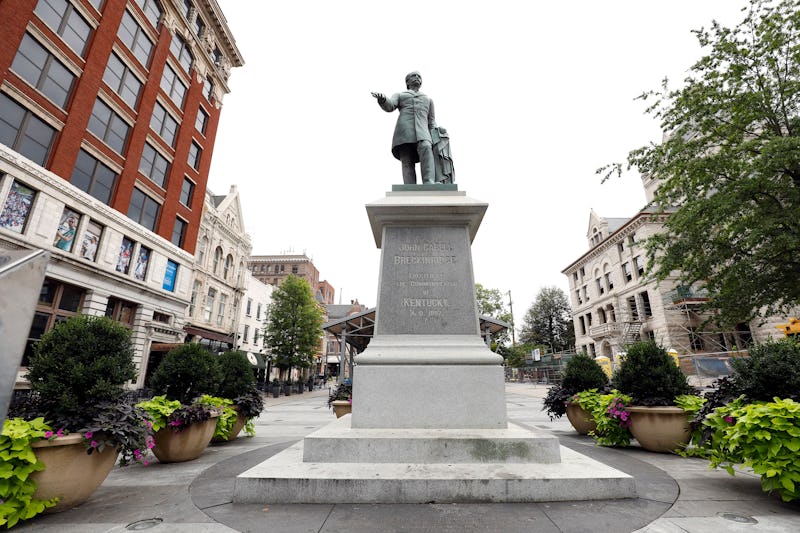 Bill Pugliano/Getty Images News/Getty Images
On Tuesday, deputies in North Carolina arrested a woman for toppling a confederate statue outside the Durham County Courthouse on Monday. According to the Associated Press, 22-year-old Takiyah Thompson helped tear down a Confederate statue in Durham over the weekend alongside other protesters. The removal of the statue was in response to the violence in Charlottesville that broke out on Saturday, following a white supremacist protest against the removal of a statue of Confederate Gen. Robert E. Lee. An anti-racist counter-protester, Heather Heyer, was killed in the violence.
On Monday evening Thompson, alongside other protesters, climbed the top of the statue and placed a rope around its neck, before pulling it down. Thompson was taken into custody by deputies shortly after the protesters held a press conference the campus of North Carolina Central University on Tuesday. The conference was held to dispute any possible charges.
Currently, Thompson is facing charges for disorderly conduct by injury to a statue (a Class 2 misdemeanor), participation in a riot with property damage in excess of $1,500 (a Class H felony), damage to property (a Class 1 misdemeanor), and and inciting others to riot where there is property damage in excess of $1,500 (a class F felony).
The sheriff Mike Andrews told WCN that officers are working to identify the other protesters involved in the removal of the statue in order to distribute more charges.
"No one is getting away with this. We can all agree yesterday went too far," Andrews said. The sheriff also made it clear that he considered the counter-protests to have gone too far, and yet, he made no commentary on the violence of the white supremacists.
"I am grateful the events that unfolded Monday evening did not result in serious injury or the loss of life, but the planned demonstration should serve as a sobering example of the price we all pay when civil disobedience is no longer civil. As the sheriff, I am not blind to the offensive conduct of some demonstrators nor will I ignore their criminal conduct," Andrews said in a statement. "With the help of video captured at the scene, my investigators are working to identify those responsible for the removal and vandalism of the statue."
The statue that was torn down depicted a Confederate soldier carrying a muzzle rifle and a muggle and canteen roll. It was "dedicated in the memory of the boys who wore gray," celebrating the memory of those who fought to enslave others. On Tuesday evening, North Carolina Gov. Roy Cooper declared that all Confederate monuments should be torn down. It wasn't clear, however, how his remarks would affect Thompson's fate.