These Adorable Videos Of Taron Egerton Will Send You Down A YouTube Rabbit Hole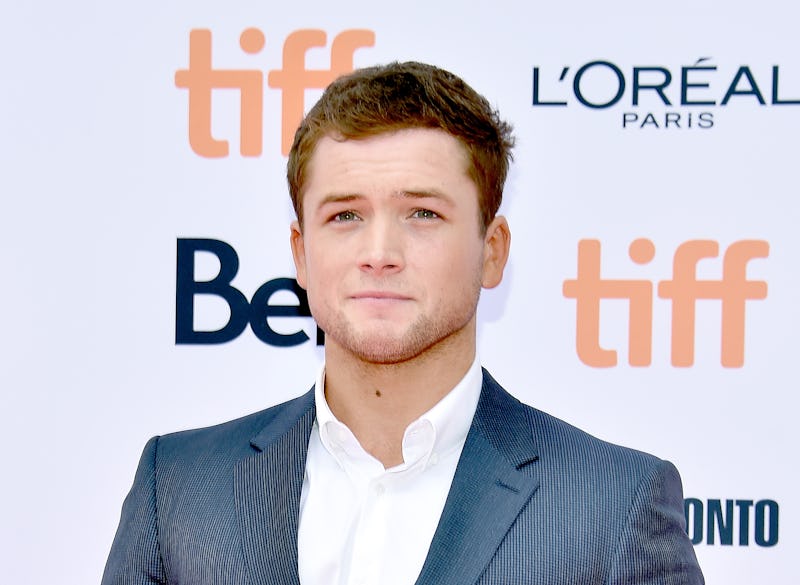 Mike Windle/Getty Images Entertainment/Getty Images
Taron Egerton, it seems, is not one to toot his own horn. His Twitter bio reads, unassumingly, "Actor from Aberystwyth, Wales." He drops the word "starstruck" into every other interview (the culprits? Colin Firth, Halle Berry, Elton John, etc.) But the 28-year-old lad from Aber is, in fact, a pretty big deal — as you'll recognise, from his appearances in films like Kingsman: The Secret Service and Eddie the Eagle. He's filled out his IMDb credits considerably over the past few years, so let's get into it: who is Kingsman star Taron Egerton?
Let's start at the (very) beginning: Egerton was born in the Wirral, the Guardian reports, but moved to Wales when he was two; he lived in Llanfairpwllgwyngyllgogerychwyrndrobwllllantysiliogogogoch, Anglesey, before he relocated with his mum to Aberystwyth. Taran's Welsh for "thunder," by the way — except, as he explained to Yahoo News, "My mum is not a Welsh speaker, so she misspelled it and she put an 'o' instead of the second 'a' so now it's Taron." He was plucked pretty much right out of RADA for the starring role in Kingsman: The Secret Service, alongside Colin Firth and Samuel L. Jackson, and launched into an ascendant Hollywood career he didn't always aspire towards. He told Empire that he'd planned a stage career instead, saying, "To be honest, that's something I really miss. I had dreams of winning Olivier Awards." Taron! There's still time!
After Kingsman, things accelerated. He played British ski jumper Eddie the Eagle in, well, Eddie the Eagle, alongside Hugh Jackman; next came a role as singing gorilla and beleaguered bank-robber's son in Sing (also featuring a truly iconic Reese Witherspoon performance as Rosita, singing pig). In 2017, he led Kingsman sequel The Golden Circle, featuring new co-stars Halle Berry, Julianne Moore, Channing Tatum, Jeff Bridges, and, um, Elton John. Coming up, he's got Billionaire Boys' Club with Ansel Elgort and Emma Roberts, Robin Hood with Jamie Foxx — and Elton John biopic Rocketman, because honestly, why not?
Dynamic screen presence aside, Egerton's also pretty adorable on the press circuit; he's modest, too, an unexpected characteristic of a certified young Hollywood fixture. He told Glamour, of the first Kingsman's success, "It's very flattering, I can say that, but if I think about it too much I freak out, so I try not to." He's determined to remain the same lad from Aber, telling the Guardian, "A big part of me recognises that I'm a very private person – someone who really likes to go to the pub and get silly with my mates. I don't want to worry about maintaining an air of decorum that's not natural to me."
Egerton's a generous provider of high quality video content, too, should you desire to lose eighty hours of your life to a YouTube rabbit hole. Perhaps you'll enjoy him entirely losing his composure when Mark Ruffalo and wife Sunrise Coigney walk past him on the red carpet, for instance ("I'm all in a tizz!" he says, at which point I ceased to live.)
Here he is in fierce competition with Eddie the Eagle co-star Hugh Jackman ("Let's bring Jackman down a peg," he declares).
And below, please enjoy his spine-tingling rendition of Welsh hymn Calon Lân, urged on by Robin Hood co-star Jamie Foxx:
So there you have it: a somewhat abbreviated bio of Hollywood star and aspirant Welsh choral singer Taron Egerton, appearing on Channel 4 tonight in Kingsman: The Secret Service. Yes, there's an awful lot more to know about Egerton, but let's be realistic: you're going to be Googling him for the rest of the day anyway.