Why This Member Of Kristin Cavallari's New Series Is In For An Exciting Year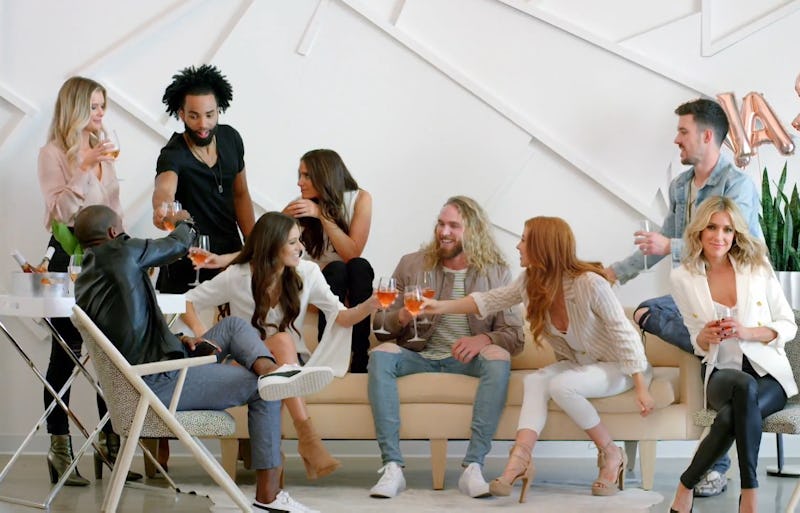 Her days on Laguna Beach and The Hills may be a thing of the past, but Kristin Cavallari is coming back to the small screen in a big way this summer. Her new reality series, aptly titled Very Cavallari, will focus on the 31-year-old star as she gears up to launch the flagship location of her store Uncommon James. To do that, though, she needs a dynamic team of helpers, including Taylor Monaco. Who is Taylor Monaco on Very Cavallari, you may ask? Aside from being a model who will help showcase Cavallari's products, Monaco seems to have a very exciting year ahead.
According to her official E! bio, Monaco was born on the island of Oahu but grew up in Birmingham, Alabama, before eventually moving to Nashville in 2015 and graduating from Belmont University. And while she currently has a mystery business venture in the works (nothing specific is mentioned so far), Monaco has been enjoying her time modeling for Block Agency and, of course, Cavallari's Uncommon James. (Hence why you'll see her pop up in the series.)
However, the biggest news of all has less to do with her professional life and more to do with her personal one. The bio goes on to state that Monaco was recently married to her husband, Mike, and the two of them share an adorable golden retriever named Wilbur who pops up frequently on her Instagram photos. (And yes, he is just as cute as he sounds.) But just in case this already doesn't sound like the perfect family, the couple announced in April that they're expecting to welcome a little girl in October. They even have a name picked out: Walker Rose Monaco.
Suffice to say, Monaco certainly seems to be living her best life right now, so it'll be interesting to catch up with her on the show and see how she's adjusting to married life and the idea of being a mom. How will this impact her involvement in Cavallari's company? Will it be impacted at all? These are undoubtedly all things that will be brought up throughout the season, but just based on her Instagram account alone, Monaco seems like someone you'd definitely want to become best friends with in real life. She seems friendly, she loves animals, and now she clearly has a soft spot for reality television.
Apart from that, viewers will just have to get to know more about Monaco by watching the show itself, which makes its debut on Sunday, July 8 at 10 p.m. ET on E! Maybe fans will even get a chance to meet her husband, if he makes a cameo or two. Either way, Monaco is definitely someone that'll be a great asset for Cavallari to have as part of her team.
Sure, Very Cavallari may not be the Laguna Beach or The Hills reboot everyone has been hoping for, but it's definitely better than nothing. Plus, it'll be interesting to see the business side of the beloved reality star. The trailer alone more than proves that there will still be a decent amount of drama to look forward to as the launch of the store faces a few obstacles, but that's a big part of the fun.
"I hired everybody to make my life easier and I feel like I'm just creating more and more problems for me," Cavallari states in the trailer. "You guys, this wasn't a f*cking collection launch. This was a whole new line. I've worked my ass off for this thing and it got f*cked this morning."
As for whether or not Monaco is part of the problem or the solution, viewers will just have to tune in to find out.