This 'Bachelor' Contestant Is A Serious Media Power Player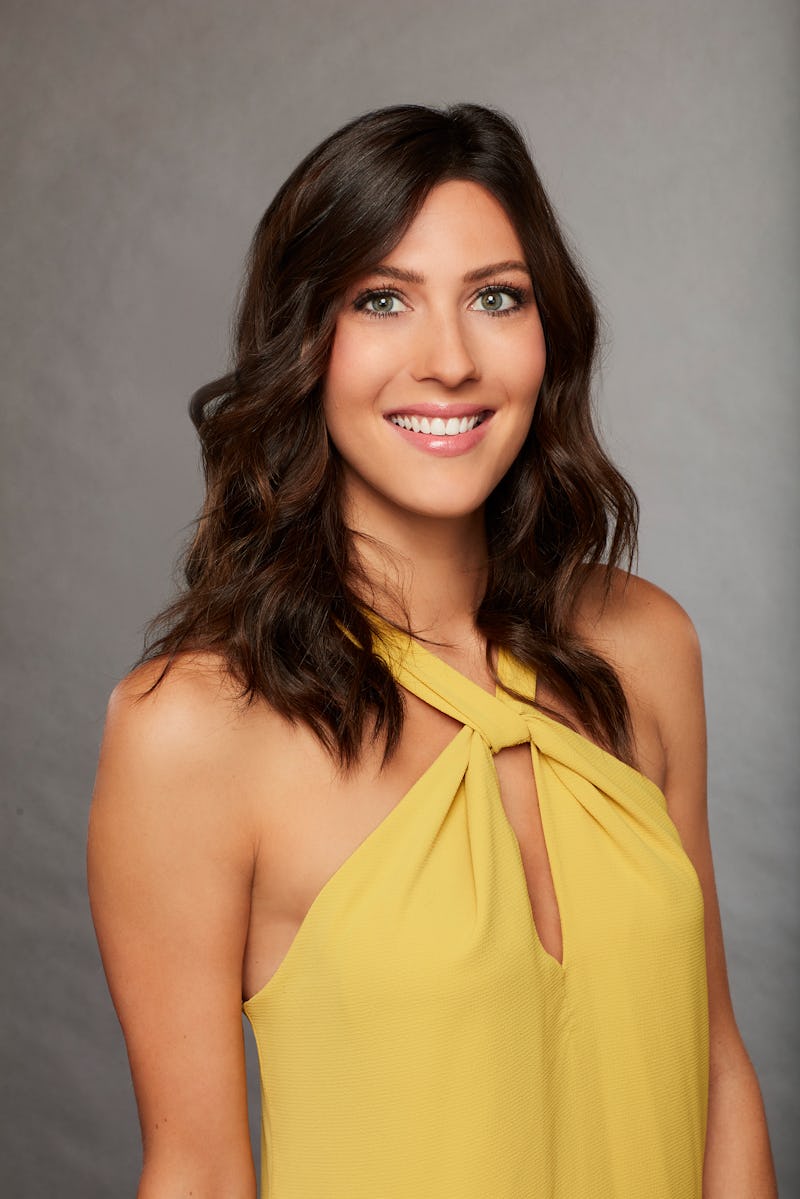 ABC/Craig Sjodin
It is almost time to watch Arie Luyendyk Jr. look for love on The Bachelor. In the meantime, the fans can "get to know" the contestants before the show airs thanks to the cast bios and the ladies' social media accounts. According to her cast bio on the ABC website, The Bachelor's Becca Kufrin is a publicist in Minnesota.
Unfortunately the cast bios don't list a ton of information, but that's where social media comes in to fill in some of those gaps. Thankfully Becca's LinkedIn profile is up to date with a lot of the pertinent information. Well, the part about being a contestant on The Bachelor didn't make it into the list of credentials (yet), but Becca's professional accomplishments are very impressive with or without her impending reality TV stardom.
Becca has been an Account Executive at Skyya Communications since September 2012. The Skyya Communications website describes the company as "an award-winning, full-service PR and strategic marketing communications agency with unparalleled experience serving the communications needs of emerging and well-established technology companies around the globe." Skyya has its primary offices in Minneapolis and New York City.
In the summary section of Becca's LinkedIn page, Becca explains her role at Skyya: "I build and maintain standing relationships with consumer, lifestyle, business, travel, broadcast and niche press, and have secured media placement on behalf of my clients in a number of top-tier outlets." She listed out some of those media outlets and a lot of them are major companies, including: CNBC, Huffington Post, Martha Stewart Living, Men's Health, Fox News, Wall Street Journal, and USA Today.
Becca shares some of the clients that she has worked with on her Linkedin page as well and the list has quite a lot of variety. She has worked with PangeaBed, which is a company that primarily sells mattresses, but also has pillows according to the company's website.
Another client of Becca's is OddLot Labs, a company that believes "in a better, more environmentally friendly way of making backpacks." The Bachelor contestant has also worked WASPcam, which is a company that sells cameras and camera mounts. The acronym stands for "Wide-Action-Sports-Photography."
She's also worked with Foodee, a company with a mission to "make it simple for companies to order from top local restaurants for meetings and work events." That definitely sounds like a fun client to work with.
Aside from the interesting clients and well-known media outlets that Becca gets to work with as an Account Executive at Skyya, it seems like the agency is also a fun place to work. The company posted a photo of Becca and some coworkers spending a Friday afternoon at brewery.
Becca even got to do some cooking while she was at work. That seems a lot more interesting than a "typical" nine to five office job.
As if Skyya couldn't seem like a cooler place to work, the agency also has a lot of love for Becca as well. The company posted a super sweet birthday message for her on its Instagram account writing, "And a very happy (belated) birthday to our very own (and very talented) Senior Account Executive @bkoof. We're happy to have you back from Europe - your #Minneapolis team missed you! #CorgiNation#PR." Aside from all the love for Becca, the message also reveals that international travel is a part of the job, so she is more than prepared to go on international dates with Arie.
In Becca's ABC bio, Becca says her three best attributes are that she is "loyal, honest, and charismatic," which are all essential characteristics for being a great publicist.... and standout contestant on The Bachelor. Clearly she's killing it as a publicist, so now finding love on reality TV is the next challenge and she's more than equipped to enjoy this journey.