Why Sister Margaret Ann Doesn't Mind You Calling Her The "Chainsaw Nun"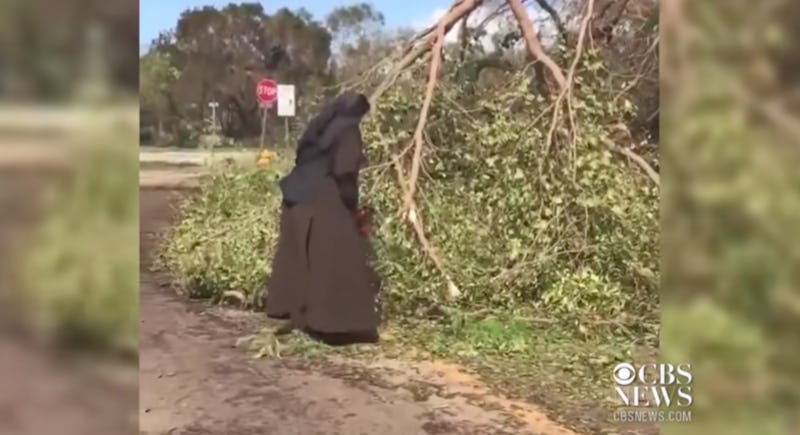 CBS News
If you've been following all the damage and fallout from Hurricane Irma this week, there's a pretty good chance you heard about a Catholic nun whose hands-on relief work went viral in a big way. But as was noted in a report on Friday morning, the viral video might not have happened if not for the informative power of the internet ― Sister Margaret Ann, the Miami chainsaw nun, reportedly used Google to learn how to operate the powerful piece of hardware.
Sister Margaret Ann, according to the Associated Press, is the principal of Miami's Archbishop Coleman F. Carroll High School, a Roman Catholic high school with a student body in the hundreds. The surrounding areas were struck by Hurricane Irma as it moved through southern Florida, leaving debris in its wake, including in the form of downed trees.
Her students were reportedly quite insistent that she pitch in on the cleanup effort after the storm, and urged her to refresh her memory on how to use chainsaws via a Google search. Said Sister Margaret Ann:
I actually had to Google it to find out how to start it because I'd forgotten how ... The students have told me, "Everything is online, Sister; just ask the question online."
Needless to say, Sister Margaret Ann followed through on their advice, brushing up on the how-tos of chainsaw use before heading out to hack away some brush. Although, based on what she told the AP, it sounds like she nonetheless got a lot of corrections and warnings after the video of her cleanup effort went viral.
Specifically, many people contacted her, warning that she shouldn't use it while wearing her loose, billowy habit due to the danger that it could get caught in the electric saw's blades. "Some people have sent me videos on how to use a chain saw because apparently I wasn't using it correctly or as safe as I should've been, so I'm learning, too," she said.
Suffice it to say, the sight of a nun in full regalia chopping down brush with a chainsaw has won some admirers, tsk-tsking safety warnings be damned. Vice, for example, described the sister as "metal as hell," and a brief trip through social media shows that they're not alone in saluting her rugged display of hands-on cleanup work.
Sister Margaret Ann also told the AP that she doesn't mind now being primarily known as the "chainsaw nun," saying that it's valuable to create positive memories for people in the midst of the large-scale natural disaster:
People are driving by and saying, "Thank you, sister, thank you." So I think it has been really good for our community, and I understand that the video has really gone worldwide, so that's kind of funny. ... The students are telling me, they are saying, "Sister, you're no wimp. You'll get out there and work with us." And that is really the way it should be, and that's the way sisters really are. We are not just sitting back praying, or asking other people, or begging for money or anything like that.
Beyond whatever other work Sister Margaret Ann might do, however, the full human cost of Hurricane Irma, and the cost in damaged property and infrastructure in the greater Miami area, is a serious matter. So far, the reported death toll from the storm is at least 30 people over three different states, with Florida getting the worst of the ordeal.
There's no guarantee that the Sunshine State is out of the woods as far as major weather events go, either. The hurricane season typically extends out into October, and although no other storms are presently projected to hit the state, there are still some far-off tropical depressions swirling in the Atlantic that are worth keeping an eye on.