DNC Elects Tom Perez As Party's Next Chair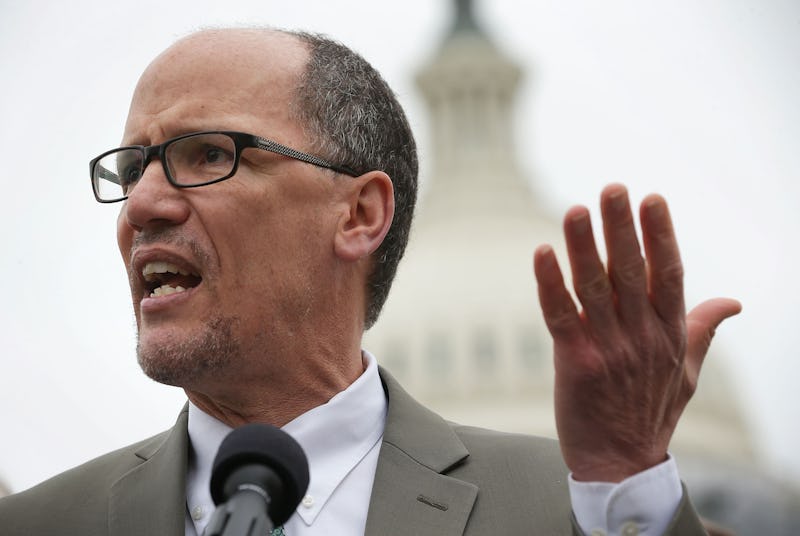 Alex Wong/Getty Images News/Getty Images
Members of the Democratic National Committee gathered in Atlanta on Saturday to select a new chair in an election many have described as a proxy war between the party's establishment and progressive wings. Saturday's vote follows what has been a particularly bumpy year for the DNC given the ousting of former DNC chair Debbie Wasserman Schultz, a devastating loss in the 2016 presidential election, and reports of division within the party. So, who is the new chair of the Democratic National Committee? Former Labor Secretary Tom Perez was elected DNC chair with 235 votes following multiple rounds of voting.
Amid growing concerns of division within the party, Democrats had hoped to avoid a divisive vote requiring multiple rounds of ballots. Those hopes were dashed, however, when Perez fell one vote short of the required threshold in the first round of voting. Perez was elected following a second round of voting with 235 votes to Ellison's 200.
Following his win, Perez immediately called for a motion to appoint progressive Rep. Keith Ellison, the race's other leading candidate, to the position of DNC deputy chair. The motion was passed by a voice vote to huge cheers.
In a speech made just before voting commenced Saturday, South Bend, Indiana Mayor Pete Buttigieg, who was believed to be trailing both Perez and Ellison in unofficial vote counts, dropped from the race. "It is time for this process to move towards a solution that we can all get on board with, and that means it's time, for the party, that I step aside," the Huffington Post reported Buttigieg said in his candidate speech Saturday. Buttigieg declined to immediately endorse any of the race's remaining candidates and urged the party to "engage a new generation."
Although no candidate managed to meet the required threshold of votes needed to be elected DNC chair in the first round of voting, Perez came closest falling short by just one vote. Ellison was 14.5 votes short of the threshold in the first round of voting. Candidates Sally Boynton Brown, Sam Ronan, and Jehmu Greene dropped from the race following the first round of votes.
To be elected DNC chair a candidate needs to acquire 50 percent of all votes cast plus one vote. Although there are generally 447 voting DNC members, multiple vacancies at the time of Saturday's vote brought the total number of voting members down to 435, according to DNC interim chairwoman Donna Brazile.