Tom MacArthur Is Behind The AHCA's Most Controversial Amendment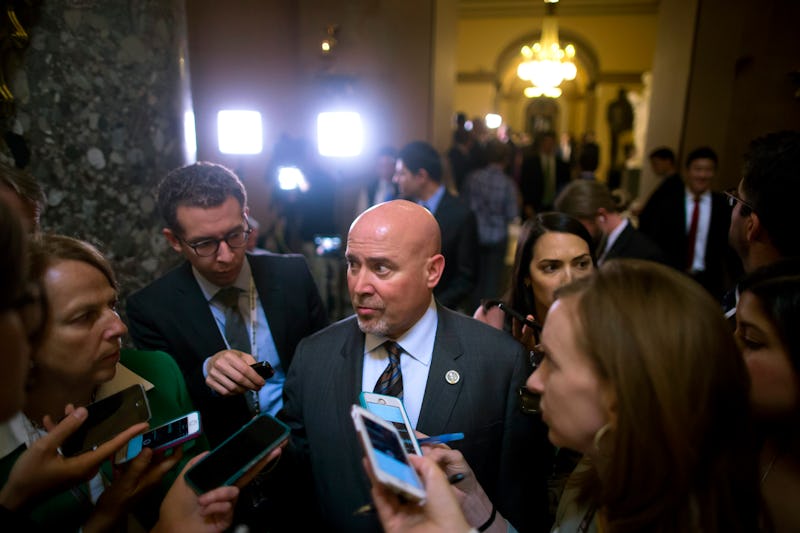 Eric Thayer/Getty Images News/Getty Images
Tom MacArthur's name wasn't so familiar to most Americans — until recently. The Republican businessman from New Jersey faced justifiably harsh questions from locals at a town hall meeting on Wednesday. And for those who are unaware of why he's been in the news lately, MacArthur is the man behind AHCA's MacArthur Amendment. Critics of him believe he helped revive the GOP health care bill by introducing the amendment, which allows states to seek out waivers that let them opt out of rules limiting how much insurers can charge people with pre-existing conditions.
The amendment, in simple words, gives states the power to decide which services and benefits insurance companies are required to cover. This could include things such as behavioral health services, as well as maternal health care. One of the biggest problems with the amendment is how it could potentially cause surges in premiums. The amendment, which has been criticized by the American Medical Association, could be devastating for low-income Americans with pre-existing conditions.
MacArthur is fairly new to the game of politics insofar as congressional membership is concerned. He was elected in 2014, re-elected in 2016, and represents the third congressional district of New Jersey. He's also the former mayor of Randolph, New Jersey, and carries 11 years of professional experience in the insurance industry as the former CEO of York Risk Services Group. Furthermore, he is reportedly the most affluent member of the Garden State's congressional delegation. MacArthur's assets are worth $30.8 million, according to NJ.com. So, it's safe to say he probably would not be one of the people affected by his very own amendment.
It goes without saying that MacArthur is a staunch defender of his amendment. Although NJ.com reported that locals are voicing fear for their health, MacArthur has insisted that individuals with "pre-existing conditions" would still be covered. He continued defending himself to reporters on Wednesday.
According to CNN, the congressman said that the proposal he made was intended to "bridge this divide between people that are holding two important views: people that are saying we are not going to fix health care unless we bring the cost down, which means we have to give the states some flexibility, and people that are saying we can't pull the rug out from under people that are vulnerable."
But like the American Medical Association said, there is no guarantee that MacArthur's reassurance will translate into affordable health insurance for people with pre-existing conditions.