The Organizer Of The "Mother Of All Rallies" Calls Himself The "Pissed Off American"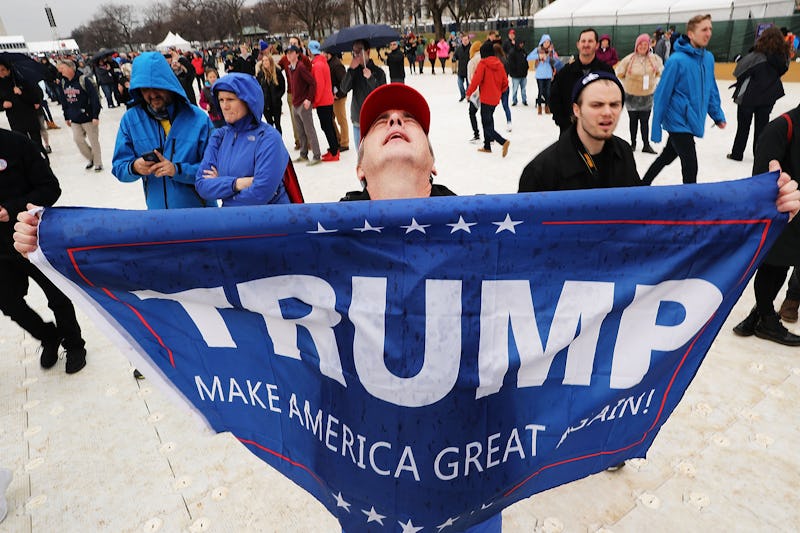 Spencer Platt/Getty Images News/Getty Images
Saturday is expected to be one of the busiest days of the year for the National Park Service in Washington, D.C. as some 30 events vie for space and attention on federal park land. But two events are already shaping up to be the day's biggest, or at least most noteworthy. A conservative pro-Trump rally being hailed as the "Mother of All Rallies," or MOAR, by organizers is set to coincide with a protest organized by fans of the hip-hop duo Insane Clown Posse, who call themselves Juggalos. But who is Tommy Gunn? The Mother of All Rallies organizer calls himself the "Pissed off American" on social media.
TommyGunn, whose real name appears to be Tommy E. Hodges Jr., runs various social media accounts, including a YouTube channel, under the moniker "Pissed off American." He told CBS last month he was inspired to organize the Mother of All Rallies by a desire to create a "huge" event for President Donald Trump supporters. The event is being billed by its promoters as the "Woodstock of American Rallies" and thousands of Trump supporters are expected to attend.
"Due to increasing political and social unrest, many believe that core American values, customs and traditions are being sacrificed," a statement on the rally's official website notes. "Rally participants will demand protection for traditional American culture while they express their love for the United States and the America First agenda."
The website goes on to state the Mother of All Rallies will send a message "that the voices of mainstream Americans" need to be heard. "We are coming together to send a direct message to Congress, the media and the world that we stand united not divided to protect and preserve American Culture," the website reads.
"This is about America First," a Facebook event page for the Mother of All notes. "This is about protecting and supporting President Donald Trump, protecting our Constitution, and protecting our flag and all that it stands for."
While organizing a rally on the National Mall is likely more than enough work to keep anyone busy, TommyGunn, as a Tampa resident, has had his hands full with Hurricane Irma in the days leading up to the Mother of All Rallies.
"To recap Irma: Lost power 38hrs ago," TommyGunn wrote in a Sept. 12 post on his official "The Pissed off American" Facebook page. "Generator blew a piston... 5 hrs sleep in past 3 days. Hit the road on Thursday headed to DC for MOAR event. Still feel blessed."
In a video reportedly recorded Thursday while driving en route to Washington, D.C. from Tampa, TommyGunn said every last detail for the Mother of All Rallies had been finalized.
"We are a go, baby," TommyGunn said. "The Mother Of All Rallies will not be stopped now. There's no stopping us. We're taking over D.C. this Saturday."
But TommyGunn reportedly isn't the only person working toward making the Mother of All Rallies reality. In fact, the website for the Mother of All Rallies notes that Joey Gibson of Patriots Prayer and Kyle Chapman (better known as Based Stickman) are members of the MOAR Team. In the past, Gibson's Patriots Prayer events have often drawn white supremacists and white nationalists, leading to violent confrontations with counter-protesters. Chapman was arrested last month and charged with felony possession of a leaded stick after he was recorded earlier in the year hitting anti-fascist counter-protesters with a stick at a protest in Berkeley, California.
Among the speakers scheduled to appear at the Mother of All Rallies is Latinos for Trump co-founder and Mexican-American political activist Marco Gutierrez. Omar Navarro, a Republican challenger to California Rep. Maxine Waters' seat in the House, is also expected to speak. As of Thursday, 2,000 people had marked themselves as "attending" the event on Facebook.