A Louisiana School Vows To Kick Athletes Off The Team If They Protest During The National Anthem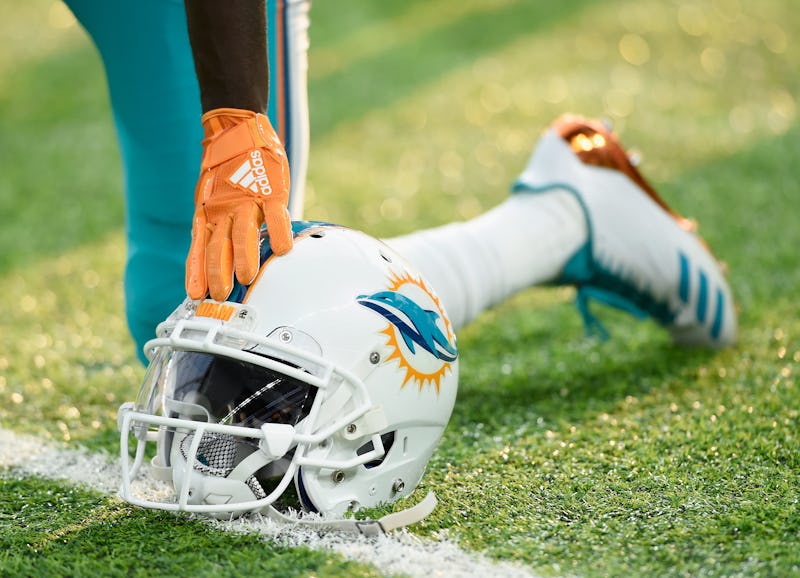 Hannah Foslien/Getty Images Sport/Getty Images
At a campaign rally a week ago, President Trump materialized to throw his support behind Luther Strange, an Alabama candidate for the Senate. Strange eventually lost that election to Roy Moore, but what made bigger news during the event was Trump calling for the NFL to fire players who knelt during the national anthem. And now, it seems a high school is following the president's lead, issuing a letter outlining how football student athletes at Parkway High School who "disrupt" the national anthem could be expelled from the team.
Principal Waylon Bates signed the letter, addressing it to student athletes at the Louisiana school and their parents. Bates began this new policy announcement by noting that the Louisiana High School Athletic Association "allows school principals to make decisions regarding student participation in the National Anthem while competing in athletic contests and games." Bates went on to say students are expected to stand "in a respectful manner" during the anthem. Should they choose to behave otherwise, consequences start from "loss of playing time and /or participation" and could ultimately result in students getting kicked off the team altogether.
Parkway High School is in Bossier Parish, which Trump won by a stunning 47 percent in the 2016 presidential election.
Trump's comments have caused an enormous backlash within the NFL itself, where many players who had previously stayed out of the protests now feel they must act. In the week prior to Trump's outburst, just four players knelt or sat during the National Anthem, and two stood with fists raised. On the Sunday and Monday following the president's NFL comments, more than 130 players knelt or otherwise expressed their opposition to Trump's characterization of the protest itself, and in defense of their right to do so in the first place.
Some see Trump's outrage at the NFL as a fight in the so-called culture wars, one he can win with the polarization putting the national anthem, and by extention supposedly patriotism itself, on Trump's side. For Waylon Bates and whoever else helped to craft this decision on student athlete behavior, that seems to be their take on the controversy. They clearly place a very high value on respecting those symbols of the country, to the point of removing players from their teams if they do not comply with their stated guidelines.
Protest in the form of an NFL player kneeling during the national anthem began with former 49er's quarterback Colin Kaepernick. Kaepernick started his sitting out the national anthem in August of 2016, and explained himself thus afterwards:
"I am not going to stand up to show pride in a flag for a country that oppresses black people and people of color. To me, this is bigger than football and it would be selfish on my part to look the other way. There are bodies in the street and people getting paid leave and getting away with murder."
Since then, multiple athletes across a range of sports have used the act of sitting, kneeling, or raising a clenched fist during the national anthem to show their solidarity with Kaepernick's cause.
Backlash to this form of protest was almost immediate, as many critics saw the kneeling as disrepecting the flag, and by extention dishonoring the legacy of servicemen and women who have risked and sometimes lost their lives over the years to defend America.
The ACLU has already weighed in on the nascent case in Louisiana, pointing out that the Supreme Court has ruled students are not required to stand for the Pledge of Allegiance. Therefore, they are not required to stand for the national anthem either.
Whatever happens on the field, the ensuing case at Parkway High School is all but guaranteed to receive national attention.