The 94-Year-Old In Charge Of The Super Bowl Coin Toss Has An Amazing Story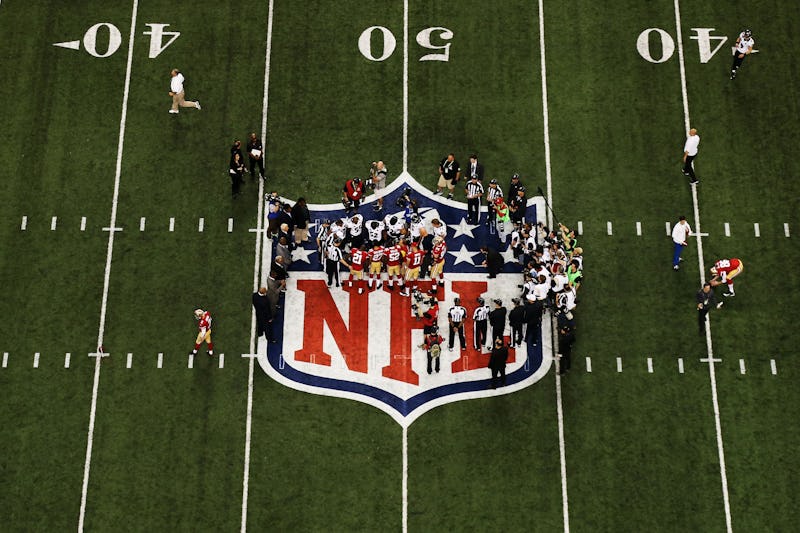 Chris Graythen/Getty Images Sport/Getty Images
As passionate football fans gather across the nation to cheer for their teams on Sunday, they might be touched to know that 94-year-old Hershel W. Williams, also known as Woody Williams, will do the Super Bowl 2018 coin toss. The 15 veterans who received the United States' prestigious Medal of Honor will be honored at the Super Bowl LII, and Williams will represent the group.
NFL commissioner Roger Goodell, who picked the group, said:
These courageous individuals deserve to be recognized on America's biggest stage. We are grateful for their service to our country and we are pleased to continue the NFL's longstanding tradition of hosting special tributes to service members at the Super Bowl.
Williams will be representing the other 14 veterans as he initiates the Super Bowl by flipping a coin in the air. And he seems pretty excited about it. "To be honored in this way, it's just almost like a miracle," Williams told CBS Minnesota. "It really is because you don't ever dream or think that this kind of a thing could happen to you, and then all of a sudden you're it."
Williams also said that he hopes his coin toss will inspire unity in the United States. "I hope we can maybe raise the bar a little bit of how important it is that we respect our country, that we respect our flag, that we remember and respect and pay tribute and honor to those who never got to come home," he added to CBS Minnesota.
The rule for the NFL coin toss is straightforward. The designated individual for tossing the coin in the air is expected to be in the center of the football field to flip a coin three minutes before the game kicks off. The visiting captain calls the toss before the coin is thrown in the air.
While speaking with WDTV West Virginia, Williams reaffirmed how much he was looking forward to the toss. When asked if he had been practicing flipping coins in the air, Williams sounded confident and said, "We've done that all of our life. Heads I win, tails you lose."
More important than practicing coin tosses, Williams told WDTV that he hopes Americans remember him and his peers for their sacrifices. "I hope we set an example that our young people can see - that we represent not just ourselves but we represent country, flag, love of country, dedication, patriotism we represent all of that - and any one person can do that. Any person has within them that ability to do that. I hope we can set an example for our young folk. Hey! We owe something back to America for what America has given to us. It wasn't free," he said.
As soon as Williams was declared as the NFL's coin flipper, media outlets focused on his military background. Williams told ABC News of his medal he received during the Battle of Iwo Jima. Williams said, "I was only doing what was expected of me." He is joined by other Medal of Honor recipients such as Vietnam veterans Bennie Adkins, Don Ballard, Sammy Davis, Roger Donlon, Gary Littrell as well as Afghanistan veterans like Clint Romesha, Flo Groberg, Sal Giunta, and others.
For Williams, the coin toss will represent much more than just picking heads or tails. He told WDTV that he planned on wearing his Medal of Honor to leave a lasting message. "Yes, I will [wear my medal]. Absolutely, because I am not representing me I am representing them. Not me. I'm just the cog in the wheel and I will be representing them when I do that," he said.