Yolanda Hadid Has A New Boyfriend & She's "So In Love Right Now"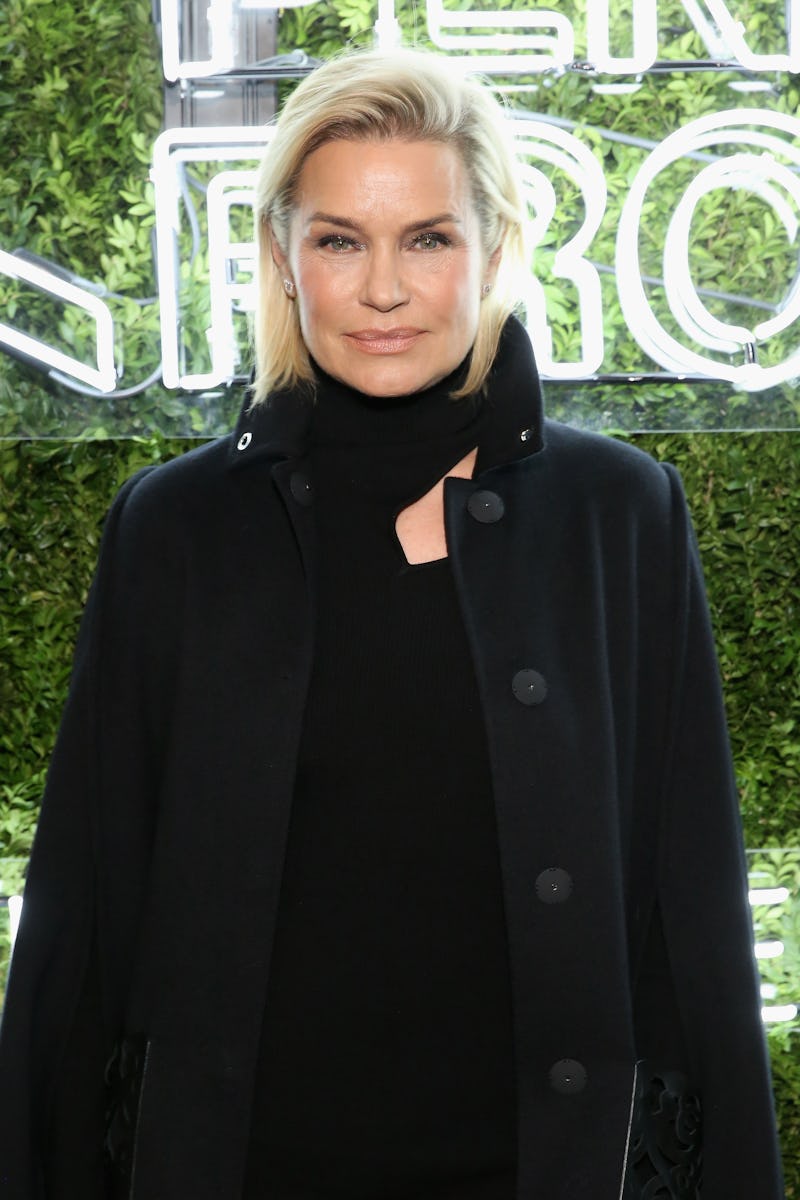 Monica Schipper/Getty Images Entertainment/Getty Images
Ever since Yolanda Hadid left Real Housewives of Beverly Hills, the updates on her personal life have been few and far between. Thankfully, Yolanda has a new reality show about modeling to promote and she is spilling some tea. In a new interview with Entertainment Tonight, Yolanda Hadid revealed that she is dating someone new.
"It's such an exciting time in my life, being finally healthy and ready to move on to the next chapter," the former Real Housewife revealed. She elaborated a little bit more and confessed, "I am so in love right now." Wow. So she's really laying it all out there.
Well, she's not sharing everything. Yolanda did not identify her mystery man by name, but she did say, "I'm very blessed to have found a beautiful love." She did make it clear that she has a boyfriend and that she's not just seeing someone casually. This is pretty rare for anyone in the public eye these days. She gushed, "I'm excited and it's all good. I'm off the market." The mother of three also added, "He's a very private person."
This is quite the contrast to her last relationship with ex-husband David Foster, which Yolanda understands. "I think that after having such public fiasco in my last relationship, I think that I'm going to try to keep this private for as long as I can and enjoy it," she said.
Yolanda's new man is not in the public eye, so if her fans ever find out who he is, it will probably be because Yolanda has revealed his identity herself. She did mention that he is a "businessman" without mentioning his specific area of interest.
On December 1, 2015, Yolanda announced her split from David. This was on the same day of the Real Housewives of Beverly Hills Season 6 premiere. The announcement made it pretty uncomfortable to watch every single episode that season knowing the two were broken up while it was airing. It was so easy to read into every misunderstanding or question it whenever the two praised each other during an episode. Almost two years after announcing the breakup, E! News obtained documents to confirm that Yolanda and David finalized their divorce on October 16, 2017.
Yolanda left RHOBH at the end of Season 6 and she has lived a much more private life ever since. That's wonderful for her, but not so much for her biggest fans who got used to watching her personal life play out on reality television. Unfortunately for Real Housewives viewers, they did not get to see any of her post-divorce life on the show.
Even so, Yolanda has opened up here and there about her love life and her readiness to date ever since the breakup announcement. In an interview with Entertainment Tonight in April 2017, the Netherlands native admitted, "You know, I'm still a little shy." Well, as shy as you can be for someone who has stared on multiple reality TV shows.
In that same interview, Yolanda said, "I'm getting ready, but not yet. I'm just enjoying life, being well. Being up and out and working again. Enjoying my children. You know, life is so full right now. It's all good." It sounds like Yolanda was just working on being her best and healthiest self before she brought anyone significant into her life.
At the Global Lyme Alliance's third annual New York City gala on October 11, 2017, Yolanda, who has long suffered from Lyme disease, shared, "I feel amazing. I feel really great. I haven't felt this good in six years." According to Hello! Magazine, she even confirmed, "I'm ready to date!" And clearly that is going well since she is publicly proclaiming that she is in love these days.
There's no word on how long Yolanda has been with her new man, how they met, or really anything other than her confirmation of love. Now that Yolanda has revealed that she is in a relationship, her fans are surely waiting to find out more about the who, when, and where of all of this. Will she share that information? We'll have to wait and see.