This Middle School Teacher Is Arguing That Punching Nazis Is Not A Crime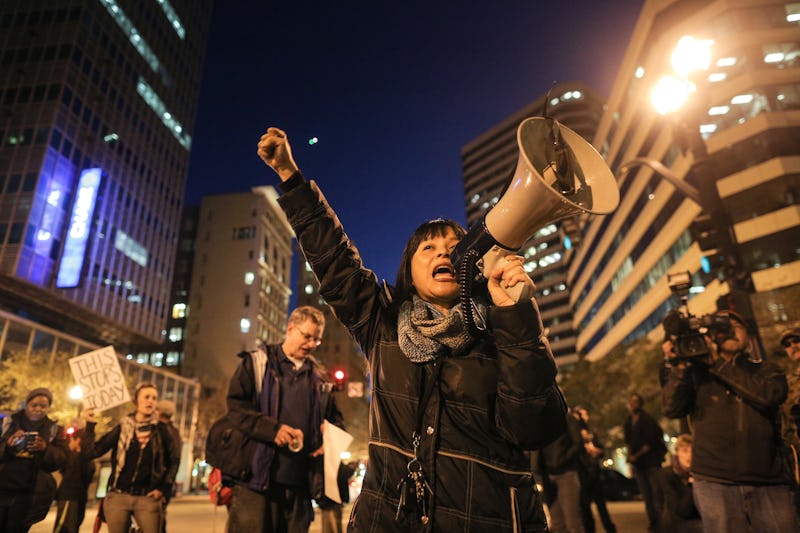 Elijah Nouvelage/Getty Images News/Getty Images
When a video of an unidentified individual puching white supremacist leader Richard Spencer in the face went viral in January, the internet reacted with amusement, creating countless remixes and parodies. Beneath the entertainment is the reality that assaulting others, no matter how abhorrent their beliefs, is illegal in the United States. But a California teacher is currently challenging that law. Yvette Felarca punched a neo-Nazi at a protest last year, and now she's arguing in court that standing up to fascism is not a crime.
Felarca, a 47-year-old middle school teacher, is currently being charged with felony assault and two misdemeanor counts of inciting violence and participating in a riot for her role in an anti-fascist demonstration in Sacramento last year. During the protest, Felarca allegedly attacked a white supremacist, punching him in the chest multiple times.
Felarca has called the charges against her a "politically motivated ... witch hunt," and argued at her arraignment last week that they should be dropped.
Standing up against fascism and the rise of Nazism and fascism in this country is not a crime. We have the right to defend ourselves ... They are organizing to attack and kill us.
Felarca's next scheduled court date is October 4, according to The Daily Californian.
Felarca is a leading member of the activist group By Any Means Necessary (BAMN), which regularly protests against neo-Nazi groups in the California area. According to The Guardian, Felarca is just one of hundreds of anti-Trump protesters who have been arrested and charged since his Inauguration.
While some have argued that these arrests are an attempt by government officials to crackdown on protest and dissent and silence those who oppose the president's views, video does exist that seems to depict Felarca not just peacefully protesting, but physically attacking an alleged white nationalist. Any type of physical aggression against an individual, regardless of their extreme viewpoints, is traditionally seen as illegal.
But Felarca, who claims that she was stabbed in the arm and hit on the head at the Sacramento protest, argues that her actions were justified.
"One of the reasons I was arrested was to try to demoralize and scare me and other people from continuing to … oppose Trump and his neo-Nazi supporters," Felarca told The Guardian. "I'm certainly not going to stop organizing and speaking out."
According to KPIX TV, Felarca is scheduled to continue teaching at a middle school in Berkely later this month.